MinLaw criticises Human Rights Watch's statement on laws to curb fake news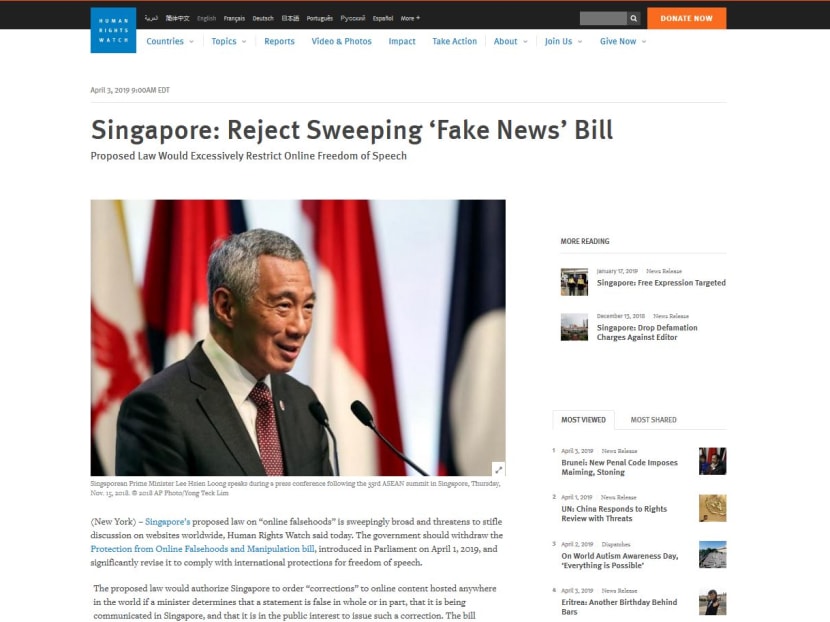 SINGAPORE — The Ministry of Law has slammed international non-governmental organisation Human Rights Watch (HRW) for its statement on Singapore's new laws to curb fake news, calling it "part of its (HRW) long standing practice of issuing biased and one-sided statements about Singapore".
Noting the no-show by HRW at the public hearings by the Select Committee on Deliberate Online Falsehoods last year, the ministry said: "The Singapore Government will generally not respond further to HRW until HRW confirms that it is prepared to defend its views."
In a news report published on HRW's website on Wednesday (April 3), Mr Phil Robertson, HRW's deputy Asia director, called the draft law "a blatant violation of free speech and an affront to freedom of the Internet and governments and businesses around the world should call on Singapore to withdraw it immediately".
Mr Robertson's comments come two days after the new laws, which will fall under a new Protection from Online Falsehoods and Manipulation Bill, were tabled in Parliament on Monday.
The proposed laws come six months after the Select Committee made its recommendations. These include introducing laws that would give regulators the powers to compel Internet platforms to stop the distribution of falsehoods by their users and cut off money flows to the creators of fake news.
Social media giant Facebook and Internet firms had also raised concerns over the proposed laws after they were announced on Monday.
In a strongly-worded response, Mr Robertson said: "Singapore's government wants to be the arbiter of what anyone can say about Singapore anywhere in the world.
"Singapore's ministers should not have the power to singlehandedly decree what is true and what is false. Given Singapore's long history of prohibiting speech critical of the government, its policies or its officials, its professed concerns about 'online falsehoods' and alleged election manipulation are farcical."
In its statement, the Ministry of Law pointed out that HRW was invited to the select committee hearing last year to give its views, as well as explain views previously expressed about free speech in Singapore.
"HRW did not dare to come before the Select Committee because it knew that its views were biased and indefensible, and without any basis in fact. HRW's initial willingness to appear before the Select Committee evaporated once it was informed that its representative should be prepared to answer questions about its views on Singapore," said the ministry.
It added that HRW remained unwilling to attend the public hearing despite the offer of travel funding or video conferencing as an alternative.  
"HRW's unsubstantiated allegations were exposed during the Select Committee hearing," said the statement.