Reclamation at Tekong to give SAF more training space
SINGAPORE — A bigger Pulau Tekong is in the works through a new land reclamation project to meet the Republic's growing military training needs.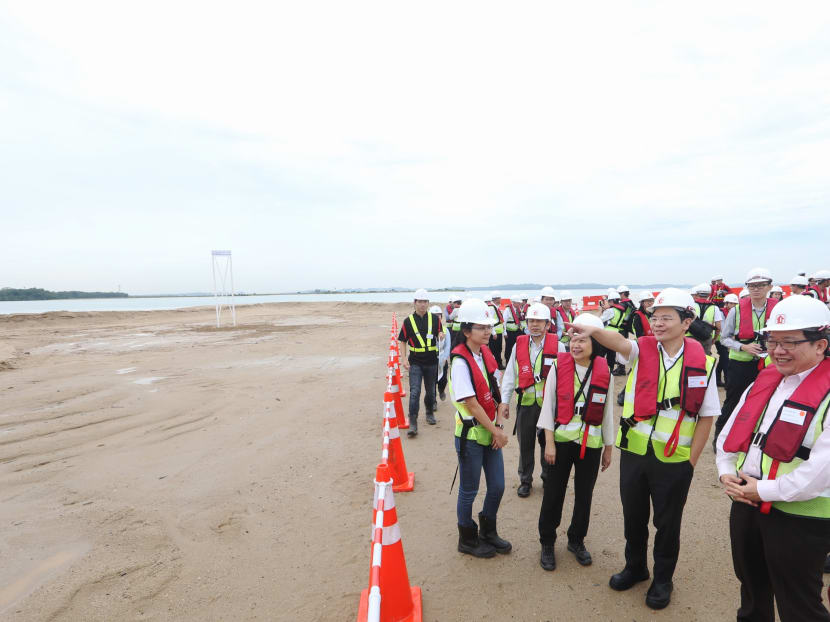 SINGAPORE — A bigger Pulau Tekong is in the works through a new land reclamation project to meet the Republic's growing military training needs.
The additional land — measuring 810ha, or roughly the size of two Toa Payoh towns — will be reclaimed using a method that will also help the Republic reduce reliance on an increasingly uncertain supply of sand, as less of it is required. Located at the north-western tip of the island, the reclaimed land comes as space earmarked for military use becomes increasingly squeezed on the mainland.
The tender for the project will be called by the end of this year. Construction will start at the end of next year and is expected to be completed by 2022.
Speaking during a visit to Pulau Tekong on Wednesday (Nov 16), Minister for National Development Lawrence Wong, when asked why Pulau Tekong  is being expanded, told reporters that Singapore is "always in need of more land", and the additional space will help the Singapore Armed Forces with its growing training needs.
Asked whether this means more military camps will be shifted to the island, which was over 24.4ha and is growing, Mr Wong would say only that the reclaimed land will provide "some opportunity" to free up space in mainland Singapore. 
Among the training areas under Ministry of Defence (Mindef) that have been affected by development is its training area in Tengah. With the development of Tengah New Town — about the size of Bishan — by the Housing and Development Board (HDB), Mindef has said that it will adjust its training accordingly.
In 2013, Prime Minister Lee Hsien Loong announced in his National Day Rally that Paya Lebar Air Base will relocate to Changi East, freeing up an area of 800 ha — bigger than Bishan or Ang Mo Kio — to build new homes, offices, factories and parks.
Responding to queries, Mindef said it works with MND to overcome physical and resource constraints, adding there are "significant requirements" for land to "train realistically", even as it makes use of simulators and overseas training.
Commenting on the new land reclamation method being used — called empoldering — Mr Wong said it is not new, but there had been no pressing need to introduce it here as sand was "much more readily available" in the past. But circumstances have changed, he said.
Both Indonesia and Vietnam had halted sand exports in the past on the back of environmental concerns, creating a bottleneck in construction timelines in Singapore.
The new method, common in the Netherlands, will "significantly" reduce the amount of sand needed for reclamation, and it could also be employed in future reclamation projects, Mr Wong said.
The empoldering method will see a dike measuring 6m high and 10km long — about the length of the Bukit Timah Expressway — constructed to keep sea water out.
The land that is to be reclaimed will then be drained of any remaining water to create a low-lying track of land, also known as a polder, which will be 1.2 m below sea level. This is done with a network of drains, water pumping systems and canals, which will run continuously to prevent the polder from becoming waterlogged.
While the new method will generate savings in sand and construction costs, Mr Wong did not provide figures. Professor Kees d'Angremond, who is Singapore's long-time adviser on reclamation work, acknowledged that maintenance cost will be higher because water has to be constantly drained. But the Singapore Government has done cost calculations, and the "conclusion is building a polder is the most economical way of reclaiming land", he said.
The Ministry of National Development (MND) and HDB said an environmental study has been carried out to ensure the surrounding environment, including marine life, is not adversely affected.
The HDB said the impact of polder development on the surrounding environment will be negligible. But mitigating measures such as silt screens will be put up where required, during construction.
An Environmental Monitoring and Management plan will also be implemented.
Mangroves and other plant species in surrounding areas would also be conserved and protected.