Mobile medical team to be 'piloted very soon' to support vulnerable Covid-19 patients recovering at home
SINGAPORE — Older patients and those with multiple chronic medical conditions who need to recover from Covid-19 at home can soon expect more help in the form of a pilot programme involving mobile medical teams that will visit them in person.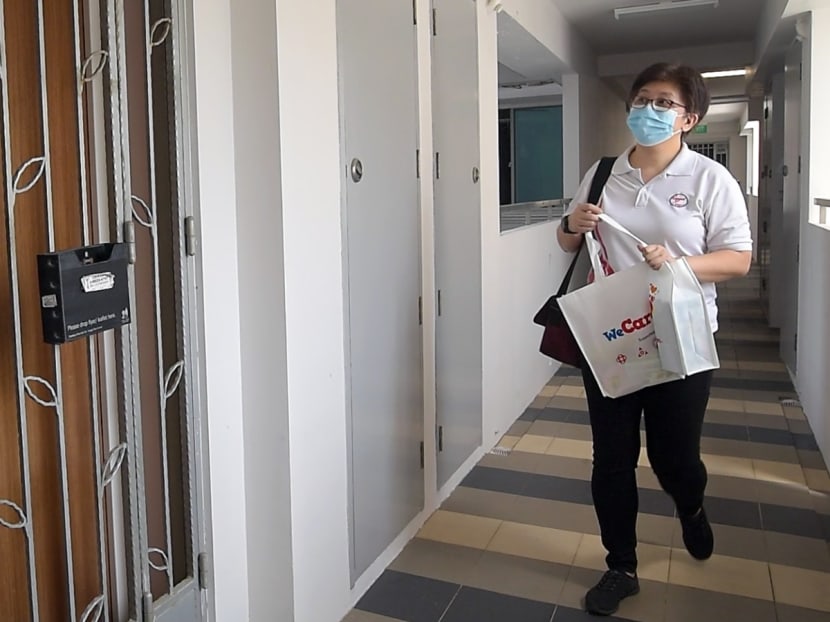 A mobile medical team visiting Covid-19 patients at their homes is in the works
Among its target group of patients are seniors and those with co-existing medical conditions 
The team will visit patients at home to assess if home recovery is suitable for them
More army personnel have been deployed to assist in the home recovery programme since it began in September
SINGAPORE — Older patients and those with multiple chronic medical conditions who need to recover from Covid-19 at home can soon expect more help in the form of a pilot programme involving mobile medical teams that will visit them in person.
This was announced by Mr Dinesh Vasu Dash, group director of crisis strategy and operations group from the Ministry of Health (MOH), when he gave an update to the media during a virtual press conference on Wednesday (Oct 27) about the home recovery programme.
While he was not able to confirm when the scheme will begin, or go into details, he said that "this is something we will be piloting very soon".
Giving a broad overview of what to expect, Mr Dinesh said that aside from serving the old and those with multiple comorbidities, the initiative will also include patients who were expected to recover at a care facility but chose to do so at home instead.
"For these cases, we think... it would be more helpful to assess on the spot, rather than through the phone, to see if they are all okay," he said. "Then, at least, we are assured that they can recover safely at home."
Otherwise, the medical teams can advise the individuals to reconsider being placed in a care facility.
Mr Dinesh added that being able to speak with seniors face-to-face is also helpful because it adds a human element to their interaction, which makes it easier to relay information, rather than just being a voice over the phone.
Since it started on Sept 15, the Covid-19 home recovery programme has "seen quite a bit of success", with public acceptance on the rise, he said.
Home recovery is now the default care arrangement for anyone infected with Covid-19 and has mild or no symptoms, including unvaccinated patients.  
MOH previously said that only patients falling under the following groups will be taken to a hospital or a community care facility to recover: 
Partially or unvaccinated patients aged 50 and older
Vaccinated persons aged 80 and older
Children younger than one year old and children aged one to four who have been assessed to be clinically unsuitable for home recovery
Mr Dinesh said that on average, around 70 per cent of the total number of Covid-19 patients daily are recovering at home, with the exception of the above patient groups.
This is a jump from the more than 50 per cent reported by the national Covid-19 task force on Oct 2. 
For those who need medication, a new telemedicine system, known as the Telemedicine Allocation Reconciliation System, has allowed almost 85 per cent of those who ask for telemedicine support to receive it within the first 24 hours.
Mr Dinesh added that more than 90 per cent of those eligible for home recovery are contacted for onboarding onto the home recovery programme within 24 hours after submitting their details online.  
Although he is "happy" with the numbers, he hopes that it could go higher so that more people can be reached within the day.
Accounting for the remaining 10 per cent or so who are not contacted within a day, he said that this is largely due to the inaccuracies when patients submit data. 
His team therefore needs to undergo "quite a bit of pain" to find ways to reach out to these individuals, which often takes more than a day.
MORE SAF PERSONNEL DEPLOYED
The progress made with the home recovery operations would not be possible without the help of supporting agencies, Mr Dinesh said. These include the People's Association (PA), Agency for Integrated Care, Government Technology Agency, Public Service Division and Singapore Armed Forces (SAF).
More than 200 personnel across SAF were roped in on Sept 29 to help man phone lines to provide information to patients recovering at home.
SAF personnel, along with volunteers from PA, were brought in due to the teething problems that surfaced in the first few weeks after the programme was launched, which led to numerous complaints about the lack of communication from the authorities and having to wait for days to be notified on what to do, for instance.
Colonel Tong Yi Chuen, the commander of the home recovery task group, said during the press conference that the number of SAF personnel involved in various roles has since been increased to 450, up from the initial 200 or so. 
They comprise about 90 SAF regulars, 350 full-time national servicemen (NSFs), and 10 volunteers from the SAF Volunteer Corps.
The home recovery task group added that as part of efforts to assure patients recovering at home that help is accessible, about 1,600 staff members and volunteers from PA have distributed some 36,200 care packs to these households.
These care packs contain items such as antigen rapid test kits, disposable masks, sanitising wipes and vitamin C tablets.
Among those helping with the home recovery efforts is Corporal (CPL) Luth Danish Zani, a combat engineer who has been a "home recovery buddy" since Sept 29.
The 23-year-old NSF said that he was not expecting to be part of the nationwide effort to tackle Covid-19 during his two-year National Service journey, but it was a "good opportunity" for him to learn how to deal with difficult calls from "frustrated patients".
His job scope includes performing onboarding engagement and manning phone lines and case management.
Though he was put through rigorous training to be able to answer anything related to the home recovery programme, he had to learn how to empathise with these callers.
"Most importantly, we try to understand their emotions and help them as best as we can."