MOE reviewing policy allowing teachers to give private tuition
SINGAPORE — The policy allowing teachers to give private tuition — a subject of much debate recently — is being reviewed, the Ministry of Education (MOE) said yesterday.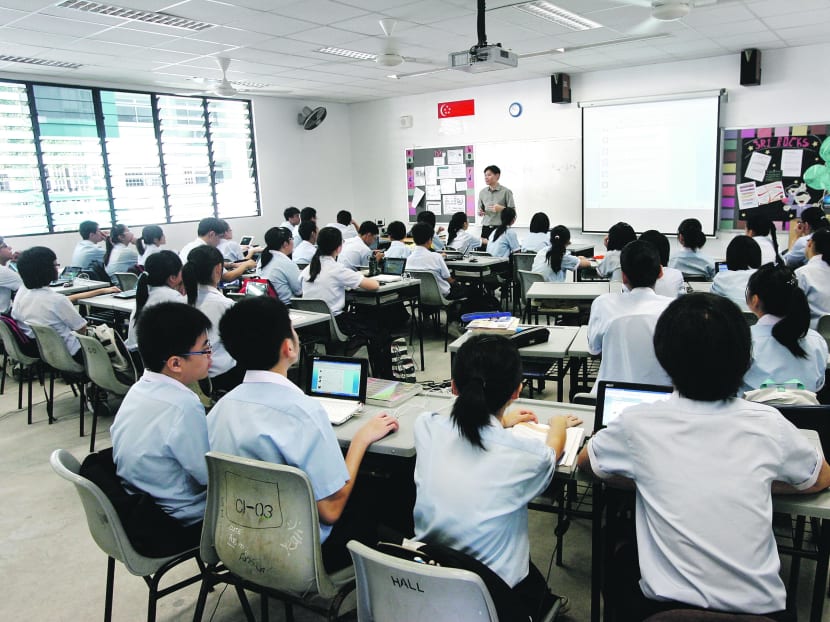 SINGAPORE — The policy allowing teachers to give private tuition — a subject of much debate recently — is being reviewed, the Ministry of Education (MOE) said yesterday.
News of the review came as calls grew, among Members of Parliament (MPs) and others, for the policy to be tightened or scrapped entirely.
Under existing MOE guidelines, teachers can give up to six hours of private tuition a week — an option that posed too much of a distraction from their day jobs, some MPs TODAY spoke to said.
Since Ang Mo Kio GRC MP Intan Azura Mokhtar called for a review last month, many other MPs have joined the fray. Several echoed calls for the practice to be stopped, but others cautioned against taking too drastic a step and urged a tweaking of the rules instead.
Dr Intan told TODAY: "The attraction is there, the flexibility of time, also the pay is better. If we can send them the signal that we only want teachers to be focused and committed, I think that's a strong signal."
She also pointed out the potential for conflict of interest. "There is a possibility of a teacher saying, 'It's okay if you don't understand this in class, you can always go for tuition after school', because it could be in the teacher's interest," she said.
In response to queries from TODAY, an MOE spokesperson said the ministry is reviewing the guidelines. It did not provide further details on when the review began and how long it would take,
Bishan-Toa Payoh GRC MP Hri Kumar Nair felt the practice should be banned and suggested that the MOE give an allowance to teachers who stay back after school to help weaker students instead.
However, Mountbatten MP Lim Biow Chuan pointed out that disallowing teachers from giving private tuition could lead to "good, passionate teachers leaving the service".
"As long as the teacher feels it does not detract from the job and (he has) spare time and the passion, I do not see why we should interfere in what they do in their spare time," he said.
Jurong GRC MP Ang Wei Neng, noting the difficulty of enforcing a ban, suggested that the number of hours allowed be reviewed.
The MOE guidelines — which are enforced by school principals — state that teachers are not allowed to give paid tuition to students from their schools or work for tuition centres, and any work should not affect or conflict with their responsibilities in school. They should also not make use of resources and materials obtained in the course of their duties. But teachers may volunteer for part-time teaching in community self-help groups.
One website, SchTutors Tuition Agency, states that it has more than 3,000 teachers and about 60 per cent of them are current MOE teachers. Fees range from S$120 to S$800 a month depending on the subject and level, and classes are usually held weekly for between one-and-a-half and two hours. The agency charges half of the takings from the first month as commission.
Mr Shawn Cheong, Lead Coordinator at the agency, said it reminds its teachers to stick to the six-hour guideline.
Principals interviewed did not think the current policy was a cause for concern, saying most teachers would not have time to give tuition due to their workload. The guidelines are enforced in many ways, with some principals saying they operated on trust, while others required formal requests.
Said Teck Whye Secondary Principal Ong Kong Hong: "I do not want to police them rigidly and make them declare. It's all about knowing my teachers ... there is always room for discussion."
But Principal of Montfort Junior School Genevieve Chye said: "It's very difficult to enforce (the rules) if teachers do not come forward and declare. It's a big industry."
Educators TODAY spoke to said they would relish the chance to earn extra income, provided they could find time to do so. A teacher, who did not want to be named, was indifferent to news of the review. Teachers are hard-pressed for time to even teach their own students, she said.
Another teacher, who gave private tuition on the side for 10 years, said teachers should be able to make "the professional judgment". "It is a free market," he said, adding that "giving tuition (is) very good money".
ADDITIONAL REPORTING BY AMANDA LEE AND NG JING YNG