Monkey business: Youths aim to share love of nature, wildlife with others
SINGAPORE — One of Mr Karl Png's closest encounters with wildlife occurred in his teenage years: Macaques sneaked into his home and took a bite of his meal.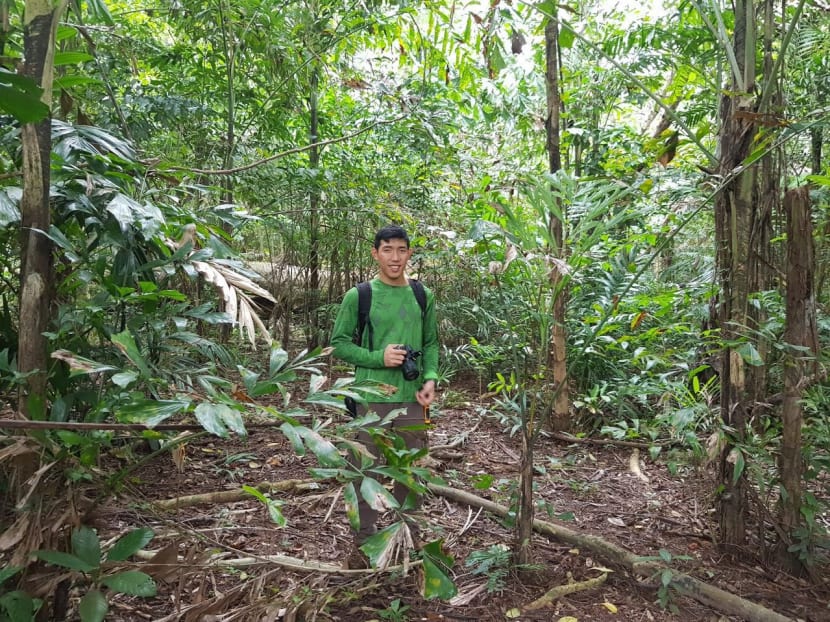 SINGAPORE — One of Mr Karl Png's closest encounters with wildlife occurred in his teenage years: Macaques sneaked into his home and took a bite of his meal.
Initially taken aback, Mr Png, now a 21-year-old full-time national serviceman, later learnt the monkeys did not mean it as an "attack".
"That funny incident taught me that the macaques (lived in the neighbourhood) first, but later the condominiums were built there… So in a way, we share the same space as the macaques," said Mr Png, who used to live in Bukit Timah. "They saw our food as an opportunity for survival, so the way to prevent such incidents is to keep our food out of their sight and to ensure that windows are locked."
The encounter did not deter him from engaging with wildlife - in fact, he regularly shares the anecdote with visitors to the Bukit Timah Nature Reserve, where he has been serving as a guide for the last four years.
Mr Png is one of 50 youths who have signed up for a six-month programme called the Biodiversity Challenge, which aims to motivate, train and equip youths to engage their communities on issues surrounding human-wildlife interactions.
Launched last Saturday (Jan 13), participants will attend workshops and on-the-job training sessions with wildlife working groups and park managers before finally running their own projects.
The Challenge focuses on otters, macaques, wild boars, turtles and civets — animals which have a higher chance of encountering humans, said Mr Lim Liang Jim, group director of the National Parks Board's (NParks) National Biodiversity Centre.
Mooted by a roundtable of more than 20 non-governmental organisations involved in biodiversity issues, the Challenge is supported by NParks, which will help to facilitate some workshops and field guiding sessions.
"Through this community-led effort, we hope to nurture a young cohort of nature advocates who can identify the challenges that this sector will face in the future," said Mr Lim.
Mr Png hopes the Challenge can equip him with practical skills to share his love for nature with fellow Singaporeans, as well as to debunk misconceptions, such as how wildlife may be "dangerous" or "dirty".
Unlike Mr Png, fellow participant Zhang Han Xiang is a relative greenhorn. But this was precisely what prompted the 20-year-old Singapore Polytechnic student to sign up for the Challenge.
"I hope to foster a closer relationship and enhance my own encounters with wildlife… I hope to pick up as much knowledge as possible on various types of species," said the final-year civil engineering student, who does not know which animal he hopes to focus on yet.
"This will be a good opportunity to explore what Singapore's biodiversity scene has to offer, and I hope to share this with the people around me," he added.
Another participant, Ms Srishti Arora from the National University of Singapore, was spurred on by a growing number of "conflicts" reported here between humans and wildlife such as wild boars.
"I want to learn how conflicts can be shaped into positive interactions," said the 21-year-old undergraduate, who majors in environmental biology.
She hopes to come up with a guidebook on the "do's and don'ts" when approaching wildlife.
Social media is another platform Ms Arora plans to tap to raise awareness of biodiversity among the masses.
Another group of youths hoping to promote Singapore's natural heritage among their peers is from Nanyang Technological University.
The final-year project of four Wee Kim Wee School of Communication and Information students consists of a campaign that kicked off with a seminar on Friday (Jan 19).
They invited NParks' Mr Lim, Strix Wildlife Consultancy director Subaraj Rajathurai and primate researcher Sabrina Jabbar from the Jane Goodall Institute (Singapore) to share insights with about 70 members of the public who signed up.
Minister for Social and Family Development and Second Minister for National Development Desmond Lee was also at the seminar.
The team also surveyed 400 university and polytechnic students and found 85 per cent of them had low awareness of nature reserves in Singapore — for instance, they did not know that these sites are gazetted and protected from development.
Of the respondents, 78 per cent also felt they "did not have sufficient knowledge about (Singapore's) natural heritage", but three-quarters were interested in finding out more.
"Through this campaign, we hope to (convey) that like any monument or artefact, our natural heritage holds historical significance as something that was right here from the start and something worth preserving for the future generations," said Miss Velyn Lee, one of team members. "Natural heritage is a key component of Singapore's unique identity, and something we should all be proud of."