More than 10,000 rodent burrows detected in just two months last year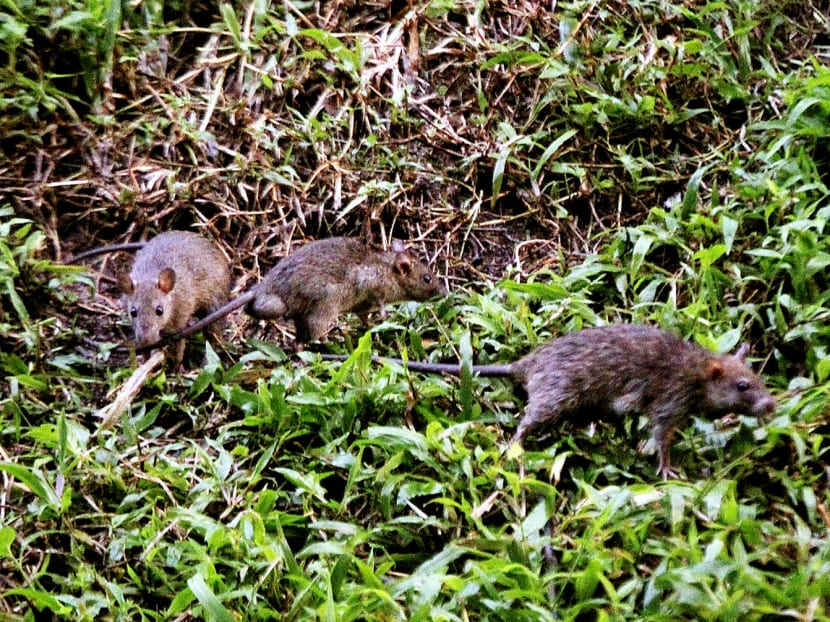 SINGAPORE — They could smell a rat several thousand times over in just two months last year, a sign of how rodents in the heartlands can easily turn into a major problem if left unchecked.
Between October and November, the National Environment Agency (NEA) detected more than 10,000 rodent burrows, with 90 per cent of them found in housing estates.
The figure, revealed by the agency yesterday, represents a sharp increase from the 6,400 burrows discovered during the same period in 2013.
On Tuesday, Second Minister for Environment and Water Resources, Ms Grace Fu, told Parliament that 35,000 rat burrows were detected and treated by the NEA in the first 11 months of last year.
"We are concerned about the increase in the number of burrows detected," the NEA said, adding that the agency received 4,106 instances of feedback last year, compared with 3,031 in 2013.
The increase in rat problems could be partly due to the availability of multiple food sources, said an NEA spokesperson.
The NEA also noted that a single female rat can produce as many as 2,500 rats — which means that the rodent population can multiply quickly within a short period of time if left uncontrolled.
Last month, reports of rodent infestation next to Bukit Batok MRT Station led to a public outcry.
More than 300 rats were killed by pest controllers after nearly three weeks of extermination operations.
The NEA said yesterday it had conducted surveillance at more than 144,000 food retail establishments last year.
It has also audited 85 out of more than 200 shopping malls so far, which involves, among other things, physical site inspections and advising mall management on what needs to be done to improve overall rodent control measures.
Pest controllers told TODAY they had seen an increase in requests, from residential homes to large commercial buildings, to deal with rodent issues over the past year. Some saw as much as a 30-per-cent rise in calls between last year and the previous year.
In an increasingly urbanised Singapore, rodents have "evolved" in their nesting, harbourage and foraging behaviour, said Ms Audrey Ong from the business development department of ORIGIN Exterminators, a pest control company.
She added that general industry practices of dealing with rats have not kept up with that development.
"Given that rodents are generally adaptable and intelligent creatures … there needs to be a paradigm shift in how we 'outsmart' rodents."
Mr Patrick Chong, managing director of Aardwolf Pestkare, said the increase in food littering in common spaces may have contributed to the rise in the rodent problem. He said due to a lack of manpower, smaller food operators often fail to keep their premises clean and dispose of the rubbish after operating hours.
Pest control agencies suggest that building owners, building management and food operators should take a more proactive approach in dealing with rodents, instead of simply reacting to the problem when it crops up.
Consistent and regular monitoring of premises would be a better long-term solution, they say, as this allows swifter response to any emerging rat problems.
However, Mr Chong noted that budget constraints may make it difficult for companies to adopt such an approach.
"At the end of the day, rat control is about ... how committed the person is in wanting to control the rats," he said.