More than 250 childcare centres to raise fees in 2014
SINGAPORE — A quarter of childcare centres here — which works out to about 270 of them — are set to raise their fees next year.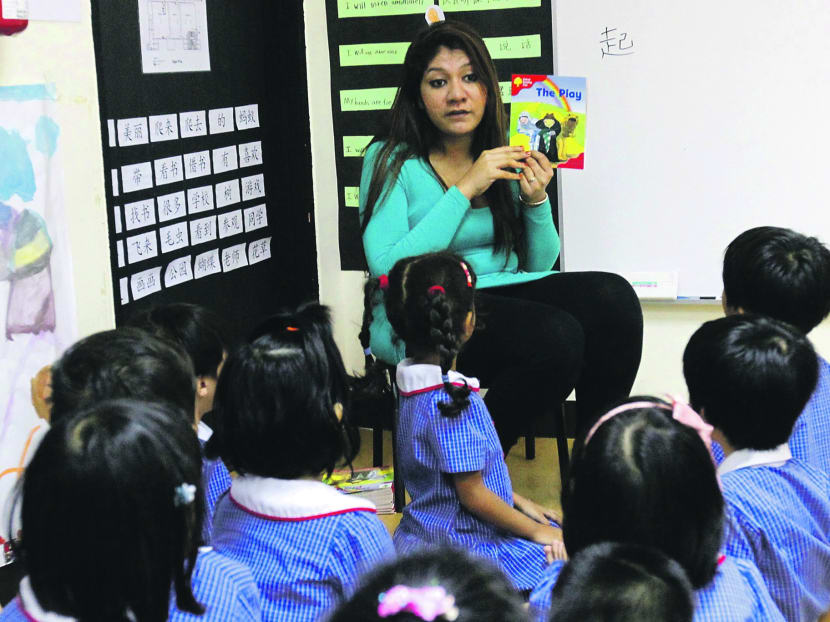 SINGAPORE — A quarter of childcare centres here — which works out to about 270 of them — are set to raise their fees next year.
Responding to media queries, the Early Childhood Development Agency (ECDA) said yesterday that about 25 per cent of the 1,073 childcare centres have indicated that they will be revising fees next year. Operators here are required to notify the ECDA, which was set up in April, of any fee revisions for the coming year before Oct 1.
Anchor operators, which receive Government grants to offset operating costs and whose fees for full-day childcare are capped at S$720 per month, must get the ECDA's approval for fee revisions. The agency added that, each year, about 20 to 25 per cent of childcare centres raise their fees.
On Tuesday, TODAY reported that NTUC My First Skool, one of the two anchor pre-school operators, would be increasing monthly childcare fees by up to S$32.10 from Jan 1. It is also no longer extending a sibling discount to parents.
Further checks with seven operators found that two of them, Bethel Community Services and YWCA, are holding off any fee hikes. Five others — Carpe Diem, Agape Little Uni, Sheffield Kids World, YMCA and MYMCA — said they plan to increase monthly fees at selected centres by between S$20 and S$100.
The operators interviewed cited teachers' salaries as the main factor for rising operating costs which, in turn, drive up fees.
MYMCA, a non-profit operator, said it intends to raise fees by between 5 and 8 per cent at five of its 12 centres. Apart from the need to retain teachers, MYMCA Executive Director Phyllis Tan said that, among the five centres, some had been refurbished while others had not raised their fees previously.
Among commercial operators, Sheffield Kids World will be raising monthly fees by about S$50, while Agape Little Uni plans to increase fees by S$100.
Director Chris Lim of Agape Little Uni noted that a shortage of teachers meant operators need to provide higher salaries to motivate existing staff.
Sheffield Kids World had raised its monthly salary for each teacher by about S$200, to an average of S$2,500. Director Puhalenthi Murugesan said: "Our only source of income is fees… I would suggest (that) the Government subsidise teachers' salaries, or fees will have to increase every year."
YWCA Executive Director Leung Yee Ping said salaries account for 70 per cent of its operating costs. She added that she is waiting for the ECDA's manpower announcements next month before making any moves.
FAMILIES 'BETTER OFF' WITH MORE GOVERNMENT SUBSIDIES
Since early this year, the Government has announced more funding for pre-schools, including S$30 million for the sector's manpower needs.
Additional subsidies for childcare fees were also rolled out for two-thirds of households — or about 120,000 families with young children.
My First Skool's fee revision had prompted some to question whether the hikes were linked to the additional subsidies for parents.
But an ECDA spokesperson pointed out that, for families having to pay higher fees after the latest round of hikes, the majority who qualify for more subsidies "are likely to be better off compared to before subsidies were enhanced".
"For instance, for a centre charging the median full-day childcare fee of S$780 (per month), a 10 per cent increase would equate to S$78, which is lower than the additional subsidy range of S$100 to S$440," she said. "Families in the lowest income tier will also be supported through financial assistance to enable them to continue paying around S$3 (per month) for childcare fees."
The spokesperson reiterated that childcare-centre operators "raise fees from time to time to ensure viability as operating costs increase, and to recruit sufficient teachers to deliver quality programmes".
She noted that operators are encouraged to implement fee revisions in a transparent manner and provide parents with ample notice (of at least three months).
Earlier this year, anchor operator PAP Community Foundation (PCF) had already informed parents of a 20 per cent fee hike next year for its 22 kindergarten and childcare centres in Sembawang Group Representation Constituency.
Responding to TODAY's queries, a PCF spokesperson said fees across its 354 centres are not reviewed on an organisation-wide basis and there are no common fees set, due to varying family profiles across centres. Employees of PCF centres will also have to prepare a proposal explaining reasons for the fee increase, such as additional new programmes, and the proposal will be approved by PCF headquarters and eventually by the ECDA.
"If a centre intends to review its fees, it has to follow a rigorous internal process of seeking endorsement at the various levels" before approval is sought from the ECDA, the spokesperson said. She added that the agency "sets out a host of criteria that an anchor operator has to follow before (it) would consider our case".