More efforts made to tackle rise in littering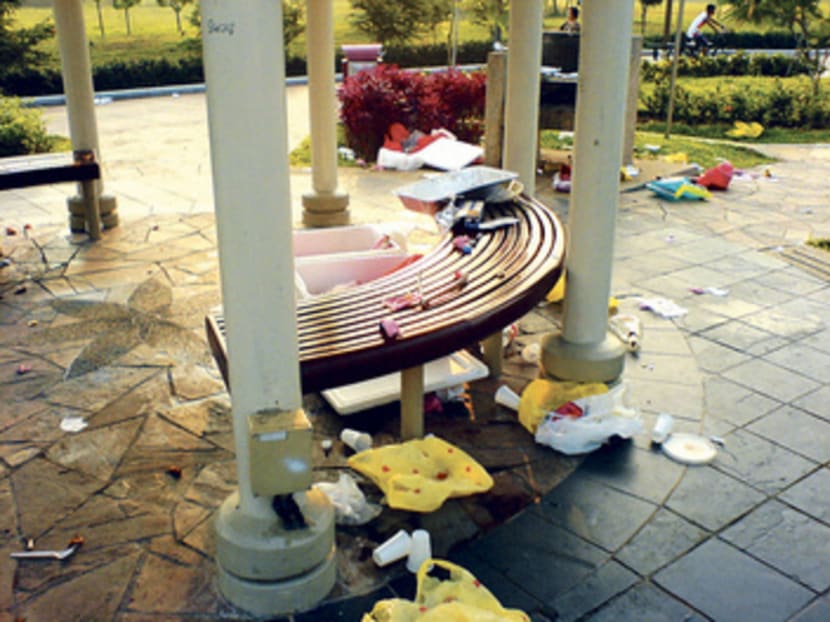 SINGAPORE — With falling standards of cleanliness in Singapore, fresh efforts are being made to tackle the littering scourge, including possibly giving cleaners at various town councils a day off this year and mobilising residents to clean up their neighbourhoods instead.
Surveys showed that the number of litter items collected from 2006 to 2010 had nearly doubled, said Minister for the Environment and Water Resources Vivian Balakrishnan in Parliament yesterday.
He joined Members of Parliament who spoke at his Ministry's Committee of Supply debate in calling for greater civic consciousness and signalled his resolve to reduce the menace, which contributes to the S$120 million spent cleaning public areas each year.
About 19,000 tickets were issuing for littering last year, almost double that of 2013. Some hot spots are even cleaned once every two hours, Dr Balakrishnan said.
While cleaning regimes will be stepped up, Singapore cannot depend on "an ever-growing army of cleaners". Citing a survey conduced in 2010 which found that a third of Singaporeans would litter if they thought they could get away with it, Dr Balakrishnan said such an attitude reflects one's lack of pride in his own country and a lack of respect and consideration for others.
Littering came under the spotlight recently after Prime Minister Lee Hsien Loong and several other politicians noted the staggering amount of rubbish left behind at the Laneway Festival in January.
In Parliament yesterday, Hougang MP Png Eng Huat called for public cleanliness posters, jingles and banners of decades past to be "recycled" this jubilee year to drive home the message for the community to keep its surroundings clean.
Dr Balakrishnan said campaigns have never stopped. "I think what has changed is behaviour and perhaps our propensity to enforce ... But now that we have changed to a higher-enforcement posture, and with more volunteers and with everyone being prepared to exert peer pressure, I'm determined to make a difference on the ground as far as littering is concerned," he said.
New ways to address the littering problem here include equipping enforcement officers with body-worn cameras to document the abusive behaviour of litterbugs, providing more training to volunteers, and encouraging organisers to involve participants in cleaning up after major events.
Body-worn cameras are aimed at preventing cases of abuse. Last April, an enforcement officer who approached someone smoking illegally at a HDB void deck was punched in his right eye. The offender was eventually arrested and sentenced to three months in jail for assault, said Dr Balakrishnan.
The Government will make it easier for the public to provide video and photographic evidence that can be used in court, he said, addressing a point by Nee Soon GRC MP Lee Bee Wah, who said anyone with a phone that can capture the act of littering in Taipei is part of the enforcement team. Its City Council puts up information online on how to take photos and videos and report the littering act. Fines from any successful prosecution are shared with the informant, said Dr Lee, who was impressed that schools in Taiwan are cleaned by students, instead of cleaners, and by the cleanliness of its streets even early in the morning.
Volunteers in Singapore roped in to get litterbugs to pick up their litter will be given the same training that new officers with the National Environment Agency (NEA) undergo, said Dr Balakrishnan. They will no longer need to be affiliated with a non-government organisation to join. There are today more than 250 volunteers, who have engaged over 800 litterbugs.
High-rise littering is another growing problem, with almost 2,500 complaints received last year, compared with 1,600 in 2013, he said. Using surveillance cameras, the NEA has taken enforcement action in 541 cases that happened last year. Marine Parade GRC MP Tin Pei Ling called for high-rise litterbugs to be named and shamed, given how peer pressure was less applicable in curbing high-rise littering, but Dr Balakrishnan said it was not something he wanted to rush into.
With event organisers encouraged to get participants involved in cleaning up, such as at this year's National Day Parade, Dr Balakrishnan said he hoped this would help set a new social norm.