More efforts needed to fulfil Smart Nation vision
SINGAPORE — As the Republic strides into its 50th year of independence and beyond, the Smart Nation initiative announced this year may potentially have the greatest impact on citizens, compared with any large-scale government programme to date, and transform the quality of life here.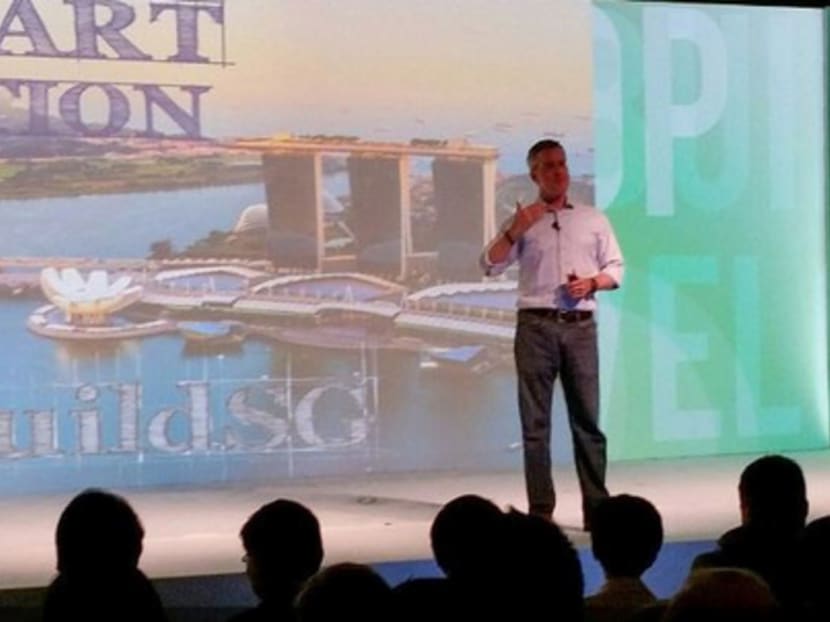 SINGAPORE — As the Republic strides into its 50th year of independence and beyond, the Smart Nation initiative announced this year may potentially have the greatest impact on citizens, compared with any large-scale government programme to date, and transform the quality of life here.
Several initiatives are under way, such as trials for driverless cars, monitoring and alert systems in flats for seniors and an integrated 3D map that will enable the public, firms, government and research agencies to develop apps for planning and decision-making.
But as Prime Minister Lee Hsien Loong pointed out last month, efforts are needed in areas such as beefing up cybersecurity and teaching students how to create the technology of the future to make the quantum leap and realise the vision in the next decade.
The Republic must also systematically "integrate all of the technology and possibilities into a coherent and comprehensive whole", he said, as opposed to what it is already doing in using technology in a piecemeal fashion.
To that end, a unit to coordinate government agencies, citizens and industries has been set up under the Prime Minister's Office and placed under the charge of a Cabinet minister.
In addition, more needs to be done, said governance and smart-city experts whom TODAY spoke to. Measurable key performance indicators (KPIs) should be set and a framework erected to facilitate data sharing between the Government and private sector. The homegrown information technology sector also needs to be built, with greater knowledge transfer from multinational corporations (MNCs), experts said.
Associate Professor Ng Teck Khim from the National University of Singapore School of Computing observed: "You can see that the Government's effort is mainly in providing the infrastructure, but whether it will work depends on the industry and citizens."
'KPIs, INDUSTRY COLLABORATION VITAL'
Notwithstanding the fact that Singapore will be the first in the world to embark on a Smart Nation initiative by virtue of its status as a city state, there is much to draw on from the experience of successful Smart Cities such as Copenhagen, experts noted. For example, these cities have publicly set KPIs such as lower carbon emissions, higher energy efficiency and a more efficient transport system.
Mr Gerald Wang, research manager of IDC Government Insights in Asia Pacific, noted that, in general, the goal of the Smart City initiative is to "achieve certain socioeconomic outcomes, for instance, raising productivity and quality of life for citizens".
Estimating that the Smart Nation initiative could cost the Government more than S$50 billion, Mr Richard Wong, director of Public Sector and Government Practice at Frost & Sullivan, said: "For most countries, it is about enhancing citizens' lives, be it through a more efficient transport system ... or enhancing safety. They are measurable, so most governments use such KPIs as a road map."
Frost & Sullivan said eight key elements define a Smart City: Governance, buildings, healthcare, mobility, infrastructure, technology, energy and citizens. The consultancy estimated that by 2025, there would be more than 26 Smart Cities, with more than half in North America and Europe, featuring at least five of the elements.
In response to queries, a spokesperson for the Smart Nation Programme Office (SNPO), which is overseen by Environment and Water Resources Minister Vivian Balakrishnan, said the Government is focusing on six areas: Making the transport system more efficient, improving government services through digital platforms, enhancing homes, enabling seniors to live actively, getting people ready for the Digital Age and helping SMEs cut costs and generate revenue.
For a start, the Jurong Lake District will be a test bed for new technologies to develop sustainable solutions. One thousand sensors will be installed around the island to track safety and security in public places and monitor air quality and water levels in flood-prone areas. The analysis of the data captured will go towards improving public services.
IDC has come up with a generic road map that divides the implementation of a Smart City into five stages. Mr Wang estimated that, currently, the majority of Singapore's public agencies are at the rudimentary stage. Up to 10 per cent of the agencies — dealing with public safety, health and transport — are in more advanced phases where they have started collaborative efforts.
The Smart Nation trials in the Jurong Lake District will involve collaboration among the Government, institutions of higher learning and the private sector. Several government agencies will be working with more than 20 partners such as M1 and ST Electronics.
The Government's engagement with industries is key to the initiative, experts reiterated. Apart from building the homegrown IT sector, the authorities should also look at attracting talent to the sector, they said.
Mr Wang said: "We need to create the right mix of eco-systems that is favourable for the domestic industry to bring about knowledge transfer to the local economy from MNCs."
The SNPO spokesperson reiterated that there would be opportunities for firms to contribute to the Smart Nation scheme. "We have been supporting innovative businesses and start-ups through grants and accelerator programmes, and providing space for start-ups," she said. Specifically, the Government aims to grow talent in data and analytics, she added.
DATA USAGE AND PROTECTION: STRIKING A BALANCE
Assoc Prof Ng noted that, as part of the Smart Nation scheme, tonnes of data on the Government, consumers and firms would be generated. Hence, a framework has to be in place to facilitate data sharing between the Government and private sector, and ensure the data is treated properly, experts said.
However, experts noted that compared with other countries, Singapore's data-protection regime is less developed, with the Personal Data Protection Act (PDPA) enacted only two years ago. Provisions relating to the Do Not Call Registry took effect in January and the main data-protection rules were implemented in July.
Mr Wong said: "We are behind countries such as Australia and (those in) the European Union by at least five to 10 years in terms of adopting such regulations. Businesses are still unsure or unaware of how they may be infringing such laws, so we can't talk about tweaking such laws to suit the Smart Nation initiative yet."
Addressing concerns over data privacy, Dr Balakrishnan has said legislation may change with regard to the Smart Nation drive.
Mr Wong said in countries that are familiar with data-protection laws, legislation has been tweaked to implement Smart City projects.
SNPO's spokesperson noted that there is an 18-month transition period to allow organisations to adjust to the PDPA.
Noting that the Act had been "adequate in providing the baseline governance framework", the spokesperson said: "We do not preclude the need to adjust laws in the future, if that is required to allow us to share data more openly for the greater benefit of Singaporeans, while imposing more safeguards to prevent misuse."
The SNPO is in the midst of formulating an approach that will put in place safeguards, she added.
SINGAPORE'S ADVANTAGES
While much remains to be done, experts said Singapore has the advantage of having a developed infrastructure and the capacity as a city state to roll out initiatives on a nationwide scale.
Mr Wong said: "The Government and private-sector firms will eventually be able to sell the successful solutions to other nations looking to do this."
The experts noted that increasingly, nations would have to analyse and share data in real time. For instance, during a typhoon, analytics can be applied to social-media data to find out where people are trapped or where aid is needed, Mr Wang said.
In the area of national security, there is much chatter about terrorism activities online. Retired United States Central Intelligence Agency counterterrorism chief Charles Faddis noted in a New York Times article that big amounts of data are never meaningfully reviewed or analysed. For example, the US, British and Indian authorities separately picked up information before the 2008 Mumbai attacks, but failed to string the data together to form a cohesive picture.
Mr Wang added that, in particular, Smart City schemes would serve to mitigate problems of overcrowding. "In Asia, especially, there will be a big increase in people entering cities. With that, there will be a lot of stress on cities, such as on rubbish-collection systems, air quality and healthcare ... Smart Nation is going to be big."