More than just a bad headache
Migraine – a neurological disorder involving nerve pathways and brain chemicals – ranks fourth on the list of top 10 disorders in Singapore causing years lived with disability, an index used to measure the degree of burden a disease imposes.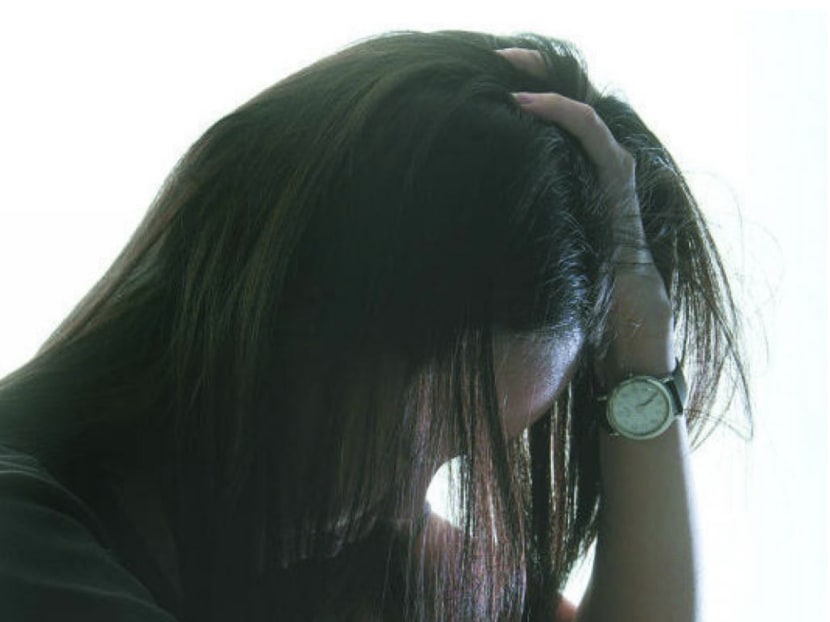 SINGAPORE – For the last 20 years, Mdm Arlyn Ahmad, 41, has endured frequent episodes of migraine each lasting about four days, and lived in anticipation of her next attack.
During each episode, she is often told of being "too stressed" or to "drink more water". Others sometimes think she is making excuses to avoid social obligations.
"People who don't have migraines don't understand what we go through. As a mum of three kids, it's challenging because when I'm down with a migraine, I can't do anything properly," said Mdm Arlyn, who currently works as a clinic assistant and is pursuing part-time studies.
Occurring every other week, her migraine attacks typically start with the warning signs of excessive yawning and a feeling of tension in the shoulders and neck.
They are followed by dizziness, an intense throbbing pain in the head and a heightened sensitivity to light. Occasionally, she throws up.
Painkillers prescribed by doctors do not always provide relief but lying still in a cool, darkened place usually helps.
Even after the pain dissipates, a brain fog sets in, leaving her feeling "zombie-like".
SIGNIFICANT IMPACT ON WORK AND DAILY LIFE
Migraine – a neurological disorder involving nerve pathways and brain chemicals – ranks fourth on the list of top 10 disorders in Singapore causing years lived with disability, an index used to measure the degree of burden a disease imposes, said Dr Jonathan Jia Yuan Ong, a consultant at the National University Hospital's Division of Neurology.
Its outpatient referral clinic for headache disorders sees an estimated 1,250 new migraine sufferers each year.
The disorder is most common in adults aged 30 to 40, with approximately 90 per cent of sufferers experiencing their first attack before 40, said Dr Ong.
Dr Yasmin Idu Jion, a consultant in Neurology at the National Neuroscience Institute (NNI), has seen patients who experience intense pain daily and lead restrictive lifestyles to avoid triggers. NNI sees around 400 to 500 new patients for headaches monthly, of which the majority suffer from migraines.
"They are unable to enjoy activities as a student, at work, as a parent, etc. It takes a toll on them financially as well as socially," said Dr Yasmin.
When the attacks are frequent and affect daily functions, they can cause significant anxiety too, she said.
More than four in five migraine sufferers report their daily activities being affected by migraine, according to data collected by Healint, a Singapore-based digital health start-up that developed a migraine tracking app and research platform called Migraine Buddy.
It recently shared findings on the global burden of migraine collected from 1,500 users in Switzerland at the 4th Congress of the European Academy of Neurology held in Lisbon.
About a third of 215 users in Singapore surveyed reported suffering from anxiety and/or depression in at least one migraine attack.
The Migraine Buddy app, which currently has one million users worldwide, tracks migraine attacks, including triggers, symptoms, medications, and pain intensity.
It also includes pure voice control via Amazon's Alexa, the voice service's first migraine tracking Skill launched in June, to support -- according to its data -- 80 per cent of migraine sufferers who report light sensitivity during their migraine attacks.
MORE THAN A HEADACHE
Unlike the regular tension-type headache, which affects up to 80 to 90 per cent of the population at least once in their lifetime, migraine pain usually lasts longer and is more intense, said Dr Yasmin.
The moderate to severe-intensity throbbing pain is usually concentrated on one side of the head.
Although a painful headache is the main feature for many migraineurs, the recurrent disorder is "more than just a headache", said Dr Ong, an independent scientific advisor of the Migraine Buddy app.
Other symptoms include disturbed vision, sensitivity to light, sounds and smells, feeling sick and vomitting, which vary across patients.
"Some non-painful symptoms may be even more distressing to the patient as compared to the headache. Migraine attacks, which usually last from four to 72 hours, are often very disabling and may result in one having to lie still for several hours," said Dr Ong.
He added that many affected patients fear not only their debilitating migraine attacks but also the potential for developing a migraine complication such as a migrainous stroke, a rare complication that mostly affects younger women, and migraine aura-triggered seizure, among others.
It is not known exactly what causes migraines, which often start for the first time in the early twenties.
An imbalance in brain chemical levels may be involved – for instance, decreased serotonin levels have been found during migraine attacks, said Dr Ong.
Most headaches have a genetic basis, said Dr Yasmin. But environmental and lifestyle factors also play a role.  In general, migraineurs are susceptible to various internal factors, such as hormonal changes, and external trigger factors like work stress, said Dr Ong.
For those with undetected and untreated psychological issues, such as depression and anxiety, migraine headaches tend not to improve, he said.
To diagnose migraine, the doctor will take the patient's medical history and exclude other causes for the headaches, such as through brain scans, said Dr Ong. The patient may be asked to undergo thorough neurological examination and further diagnostic tests.  
IDENTIFYING THE RIGHT TREATMENT AND TRIGGERS TAKES TIME
While there is currently no cure for migraines, treatments are available to alleviate symptoms.
For those who experience frequent headaches, prophylactic or preventive medications, usually taken daily, can be prescribed. There are also drugs designed to stop symptoms that can be taken during migraine attacks.
Despite her intense migraine attacks, which can be triggered by anything from sunlight or a stranger's perfume to the smell of durians or noise, another migraine sufferer who only wanted to be known as Victoria, 32, has no intention to take preventive medication due to the side effects.
Ms Victoria, an assistant director in marketing communications, said migraines make her head feel like it "could burst".
"When an attack comes on, work becomes a challenge," she said.  "I take a general nonsteroidal anti-inflammatory drug (NSAID) when an attack comes on and get on with work, but there are times when the discomfort persists and I'll have to leave work to rest or take medical leave."
"I've tried two different types of long-term medication but felt dizzy and threw up after the first tablet. I had to rest in bed the whole day after that," said Ms Victoria, who complements the NSAIDs with Chinese herbal medication.
It may take time for doctors to work out the best treatment for patients, who may need to try several types of medications before identifying the most effective one, said Dr Ong.
The good news is, for the majority, migraine is not a progressive disease and generally improves with age as one approaches his 50s and 60s, said Dr Ong.
Recent advancements in understanding why migraines occur have led to the development of novel treatments. For example, a monoclonal antibody-based treatment was recently approved for use in the United States by its Food and Drug Administration.
"It is designed to target a CGRP (calcitonin gene-related peptide), the protein known for causing migraine. When CGRP is released in the brain, it causes an intense inflammation affecting the meninges (coverings of the brain). For most migraine patients, this process leads to the pain of a migraine attack," said Dr Ong.
Neuromodulation devices, which use currents or magnets to change brain activity, are another emerging treatment that have been shown to prevent and abort migraine attacks in some people, said Dr Ong. The new treatments are currently not available in Singapore.
Besides the use of medication, Dr Yasmin said it is important to maintain a healthy lifestyle of having adequate sleep, regular meals, exercise and not smoking.
People should avoid triggers where possible.
Tracking migraine through a diary or journal is one way to do it, said the experts.
"Not only can it help keep track on what's going on with your disease, but it is also one of the best ways to provide information to the doctor, such as onset of headaches and other associated symptoms, frequency, location of pain," said Dr Ong.
"Moreover, patients may take charge of their headaches by learning to avoid known trigger factors and treating them early, based on warning symptoms before the headache starts."
For Mdm Arlyn, who uses the Migraine Buddy app, tracing her triggers – which include monthly changes in her menstrual cycle, changes in sleep patterns, too much or too little caffeine and hot weather – have helped her to cope with her migraine attacks. Through the app, she has also connected with a community of local migraineurs.
"It's an invisible disease. Knowing there are people out there with this condition, some of them experiencing worse symptoms, I don't feel so alone. One positive thing I got out of these painful attacks is that I've learnt to enjoy my migraine-free days more," she said.
WHEN TO SEEK MEDICAL ATTENTION
Dr Yasmin Idu Jion of the National Neuroscience Institute advises individuals to seek medical attention if they notice the following headache symptoms:
* When headaches start to occur regularly/frequently (for example, once or more a week)
* Reliance on painkillers such as taking painkillers on a daily basis or exceeding the recommended dose
* Changes in the pattern of their usual headache
* Headache associated with dizziness, unsteady gait, slurred speech, weakness or numbness, stiff neck, fever, confusion, drowsiness
* Headache that begins or persists after a head injury
* New onset headache after the age of 50
* When headaches are severe
* When headaches start affecting how you go about your daily life