More than just child's play
SINGAPORE — In a society like Singapore's, where academic excellence in children is lauded over anything else they do, it can be difficult for parents to understand the importance of sports in a kid's life.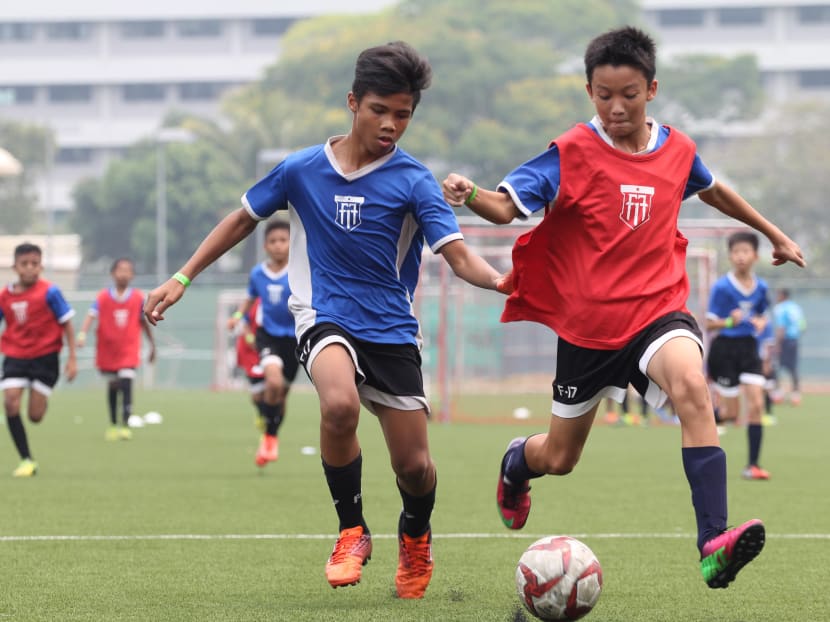 SINGAPORE — In a society like Singapore's, where academic excellence in children is lauded over anything else they do, it can be difficult for parents to understand the importance of sports in a kid's life.
But the role that sports plays in children's development cannot be underestimated as it helps them in many positive ways.
"From a psychological perspective, sports and outdoor play are essential in helping a child learn social skills and team work," said Dr Lim Boon Leng, a psychiatrist at Gleneagles Hospital. "Every sport has rules, and learning to observe them helps the child to understand the need for discipline."
Repetitive training, and respecting the coaches, referees and team members, or even simply turning up for training as scheduled are important in building one's discipline, he added.
"Learning discipline and perseverance will bring the child a long way in his academic success," he said.
Claire Nazar, Families for Life council member, agreed, saying that playing sports forces children out of the digital world they are often immersed in today.
"Active children are also emotionally healthier, and less likely to be affected by external stress factors," she said. "Character values such as fairness, teamwork, equality, discipline, inclusion, perseverance and respect, as well as maintaining a fit and healthy lifestyle, are universal to all sports. What is important is to ensure that the sport is an activity the child truly enjoys, and one that the child is willing to keep striving to be better at."
IT'S NOT ABOUT WINNING
While being involved in sports helps your child, sports should not be used as a route to improve children's grades, or to win medals to show off to others, say the experts.
"If the emphasis is only on winning and getting recognition, stress may build up and relationships may suffer," said Dr Lim. "In Singapore, parents often encourage sports not as a means to better mental and physical health, but as a way to get the child to a better school. If the child is unable to shine, parents sometimes become upset and punitive. This is detrimental to the child's self-esteem."
The fundamental principle should be that it is better to participate and lose, than to not participate at all. And, said Dr Lim, being allowed to fall and climb back up — both literally in the game and figuratively after losing — helps children build resilience.
Rugby is a sport that nurtures teamwork, as well as how to deal with pressure on the field.
"Rugby teaches us to get back up again after every tackle and to keep persevering until the final whistle," said George Danapal, general manager of the Singapore Rugby Union. "Players need to develop a certain level of resilience to thrive in the game. With all the ruggedness involved, there is a culture of treating the officials and opposition with respect. We see that from the youth competitions all the way to the professional stage."
PLAYING TO THE CROWD
Nazar suggested enjoying sports as a family, as it can help foster stronger family bonds.
Ronnie Yap, an business-owner, first signed up for taekwondo classes at the age of 40 when his two boys, then four and six, started learning the sport. It was one of the best decisions he made because it gave them a common activity, he said.
Yap has seen first-hand how the sport has helped his two sons.
"My older boy, who is now 15, had trouble paying attention, but when it came to taekwondo, he was focused and determined," he said. "This was especially so when he won his first medal at a national competition; it made him realise that hard work and practice does provide positive, tangible results," said Yap, who eventually founded martial arts school, Induk Taekwondo, in 2010.
"It has made it easier for us to use that same principle to encourage him to do better in school. He may not be top in his class, but we see him putting in the required effort with his weaker subjects," he added.
Mizra Ismail, co-owner of F-17 Football Academy, which takes in children aged from three to 17 years, said he has observed how football allows children to learn how to communicate and work with other people, since they have to interact with others of the same age as well as adults such as coaches and other parents.
"This teaches them to be respectful and polite, and to share," he said. "It also exposes them to different ethnicities and cultures. All of these qualities are vital to a child's development."
Finance manager Lynn Ng, 44, has sons aged 17 and 14, who play tennis and football. "Sports has definitely helped my kids to develop discipline as they strive to learn and excel at a sport," she said. Their school performance has improved as well, due to the confidence they show in sports, she said. The teens have displayed problem-solving skills and enhanced critical-thinking skills.
"Socialising with their team mates has also helped them to interact with their peers and adults," she said.