More men turning to service providers to plan a marriage proposal
SINGAPORE — For his marriage proposal, Mr Kevin Goh, 26, spent S$3,500 to set up a romantic evening for his girlfriend, by hiring a planner to organise the occasion.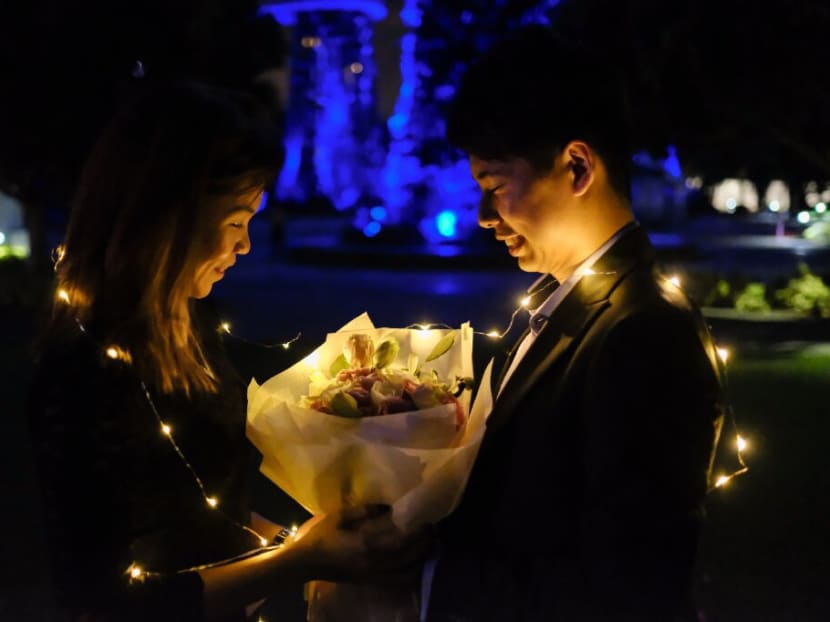 SINGAPORE — For his marriage proposal, Mr Kevin Goh, 26, spent S$3,500 to set up a romantic evening for his girlfriend, by hiring a planner to organise the occasion.
He and his fiancee, Ms Marissa Fuad, 24, first enjoyed dinner at a restaurant atop the Supertree Grove at Gardens by the Bay, followed by a walk in the garden, during which they would chance upon an "inconspicuous display" of present boxes.
Inside, there were four annual calendars -- with every page printed with a picture celebrating the couple's milestones together.
"Each calendar marked a year of our relationship, and the final page was a picture of a ring," said Mr Goh.
It ended with him popping the question at midnight on Feb 14, right "in between" Valentine's Day and the couple's dating anniversary, which falls on Feb 15.
Ms Fuad, an insurance consultant, said "yes" to Mr Goh, adding that she was both surprised and impressed by the elaborate marriage proposal.
"I'm a very sentimental person so the idea of going through a calendar of sorts really brought back memories of when we first got together," she told TODAY.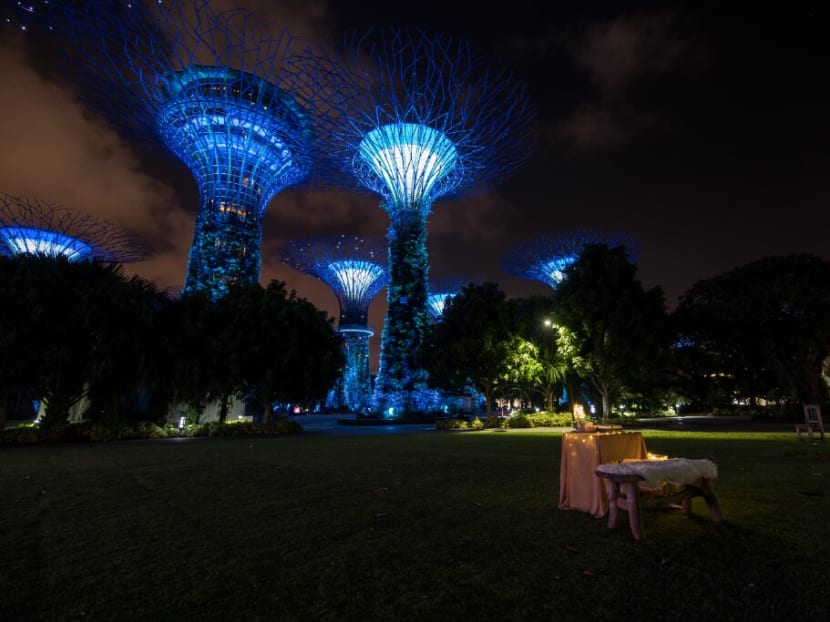 Mr Goh, an associate director in an insurance firm, is among a growing number of men here who are seeking help to score a "yes" when they go on bended knee to propose marriage.
He had engaged the help of HelpYouMarry, a proposal planner which began offering such services in 2012.
Mr Lee Ming Hui, 34, one of the firm's three managing partners, said: "At that time when we first started, we sensed that the Singapore market was not really ready for such a service, but we have seen many more men engaging our services in recent years."
On the whole, he said that there has been a 10 to 15 per cent increase in the number of clients the company sees every year. To date, HelpYouMarry has helped more than 200 grooms plan their proposals.
Other planners such as Blissvows, which began operations in 2016, also said that business is improving. Its clientele doubled in 2017 from the year before.
Blissvows' founder Kenneth Chua, 26, said: "We used to get about four to five engagements a week when we started, but in the last year, it has doubled."
Mr Chua and three other friends came up with the idea of offering proposal services for one of their business modules while they were still studying in university.
He said: "We thought, perhaps we could start small, with a website offering proposal services and selling some related products, but it turned out to be pretty well received."
'GO THE EXTRA MILE'
After five years of offering proposal services, Mr Lee from HelpYouMarry said: "The biggest observation I've made is that in the early days, people were embarrassed to say that they hired proposal planners, but now, they are proud to say that they have put in the effort to go the extra mile to propose."
Mr Chua said that most of his clients do not have time to "fret over small details like decorations". "I think they also engage us because we help them to customise their proposals and come up with creative decorations."
This was the case for Mr Goh, who said: "I wanted to show that I had put some thought into my proposal, but I had very limited time and energy to run around and get decorations on my own. My girlfriend is someone who is rather sentimental, so my planners and I decided (on the idea to take) a walk down memory lane."
"Even if I had done everything on my own or with the help of friends, it wouldn't have been done as beautifully and creatively as the professionals," Mr Goh added.
Others such as Mr Keith Lee, 27, a credit controller, agreed that proposal planners have niche decoration skills. "(The planner I hired) had the skills to create stuff like a towel swan." It was something that he could not do on his own, he added.
He had engaged the help of Mr Putra Reyzal, who has been offering proposal planning services for about two years.
Mr Reyzal, 32, works in the hotel industry and began doing this line of work on the side after he saw the market for such services growing here.
"People are putting more efforts into proposing... but they also want it to be a relaxing time for their family and friends, so they turn to us," he said.
Mr Reyzal, who advertises his services as rainbowthree on online marketplace Carousell, similarly saw a growth in demand over the last year. "We had about 20 clients last year, double from when we first started in 2016."
Mr Lee of HelpYouMarry noted that the demand for proposal services is not only growing in number, but also in scale.
"We had a customer who wanted to propose on Nami Island in South Korea. He wanted to recreate a scene in the popular TV drama Winter Sonata. We had to ship a grand piano to the island, so that he could play the piano before proposing," Mr Lee said, adding that the client had spent close to S$10,000 on this.
'A LOT OF BRAINWORK INVOLVED'
At HelpYouMarry, fees start from S$3,000 for its services, and this usually includes photography and videography, and venue decorations and reservations.
Blissvows and Mr Putra charge their clients between S$200 and S$400 for venue decorations.
All of them said that extra charges vary and would depend on the various customisations requested by clients.
"Anybody who knows the work involved will know that it is not cheap (to do the set-ups, document the event, make reservations). There is a lot of brainwork involved and constant discussion between the groom-to-be and us," Mr Lee said.
He, like the other planners, do not believe that their clients are "lazy" to pay for such services, as some people may think.
"On the contrary, it is precisely because they want to put in the effort that they engage us," Mr Lee said.
Mr Keith Lee said: "To me, what's important is making the event perfect and not others' opinions of you. Engaging an expert is the same as getting a doctor for medical advice. Men should focus on making the proposal memorable for their future wife".