More online addicts seek overseas boot camps to kick habit
SINGAPORE — It took a US$48,000 (about S$67,000) overseas detox programme for 23-year-old Bernard Lim (not his real name) to kick his gaming addiction.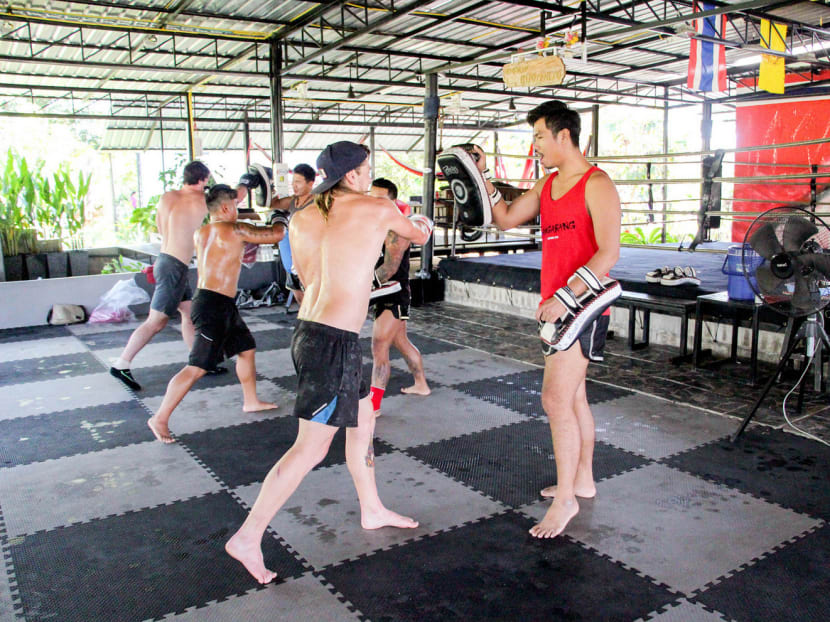 SINGAPORE — It took a US$48,000 (about S$67,000) overseas detox programme for 23-year-old Bernard Lim (not his real name) to kick his gaming addiction.
Living every waking moment in a virtual world wreaked havoc on his real life; he hardly slept or socialised, and dropped out of university twice.
At her wits' end, his mother checked him into The Edge last year. Designed for young men suffering from addiction and behavioural issues, the 16-room rehabilitation facility in Chiang Mai, Thailand, uses sports among its treatment approaches.
"I decided to go (for rehab) because I was tired of being a failure in life," said Mr Lim, who stayed at The Edge for two months and spent another four months at another "step-down" facility — also in Chiang Mai.
Mr Lim is among a growing number of online addicts in Singapore heading to overseas rehabilitation centres in the last two years. These programmes, with luxury facilities and amenities, may cost up to US$14,000 per month.
Since opening last July, The Edge, run by The Cabin Addiction Services Group, has seen five people from Singapore, said its programme director Alastair Mordey.
Solace Sabah, which runs a residential addictions rehab facility in Kota Kinabalu, East Malaysia, sees three to five patients with gaming addiction from Singapore each year. The trend started from 2015, and patients are 18 to 25 years old, said the centre's clinical director Prem Kumar Shanmugam. Solace Sabah charges between S$9,500 and S$15,000 for a 28-day programme.
MORE ONLINE ADDICTS SEEN
The trend also reflects the growing problem of online addiction here. Between 2012 and last year, the National Addictions Management Service (Nams) at the Institute of Mental Health saw an annual average of 30 people with excessive Internet use or gaming problems.
This year, head counsellor at The Cabin Singapore Suresh Joseph has seen three people under 30 for Internet and gaming addiction; there was none five years ago. His clinic provides follow-up care for recovering addicts.
Dr Lambert Low, an associate consultant at Nams, said this group of patients tends to be younger than those with a drug or alcohol problem. Their most common forms of excessive Internet use are for "highly engaging activities" like gaming and pornography which usually offer intense stimulus.
Addiction is currently understood as a complex brain disease, he added. It is currently not known why and how addictions occur in some people, but both genetics and the environment can be contributing factors.
In addition to increased Internet accessibility, computer games have become more sophisticated at targeting the reward centre in the brain, said Dr Suresh. Said Mr Mordey: "Technology is rewiring people's brains. Without a doubt, the Internet has become a 'vector' of these addictions."
AS BAD AS SUBSTANCE ABUSE
Excessive Internet use and gaming are not formally considered addictive illnesses based on the latest Diagnostic and Statistical Manual of Mental Disorders, said Dr Low. But similar to substance abuse, a gaming or Internet addiction can lead to equally devastating consequences when left unchecked.
"The impact may actually be greater (for this group) because it afflicts them earlier in life when the necessary mental faculties have not yet been fully developed," said Dr Low.
Yet, it remains an under-recognised problem. "Very few people (with a gaming or Internet addiction) visit a psychologist or an addictions centre as that is perceived to be a place for drugs and alcohol problem," said Dr Prem.
While an inpatient programme is one of the commonly prescribed treatments for drug or alcohol addicts, some addiction experts said it works well even for non-substance addicts.
"A residential treatment is scientifically proven to be the most effective measure for addiction treatment," said Dr Prem. "People afflicted by this addiction need to be cut off from the stimuli and reconditioned in their beliefs, perspective and lifestyle. This cannot be achieved by outpatient treatment as the stimuli is ever present."
In fact, it may be more challenging to monitor people with behavioural addiction, said Dr Suresh. Unlike substance abuse where blood or urine tests can reveal if they are still on the substances, there is no way to test for Internet or gaming use.
Locally, Nams runs an inpatient rehabilitation facility called Serenity Centre, which sees mainly people with drug or alcohol addiction. So far, it has not admitted any youths with Internet and/or gaming addiction as most of them choose to be seen at its outpatient clinics, said a spokesperson.
Nams also organises educational day camps to help at-risk adolescents aged 13 to 19 with excessive gaming and/or Internet use issues.
While the inpatient rehab programme may benefit some, there is no one-size-fits-all treatment approach, said Dr Low. "Engaging family members and other social networks to support the affected individual makes a huge difference in the treatment outcome ... Any inpatient or short-term residential rehab is primarily a temporary measure meant to initiate the initial phases of recovery rather than a definitive treatment."
With virtually no access to the Internet at The Edge, Mr Lim said he was "emotionally unstable" in the first few weeks. He filled his days with physical activities like Muay Thai boxing and triathlon training, underwent counselling and attended group therapy.
The intensive physical activity took the edge off his withdrawal symptoms. By the end of his programme, Mr Lim, who was overweight, had lost 18kg and felt psychologically "lighter" as he no longer craved gaming.
Currently on follow-up at The Cabin Singapore, Mr Lim sees a counsellor and attends a support group. Giving university another try, the aerospace engineering undergraduate no longer plays any online games and accesses the Internet only for school work.
"I don't want to waste my time any more because I actually wasted a total of 3.5 years on gaming ... Those years are something I'd never be able to get back," he said. "Now I hope to complete my studies and get a job. As for my mother, she's really relieved to have her son back on track."
ADDICTION HELPLINES
Call 6-RECOVER (6-7326837) from Monday to Sunday (24-hours)
National Problem Gambling Helpline: Call 1800-6-668-668 from Monday to Sunday (24-hour)
TOUCHLine (Cyber Wellness Helpline): Call 1800-377-2252 from Mondays to Fridays (9am to 6pm)