More SAF training set to resume, Mindef to cut costs this year: Ng Eng Hen
SINGAPORE — The military was not spared from the impact of the Covid-19 pandemic, but after months of greatly reduced activity, the Singapore Armed Forces (SAF) is ready to ramp up training.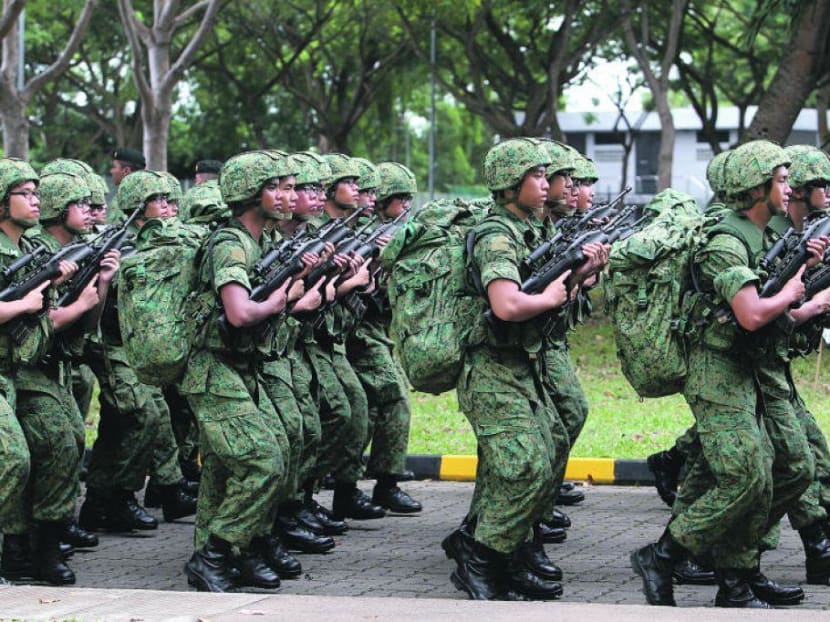 SAF training such as ICT, IPPT preparation to resume in coming months
Mindef will have to cut costs this year because of Covid-19
Covid-19 has led to delays in delivery of some SAF acquisitions
The pandemic is also leading to greater frictions between global superpowers
SINGAPORE — The military was not spared from the impact of the Covid-19 pandemic, but after months of greatly reduced activity, the Singapore Armed Forces (SAF) is ready to ramp up training. 
In the months ahead, more in-camp training will resume, while individual physical proficiency tests (IPPT), IPPT preparation training and remedial training at fitness conditioning centres for operationally ready national servicemen (NSmen) will be phased in, said Defence Minister Ng Eng Hen in an online interview last Thursday (June 25). 
His update comes after the Ministry of Defence (Mindef) sent a text message to operationally ready NSmen on June 22, saying that IPPT preparatory training and remedial training would be put on hold until the end of August. 
Basic Military Training, which was suspended in April, already resumed on May 26.
Some overseas training has also restarted, Dr Ng said in the interview to mark SAF Day, which falls on July 1.
The Navy participated in passage exercises with their United States counterpart in May and will take part in a US-led Rim of the Pacific multilateral exercise in Hawaii next month. 
The Air Force is working with its Australian counterparts to resume short-term overseas flying training detachments.
Despite the disruptions faced by the SAF in recent months, Dr Ng said critical operations were not compromised, with units continuing to function through a "cohorting" system, under which each unit stays together and does not cross paths with other units or meet other people.
"Our servicemen and servicewomen perform critical functions, whether it is in island defence, protection of key installations, maritime security, air defence or counter-terrorism. And to ensure that they were intact before they started operations, they stayed in-camp sometimes as long as two, three weeks, and then started the operation," said Dr Ng.
He noted that there had been only one confirmed Covid-19 infection in April among the thousands of servicemen conducting critical operations. 
DEFENCE MINISTRY TO "TIGHTEN ITS BELTS"
Nevertheless, Dr Ng acknowledged that in light of the pandemic's impact on the economy, Mindef will have to tighten its belt this year.
The ministry traditionally has the highest budget among all ministries, averaging between 3 and 4 per cent of the national gross domestic product. Its budget for this year was S$15.09 billion, slightly lower than the S$15.5bn allocated to it last year. 
"Mindef and the SAF are taking measures to cut costs where we can without compromising critical operations, or reduction in the SAF's medium and long-term capabilities... but I think all of us know that we'll have to tighten our belts for this year, and even the next year, until the economy fully recovers," said Dr Ng.
DELAYS TO ACQUISITIONS
Dr Ng also said that there will be some delays to acquisitions as a result of the Covid-19 pandemic. 
An unspecified number of Chinook-47F heavy lift helicopters and H-225M medium lift helicopters, which were initially due for delivery at the end of this year, will now be delivered next year.
Similarly, the delivery of four Type 218SG Invincible-class submarines, which were scheduled for delivery from 2021, will be delayed by a year.
However, other acquisitions remain on track, Dr Ng said. These include the four F-35B short take-off and vertical landing aircraft which are due for delivery in 2026, and six Multi-Role Combat Vessels to be delivered by 2030.
Responding to a question on whether budgetary pressures will affect the SAF's acquisitions, Dr Ng said that the SAF will not compromise on its strategic capabilities.
Dr Ng noted that the Covid-19 pandemic is not the first global crisis that Singapore has faced, and there were other instances during which there was pressure on Mindef's budget, such as the 2009 global financial crisis. 
"But I would say that this Government and the people of Singapore have been very strong in their support, to give and to ensure that there is consistent resourcing for our defence needs," said Dr Ng, adding that he hopes this support will remain.
MORE REPORTS ON LAPSES IN SAFETY PRACTICES 
Providing an update on the audit by the Inspector General's Office (IGO), Dr Ng said that there has been a "significant improvement" in safety incidents, as well as "near-miss" incidents.
The IGO enforces safety practices across SAF units. It was set up in February last year after the death of four soldiers in training over a span of one-and-a-half years. 
In March this year, Senior Minister of State for Defence Heng Chee How told Parliament that the IGO had audited 70 per cent of SAF units so far, with the first round of audits set to be completed by this September.
"We have seen more (near-miss) reporting which is good. So in this instance, the fact that we have seen more reporting, we see it as a good sign that people are more willing to report this and actual incidents are coming down. That is what it should be," said Dr Ng.
SINGAPORE CANNOT BE FORCED TO CHOOSE SIDES
Separately, Dr Ng also spoke about how Singapore and the SAF will have to contend with rising tensions between the US and China.
Dr Ng said that there is an entrenched view in the US that China is its main threat. At the same time, China does not see or accept its own actions as a weakness of its political system.
Instead, it views protests or criticisms against its behaviour from other countries through the lens of its strategic rivalry with the US, he said.
This gap in perspective between the two global powers is set to widen further, affecting Singapore's trade and security, warned Dr Ng.
The overall geopolitical context will also add to tensions between the two powers, said Dr Ng. The Covid-19 pandemic, for instance, has further stressed the region, saddling emerging market economies among Asean countries with greater public debt and rising unemployment.
"So the question to ask for us, from a national security perspective, is how does Singapore navigate our small vessel amid turbulent waters and large ocean liners that are crisscrossing and changing lanes?" said Dr Ng.
Dr Ng said that the SAF needs to remain alert and strong to defend the country's sovereignty and national interest.
"We do not want to be caught in between big power rivalries or be forced to choose sides. We want to be useful and friendly to all," said Dr Ng.
He added that Singapore will want to work with like-minded partners both in Asean and around the world to uphold a global system based on openness, respect for international law and non-aggression.