More school resources, community support for disadvantaged students, as PM Lee warns of social disparities persisting after Covid-19
SINGAPORE — Social disparities made more visible by Covid-19 could persist even after the pandemic ends and the Government needs to keep working to close this gap, Prime Minister Lee Hsien Loong said on Wednesday (Nov 10).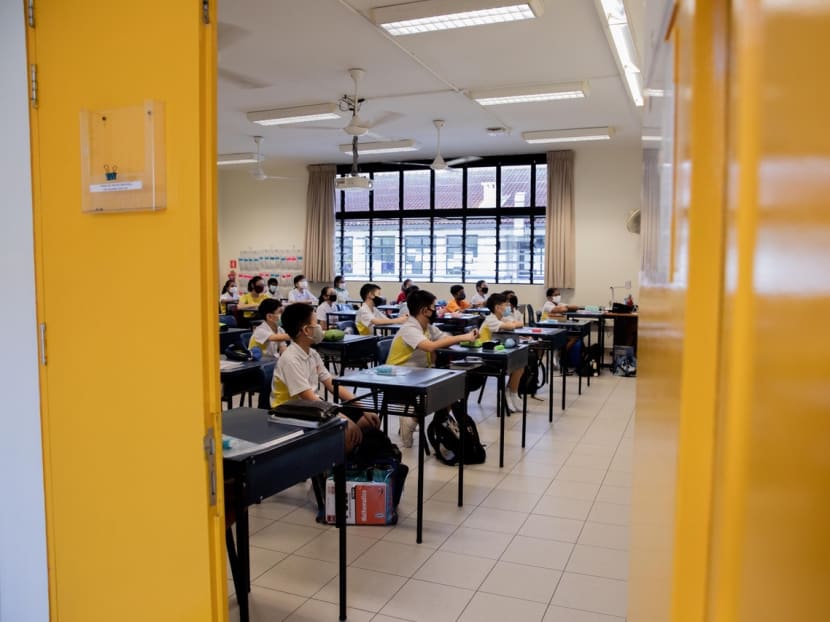 Prime Minister Lee Hsien Loong said that the Government needs to keep helping children in disadvantaged circumstances
He announced that more teachers will be deployed to 24 more schools to support students with absenteeism issues
There will be a community support network for eight more towns in 2022 to help students of disadvantaged families stay in school
 
SINGAPORE — Social disparities made more visible by Covid-19 could persist even after the pandemic ends and the Government needs to keep working to close this gap, Prime Minister Lee Hsien Loong said on Wednesday (Nov 10).
To this end, the Government will expand a pilot programme to 24 more schools by placing four or five more teachers in these schools, to help pupils who do not attend school regularly.
It will also expand an inter-agency community support network for disadvantaged children to eight more towns next year before rolling it out nation-wide, Mr Lee said. He was speaking at a virtual appreciation event for educators and community partners organised by the Ministry of Education (MOE). 
In his speech, Mr Lee pointed out that the reality is that in every society including in Singapore, there will always exist some degree of inequality, to a greater or lesser extent.  
And while every generation has some people who do better than others, a crisis such as Covid-19 has made social disparities more pronounced and these could persist even after the pandemic.
"For instance, when we switched to home-based learning during the pandemic, it was not smooth sailing for every child. 
"Some children had limited access to laptops or fast internet connections at home, others had to jostle for space with their siblings, parents or grandparents," he said.
Such circumstances made it "tough or even impossible" for students to pay attention in class or get help in their schoolwork from parents.
"And depending on whether you have family support at home, parental guidance and mentorship — or not — it can make a lasting difference in your life," he added.
REDUCING ABSENTEEISM IN SCHOOLS
The disparities in circumstances, Mr Lee said, must be addressed in early childhood, schools and at home.
To help do this, Government will expand pilot programmes launched by the Uplifting Pupils in Life and Inspiring Families Task force (Uplift). 
The task force is an inter-agency team led by MOE that was set up in 2018 to tackle the issue of long-term absenteeism among students.
Mr Lee said that the task force's Enhanced School Resourcing programme, which began in 2019 and covers 23 schools, will be extended to 24 more primary and secondary schools from next year.
The programme provides schools with more teachers and resources to help disadvantaged students stay in school and has supported more than 2,000 pupils a year.
Mr Lee said that the results of the pilot have been encouraging with more primary school pupils enrolled in their schools' Student Care Centre and more secondary school students getting along with their classmates. 
School attendance among these students also improved, he noted.
MOE on Wednesday said that the 24 schools joining the programme will have another four to five teachers deployed in each school.
With the enhanced resources, schools will be able to put in place customised programmes to support disadvantaged and at-risk students.
For example, some teachers could be deployed to provide re-integration and academic support for students with absenteeism issues, while other teachers could be deployed to conduct after-school programmes.
Mr Lee said that the programme will be extended to 100 schools in the next few years to support about 13,000 pupils.
NATION-WIDE COMMUNITY NETWORK
In addition, the Government will roll out its inter-agency community network to support disadvantaged families island-wide, Mr Lee said.
The programme, which was launched last year, refers students who need help attending school regularly as well as their families to appropriate agencies and community-based resources. Support for students and families is coordinated at the town level.
Volunteers check in on families to provide social-emotional support and practical help for students and their families.
The programme now supports 300 primary and secondary school students in Boon Lay, Bukit Merah, Kreta Ayer and Woodlands.
Mr Lee noted that eight in 10 students on the programme improved their school attendance and performance last year.
"We intend to progressively expand the pilot into a nationwide Uplift community network, starting with another eight towns next year and more over the coming years." 
The eight towns are Bedok, Chua Chu Kang, Geylang Serai, Jalan Besar, Punggol, Sengkang, Toa Payoh and Yishun.
The network aims to benefit about 1,800 pupils yearly once fully implemented across Singapore, MOE said.
Besides these changes, Mr Lee said that the Government will do more to support students in their post-secondary education.
These include enhancing the curriculum at the Institute of Technical Education (ITE) so that more students can complete their Higher Nitec courses directly in three years. 
This will give them deeper skills relevant to the industry and provide them with a stronger foundation for upgrading their skills in future, he added.
These enhancements will be phased in, starting with selected courses in ITE next year.
MANY HELPING HANDS NEEDED 
Concluding his speech, Mr Lee said that Covid-19 had shown that almost everyone will face some temporary setbacks at some time, with some families facing longer-term difficulties that affect their children.
"Therefore, we must do our utmost to protect these children and help these families. We must not let setbacks and family difficulties prevent younger generations from thriving and improving their lives." 
The Government will do its part to provide support and resources to take every child to as fair a starting point as possible, but it will take many "helping hands" such as educators and the community to help them.
"I hope that more Singaporeans will step forward... join us in this endeavour. Our mission is to uplift our children, preserve social mobility and deliver on the promise of a fair and just Singapore for our next generation and beyond," he said.