Most S'pore animal shelters full as groups cancel pet adoption drives amid Covid-19 outbreak
SINGAPORE — Most pet shelters here report that they are full and unable to take in more animals as adoptions by members of the public have dropped for various reasons related to the Covid-19 outbreak.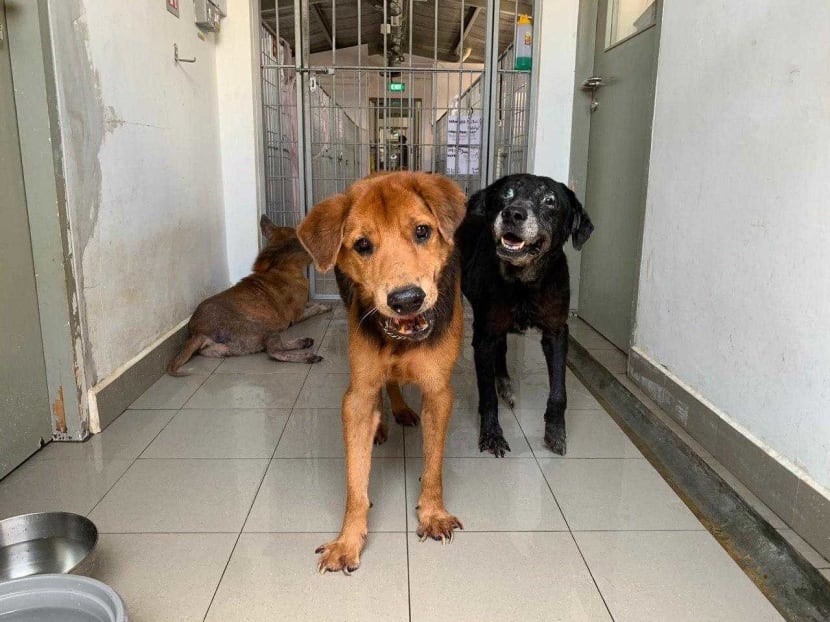 SINGAPORE — Most pet shelters here report that they are full and unable to take in more animals as adoptions by members of the public have dropped for various reasons related to the Covid-19 outbreak.
Adoption drives have mostly been cancelled to prevent large crowds from gathering, leading to fewer pets being adopted and a reduction in donations collected at these events, animal welfare groups told TODAY in interviews over recent days.
Other reasons for the dropoff in adoptions include paranoia that pets could carry the coronavirus, fewer people visiting the shelters to avoid crowded spaces and other people who are unwilling to commit to a pet for financial reasons amid fears of a looming recession, they said.
With fewer dogs and cats being adopted, shelters that are already full or close to being full are unable to take in new animals.
FEWER PETS ADOPTED
Mr Ricky Yeo, president of Action for Singapore Dogs (ASD) said that two adoption drives in which ASD had been involved have been cancelled since the outbreak started. Other planned adoption drives have also been put on hold "indefinitely".
"On average we will take about 40 dogs to each event and may get eight to 10 dogs adopted in a good month," he said. ASD runs two shelters with 130 dogs in total.
"But without the adoption drives, the dogs cannot be adopted as fast and are stuck at the shelter," he added. "So that's why we can't take in more of them as we are already at full capacity."
Ms Merrily Aw, director for Causes For Animals Singapore (CAS) said that monthly adoption drives which see three adoptions on average have been cancelled. She said: "Overall, adoptions are down by 10 to 20 per cent due to the lack of adoption drives."
CAS operates one shelter with 30 dogs that is now full up.
"We are not able to take in more new dogs," she said. "We get about four requests to take in street dogs a week but we can't, so we sterilise and release them to areas they were originally residing in."
Dr Siew Tuck Wah, president of Save Our Street Dogs (SOSD), said that as two adoption drives have been cancelled and future ones are likely to be cancelled as well, staff and volunteers have to work harder now to rehome dogs or place them in foster care where people volunteer to take in animals on a short-term basis until they find permanent homes.
"The rehoming team is working extra hard to get dogs adopted out," he said.
"It is now more difficult for them to be adopted because there is no mass event where people can come and see the dogs." he added.
"We are responding to the anticipated decrease in shelter space by placing more dogs in foster care to make space for incoming dogs."
LOWER DONATIONS OR REVENUE
Some charities have also seen a decline in financial donations due to the cancelled adoption drives and other fundraisers.
President of the Cat Welfare Society, Ms Thenuga Vijakumar, said: "We have cancelled six adoption drives in February and March," she said. "At these events, revenue has dropped by several thousand (dollars) a month."
She said that they have sufficient funds in their reserves to carry on operations for now and will be focusing on online fundraisers instead.
Dr Siew said that one-time donations plunged by 43 per cent in February compared to January.
"People are more cautious during this period of uncertainty. Also, there is fear of recession looming in the near future, so I think everyone would rather adopt a watch and wait approach when donating."
He added that fundraising events other than adoption drives may also be put on hold till after the outbreak.
"Our annual charity dinner is in May 2020. Response has been very poor due to Covid-19, and now we are considering whether to postpone the event," he said, adding that the dinner aims to raise 10 to 20 per cent of the organisation's annual expenditure.
"There have been no other activities planned, as they all involve the gathering of people," Dr Siew added. "We have decided not to start planning for Flag Day, which also raises 10 to 20 per cent of funds, until the virus clears."
OTHER REASONS FOR LOWER ADOPTIONS
Mr Yeo at ASD said that potential adopters may be staying home to avoid crowded places. "Potential adopters are more cautious about being outdoors and people don't want to congregate in crowded places."
Ms Cathy Strong, the president of the Animal Lovers League, said that financial belt tightening could be another factor affecting animal adoptions.
"People might not be thinking about committing to adopting a dog in the long term for now due to the current economic outlook."
Ms Betty Tan, president for the House Rabbit Society Singapore (HRSS) said that people might not be looking to adopt because they believe pets pose a Covid-19 danger.
"One of the more common issues we had faced in times of this Covid-19 outbreak is the paranoia people have of animals catching the virus," Ms Tan said.
"We had one potential adopter's family refusing to let our volunteers enter their house on the day of the house visit, citing the fear that animals will have the virus," she said. "We assume that people may not be actively looking to adopt in times like this as well."
PETS TRANSMITTING THE VIRUS 'NONSENSE'
On March 11, the Society for the Prevention of Cruelty to Animals (SPCA) Singapore said in a Facebook post that it had received queries from "a few" people on whether they should "surrender their pets to protect themselves".
This comes after news reports in Hong Kong that a pet Pomeranian, whose owner had contracted the virus, tested positive for the coronavirus.
Executive director of SPCA Singapore Jaipal Singh Gill told TODAY that there is no evidence that animals can transmit the coronavirus to humans.
"Surrendering or abandoning your pets is not going to make you safer from the virus," he said. "And through sickness and in health you should be looking after the animal as it is part of your family."
"I can also assure the public that at this point there is no evidence at all that any dog or cat or companion animal is a form of transmission of the virus to humans."
Ms Strong said this misconception is not new, adding that her animal welfare group was founded during the severe acute respiratory syndrome outbreak in 2003 to save stray cats and dogs.
"If people come and tell me that I would say that (people can catch Covid-19 from pets) is nonsense," she said. "I think the authorities should educate the public to correct this misconception."
"There is no proof for it and I'm here with them 24/7. If it were true, I would be sick by now and the first one to get the virus."
Checks by TODAY on Monday indicated that some pedigree dogs and cats were found by SPCA and listed on their website as lost. These lost animal posts were published from March 10 to March 13.