Mother names baby 'Jet Star' after giving birth on flight from Singapore
SINGAPORE — Welcome to the world, baby "Saw Jet Star".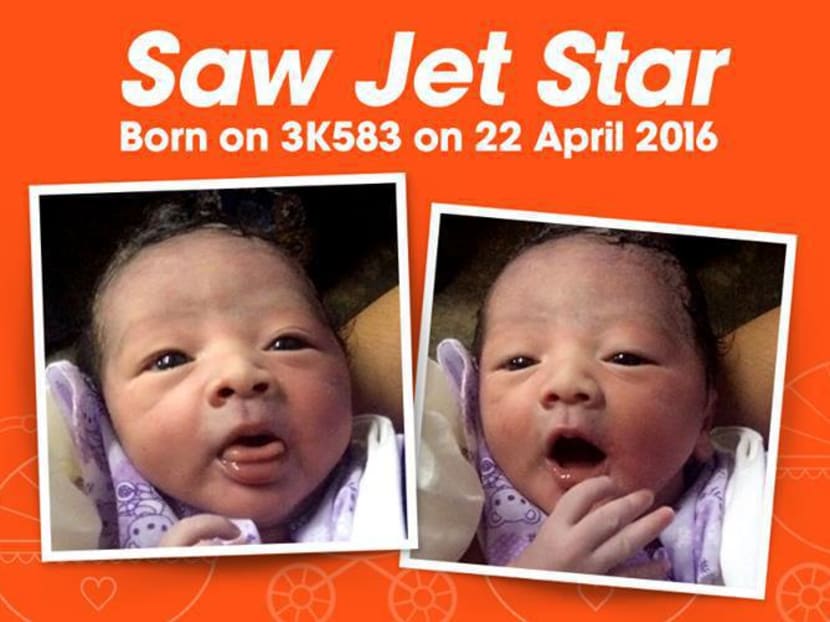 SINGAPORE — Welcome to the world, baby "Saw Jet Star".
A mother who gave birth on a flight from Singapore to Yangon last Friday (April 22) has decided to name her son after the airline to show her appreciation for the care she received.
Jetstar Asia flight 3K583 had just landed in Yangon, when the mother, a Myanmar national, unexpectedly went into labour, said a Jetstar Asia spokesperson. With the help of the crew on board, as well as three doctors who happened to be on the plane, baby Jet Star, who weighs around 2.9kg, was safely delivered.
Both mother and child are currently in good health and have been discharged from a local hospital in Yangon. According to Jetstar Asia, the mother's family name is "Star". Additionally, the name "Saw" is a male gender reference for people from a specific ethnic group in Myanmar.
Baby Jet Star is the first baby to be delivered on a Jetstar Asia flight, says the airline. To congratulate the Saw family, Jetstar Asia is contributing S$1,000 worth of baby supplies.
"We're proud of the way (the crew) assisted with the help of generous doctors onboard to ensure the safe delivery of our youngest ever passenger on a Jetstar Asia flight," said the airline's spokesperson.
According to Jetstar Asia's website, women are allowed to travel on flights less than four hours up to the 40th week of their pregnancy. However, after their third trimester (28 weeks or more), women must bring along specific documentation from their doctors before they're allowed to fly.