Mustafa Centre shuts temporarily after Covid-19 cluster surfaces
SINGAPORE — Mustafa Centre in Little India is shut for now after the authorities confirmed a cluster of Covid-19 cases at the shopping complex on Thursday (April 2).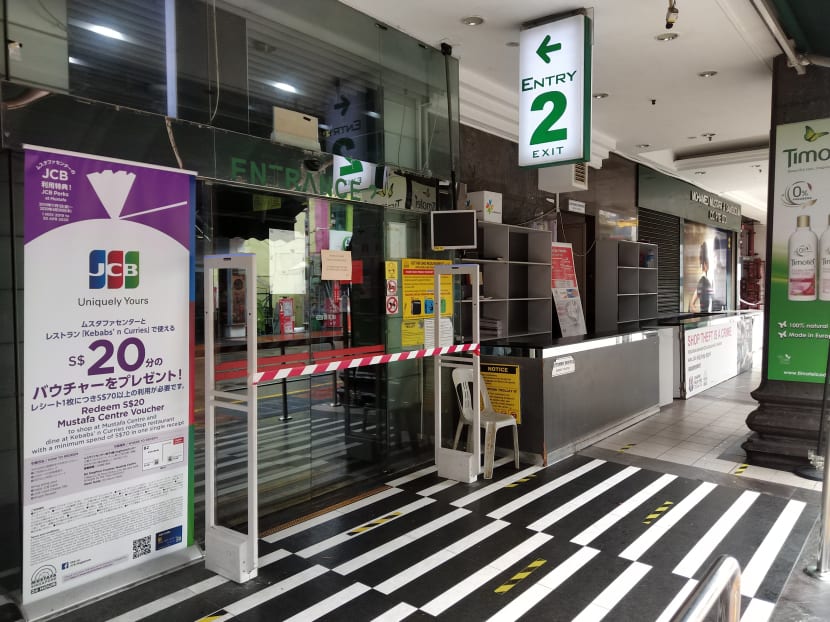 SINGAPORE — Mustafa Centre in Little India is shut for now after the authorities confirmed a cluster of Covid-19 cases at the shopping complex on Thursday (April 2).
But the centre hopes to reopen its supermarket on April 17, its building manager Shamim Ahmad told TODAY on Friday.  
From next Tuesday, most workplaces — except those providing essential services, such as supermarkets and hospitals — would have to close to stem the spread of Covid-19.
Signs have been plastered to Mustafa Centre's entrances, saying that it is closed "until further notice".
Mr Shamim said that cleaning and disinfection were underway.
Fourteen Covid-19 cases have been linked to the shopping complex so far. Among these, at least five or six were employees, Mr Shamim said.
Most of its 1,650 staff members have been told to go home, he added. Several remained on the premises on Friday to move perishable goods out of the 400,000 sqf store, which sells a wide variety of goods from electronics to footwear. 
"Closing such a big place is not an easy job," he said.
SLUGGISH BUSINESS AT NEARBY SHOPS   
On Friday, shops near Mustafa Centre reported sluggish business after the closure of the shopping complex.
TODAY observed that eateries, for instance, were largely empty between 11am and 2pm.
At CMK 2001 Restaurant across the road, business had plunged by up to 80 per cent, its director Patimah Muhammad Ibrahim said.
Ms Patimah said that her eatery would typically be full at lunchtime even after the outbreak started. But by 1.30pm on Friday, almost every table was empty.
She has been forced to put her employees on unpaid leave for the next fortnight to cut labour costs. "We used to have local customers, foreign customers and staff from Mustafa. Now all are not coming," she said.
Other businesses also lamented the loss of human traffic that Mustafa Centre once attracted to the area.
Mr Sadiq Noohu, owner of Indian restaurant Mohamed Waseef, said that Mustafa Centre's employees formed the bulk of his customers. His restaurant was mostly devoid of patrons at lunchtime.
"Our main source of income was from Mustafa," he said.
Mr Raj Kumar, a crew member at convenience store Chili Corner, said that while business has taken a beating from the pandemic, he would normally serve 20 to 30 people each morning. By 2pm on Friday, only two or three patrons had stopped by.
Several customers who eat and shop in the area told TODAY that they were worried about the cluster of Covid-19 cases at Mustafa Centre.
Malaysian warehouse worker Lim Jear Horn, 25, said that he feared venturing near the complex.
His employer has put him up at the nearby Parkroyal hotel on Kitchener Road. "I would move out of this area, if my company allows me to," he said.
Mr Lee Kah Seng, 24, another Malaysian warehouse worker staying at the same hotel, said that he was concerned about his health, as he had been shopping for groceries at Mustafa Centre on Thursday night.
"I do not know who I was in contact with. I do not know if I touched anything that a confirmed case touched," he said.
Mr Gary Lim, 30, a marketing executive, was unaware of the cluster at Mustafa Centre when approached by TODAY.
He has lunch in the area every weekday. "The cluster is much too near. I am quite concerned that it will spread to the nearby area," he said.
Others, however, were unperturbed.
Grab driver Hasan Kasmani, 46, said that he was comfortable being near Mustafa Centre, as long as he does not linger too long.
Ms Lisa Li, 30, who works in information technology, said that she was not worried because she believed that Mustafa Centre would step up its hygiene measures to contain the spread of the virus.