'My birthday became the day that he died', says NSF Liu Kai's sister
SINGAPORE — It was meant to be a day of celebration, but last Saturday (Nov 3) turned into a tragic one for Corporal First Class (CFC) Liu Kai's family when they received news of his death during a training exercise earlier that morning.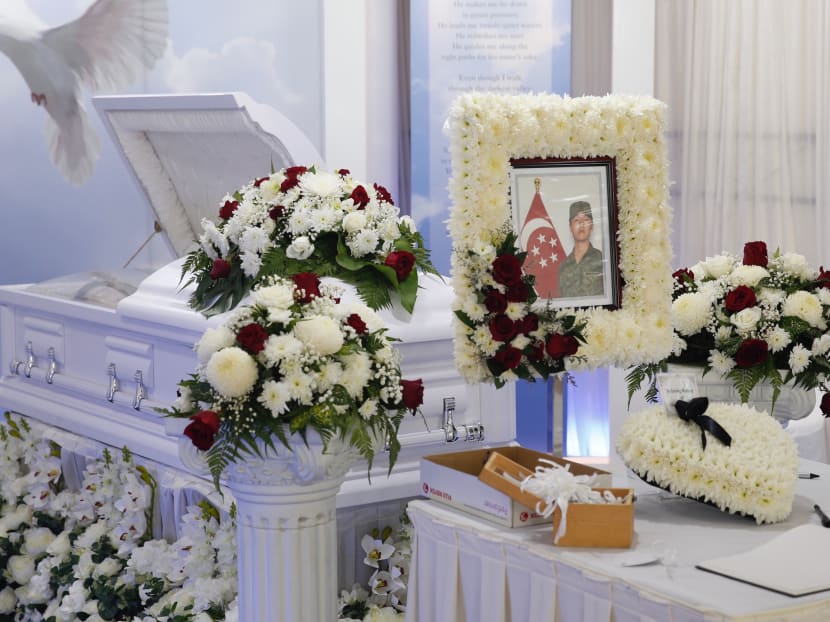 SINGAPORE — It was meant to be a day of celebration, but last Saturday (Nov 3) turned into a tragic one for Corporal First Class (CFC) Liu Kai's family when they received news of his death during a training exercise earlier that morning.
"We were waiting for my younger brother to come back in the afternoon… But my birthday became the day that he died," one of his two elder sisters told reporters in Mandarin on Tuesday.
She, along with CFC Liu's father, were speaking to reporters at CFC Liu's wake in Woodlands. The family did not wish to reveal their names or ages.
The youngest and only son in the family, CFC Liu, 22, was killed in a field training exercise at Jalan Murai, near Lim Chu Kang, when a Bionix armoured vehicle reversed into the Land Rover he was in.
The transport operator from the Singapore Armed Forces' (SAF) Transport Hub West was pronounced dead by medical officers about 25 minutes later.
CFC Liu will be accorded a military funeral, and cremated at Mandai Crematorium on Tuesday.
Commenting on the moment that the family learnt of his death, his father said stoically: "Our hearts really ached. To suddenly receive this kind of news about your son, your own child, I couldn't accept it. But it is every citizen's duty to do National Service (NS)."
He added: "We were waiting for him to come back home to celebrate (his sister's birthday). We will usually celebrate as a family — he was someone who loved family."
He had a "very good relationship" with his mother and told her everything, said Mr Liu. His only son would remind him to take care of her, as his wife was diagnosed with thyroid cancer around April or May this year. She is now recovering, but remains frail.
Ms Liu said that the family-of-five had immigrated from China to Singapore more than 10 years ago, and the permanent residents were in the process of applying for Singapore citizenship.
She added: "We never expected this to happen. (CFC Liu) really wanted to become a Singaporean and represent Singapore. We are proud that he sacrificed himself for his country."
CFC Liu was a "very kind and cheerful" man who used to study long into the night, and he also helped his friends to revise their schoolwork, Ms Liu said. When they needed help, he would encourage them to see things in a positive light.
An active church member who attended Sunday services every week, CFC Liu had planned to take leave from NS next month to travel to northern Thailand on a mission trip to help the local children. He also planned to enroll in university after completing his NS in April 2020, and he wanted to work as an engineer.
His fellow soldiers all liked him as he never complained, even when training was tough, noted his sister.
"He always felt proud about serving (NS). He really liked being in the Army — he always invited us to the ceremonies, to take pictures," Mr Liu said.
Both CFC Liu's father and sister declined to comment on the incident until investigations by an independent Committee of Inquiry (COI) and the police are completed. The COI will investigate the circumstances leading to the incident, before releasing its report.
Ms Liu said that the family believes that "they will give us justice", and they have not asked for monetary compensation from the Ministry of Defence, or the SAF.
In the wake of CFC Liu's death, a photo allegedly showing the scene of the incident was circulated on social media. When asked about this, Ms Liu said: "I hope everyone doesn't listen to whatever is on the Internet. (They should) only believe what we or Mindef say.
"We hope that all Singaporeans do not, because of what is being said on the Internet, misunderstand some things. Don't misunderstand Liu Kai."
Turning emotional towards the end of the interview, she added: "We hope all Singaporeans can come to Liu Kai's memorial and send-off tomorrow, and let Liu Kai see, for the last time, the people of Singapore."
SAFETY 'OF UTMOST IMPORTANCE': CHIEF OF ARMY
On Monday afternoon, Chief of Army Brigadier-General (BG) Goh Si Hou extended the army's condolences to CFC Liu's family.
BG Goh, who visited the wake earlier in the day, said: "He served with pride... his commanders remember him well for his dedication and commitment in service, and I must add that he was well-liked and well-respected by his peers for his positive attitude, and for (being) always willing to help out his fellow soldiers."
Speaking to reporters on the sidelines of a visit to Sungei Gedong camp, where he observed soldiers undergoing drills, BG Goh stressed that safety was of "utmost importance" to the army, and that zero training fatalities "must be our goal".
He added: "Any training death is one too many. This unfortunate training accident should not have happened." BG Goh also urged members of the public "not to jump to conclusions", and to let investigations take their due course.
An indefinite safety timeout called on Saturday following the incident will extend to both local and overseas training, said the Chief of Army. Exercise Trident, a bilateral exercise held at Rockhampton in Australia, is due to commence on Tuesday.
During this period, soldiers will go through rehearsals and drills such as vehicle reversing drills, for instance, in the Armour formation.
BG Goh said: "At the trainers' and commanders' level... to make sure we have proper supervision and safety on the ground. At the system level, we are also taking the opportunity to review all high-risk training, to make sure all our training, as well as safety systems are in place."
The same will apply to Exercise Trident, he added.
CFC Liu's death is the second vehicular incident in slightly over a year involving a Bionix armoured vehicle. On Sept 17 last year, Third Sergeant (3SG) Gavin Chan, 21, a vehicle commander from the 41st Battalion Singapore Armoured Regiment (SAR), died after the Bionix Infantry Fighting Vehicle he was guiding out of difficult terrain overturned during an overseas exercise in Australia.
When asked about this, BG Goh stressed the need to let investigations into the incident involving CFC Liu "run its course".
"Training safety is important in not just one formation," he said.
"It is important in all parts of our army, and we will take this opportunity to relook, and make sure that all safety systems are in place for the army, not just the Bionix systems."
Defence Minister Ng Eng Hen had told Parliament in May - after all investigative processes, including those by the Queensland authorities, have been completed - that the harsh terrain and 3SG Chan's decision to position a "significant portion of his body" outside the Bionix he was commanding were among the factors that led to his death.