MyRepublic enters mobile scene with 'boundless' data, 3 new mobile plans from S$35
SINGAPORE — "Boundless" data, simplified roaming charges, and offers for its broadband customers are among MyRepublic's offerings to entice mobile phone users as it enters the scene as Singapore's fourth Mobile Virtual Network Operator (MVNO).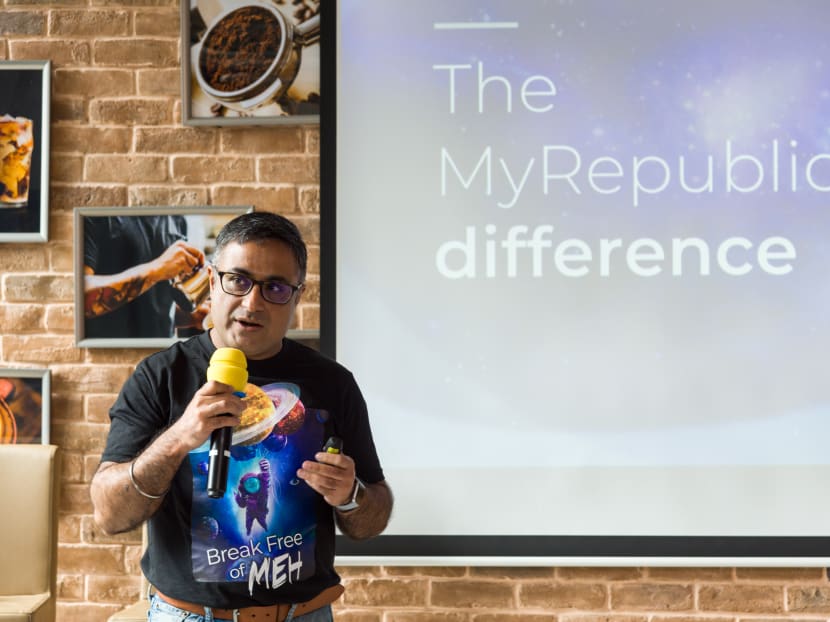 SINGAPORE — Unlimited data which do not require customers to pay extra after crossing a threshold, and simplified roaming charges are among MyRepublic's offerings to entice mobile phone users as it enters the scene as Singapore's fourth Mobile Virtual Network Operator (MVNO).
Announcing three new mobile price plans, starting from S$35, for the public on Thursday (June 21), MyRepublic said all its plans come with a "boundless" data offering, which allows customers to continue to consume data — albeit at a reduced speed — once they hit the advertised data limit of their plans without additional charges.
In essence, MyRepublic's "boundless" data offering is what other telcos market as unlimited mobile data add-ons — without the need to pay more.
For example, under the "fair usage" policy, Singtel's unlimited data feature, available as an add-on at S$39.90 monthly, will see data speeds reduced to 1 megabit per second (Mbps) once 50GB of data has been consumed monthly. Singapore's first MVNO Circles.Life similarly has a 100GB threshold every calendar month for its S$3-per-day unlimited data on demand before a data speed restriction kicks in.
For MyRepublic, the throttled speed will range from "384 kilobits per second (Kbps) to 1Mbps and 1.2Mbps, but the average will be 500Kbps", said its chief marketing officer Shivendra Singh.
Although average 4G speed in Singapore was 44.31 Mbps, as measured by UK-based wireless technology company Open Signal earlier this year, MyRepublic said customers can continue to surf the web, send messages and even stream music at the slower speed.
Explaining why it refused to term its data offer as "unlimited data", Mr Singh said: "Unlimited data is untrustworthy, unless you are giving full unlimited data.
"What we are offering is the ability to use (data) without being overcharged, at managed speeds."
MyRepublic's three new price plans are the Smart at S$35 with 7GB of data, Mega at S$55 for 12GB data, and Xtra at S$85 for 25GB of data, which the company described as a "premium price point".
Besides free incoming calls and SMS, all its plans are contract-free with 1,000 minutes local talktime and 1,000 SMS. It also offers free caller ID.
Existing MyRepublic broadband customers who sign up for its Smart plan will have an extra 3GB of data, while those on its Mega and Xtra plans will have 8GB of extra data.
Customers can opt for one-time data boosters at S$3.50 for 500MB, S$7 for 1.5GB or S$12 for 3GB. Three similar monthly recurring data add-ons are also available, starting at S$5 for 1GB, S$12 for 3GB and S$30 for 8GB.
New users will be able to sign up for MyRepublic plans from Thursday, while users looking to switch their plans can do so from June 29.
These new price plans come on top of two existing mobile plans — Uno and Ultimate — which MyRepublic unveiled for its broadband subscribers in May. Uno was priced at S$8 with 1GB of data, while Ultimate costs S$$80 with 80GB of data.
Describing its local target audience as tech-savvy young adults and even gamers, MyRepublic said that response to its Umo and Ultimate plans has been "overwhelming".
Plans are also afoot to offer devices bundles, Mr Singh added.
EXPANSION AND IPO PLANS
Following the public launch of its mobile service in Singapore on Thursday, the six-year-old internet platform company may expand its MVNO services into either Australia or New Zealand by the end of the year, its chief executive officer Malcolm Rodrigues said.
"Three years ago, 90 per cent of our sales came from Singapore. Today 90 per cent come from outside Singapore, so we are growing," said Mr Rodrigues.
Further expansion plans include a possible listing in the Hong Kong stock exchange in 18 to 24 months.
"Part of the reason why we look at Hong Kong is because if we were a telco, then Singapore works. But because we are not a telco … internet platforms get much better value recognition on the Hong Kong exchange," Mr Rodrigues said.
Besides its latest foray in mobile services in Singapore, MyRepublic currently offers fibre broadband services in Singapore, Indonesia, Australia and New Zealand, and counts over 300,000 customers in these four countries, of which 80,000 are from Singapore.
Adding that the company can "start to make money" with just a 3 per cent share of the broadband market in the countries that it operates in, Mr Rodrigues said MyRepublic aims to be "in a hundred countries with five per market share".
"We have an aspiration to break even at a very low market share. We are not looking to completely transform the market share dynamics here, but we are not going to stop (growing)," he added.
In Singapore, MyRepublic has over 5 per cent market share of the fibre broadband market. Earlier in May, it announced its partnership with StarHub to utilise the latter's mobile network infrastructure to offer mobile services here, making it the latest entrant to the crowded local mobile market — which includes the three telcos M1, Singtel and StarHub, and three other MVNOs Circles.Life, Zero Mobile, and Zero1.
In the second half of this year, Australia's TPG Telecom — Singapore's fourth telco operator — is expected to start operation.