#trending: National Geographic UK removes Facebook post after gaffe saying Singapore is part of Malaysia
SINGAPORE — National Geographic UK has deactivated its Facebook page following a post last Saturday (Aug 27) that incorrectly stated that Gardens by the Bay is located "in Singapore, Malaysia".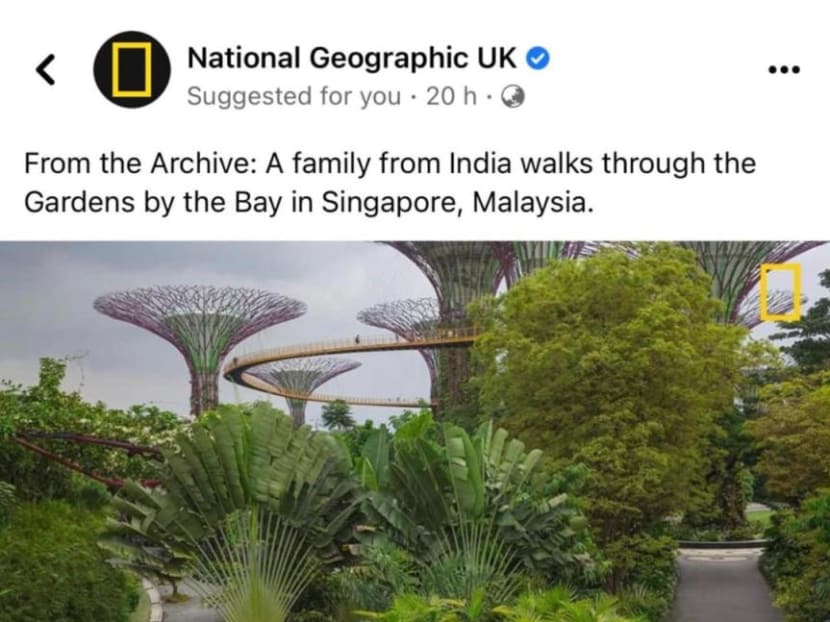 National Geographic UK removed a post on their Facebook page, which incorrectly stated that Singapore is part of Malaysia
The post, which was published on Aug 27, showed a picture of Gardens by the Bay
Social media users trolled the account with images of attractions described to be in wrong locations 
SINGAPORE — National Geographic (NatGeo) UK has removed a Facebook post that was published last Saturday (Aug 27), incorrectly stating that Gardens by the Bay is located "in Singapore, Malaysia". 
People from both countries were quick to pounce on the mistake and had a field day leaving hilarious comments on the post with Malaysians welcoming Singapore back and posting photos of other landmarks in the "wrong" places.
The viral post had more than 16,000 reactions and 10,000 shares before it was reportedly removed.
Users were also unable to search for NatGeo UK's Facebook page as of Monday afternoon and instead were redirected to the National Geographic Asia Facebook page. 
The NatGeo UK Facebook account had published an image of the world-renowned tourist attraction on Aug 27 with the caption: "From the Archive: A family from India walks through the Gardens by the Bay in Singapore, Malaysia."
Eagle-eyed social media users swiftly pointed out that Singapore and Malaysia are two separate countries. Many felt it was ironic that such a mistake was made by a media company known for its content on history, world culture and, you guessed it, geography.
One user quipped: "You call yourselves National Geographic but failed in Geography lol".
Another person questioned if NatGeo UK was still living in colonial times, while others showed that they paid attention during history class by explaining that Singapore was once a part of the Federation of Malaysia but gained independence in 1965.
Meme page MGAG commented: "Technically not wrong if we're talking 50+ years ago."
Some people welcomed Singapore back to the "motherland", joking that Singapore is part of the state of Johor and that Singaporeans can now enjoy cheap petrol without feeling guilty.
Tourism Malaysia, seemingly irked by the mistake, posted an image of Kuala Lumpur's skyline featuring the Petronas Twin Towers and noted: "Dear Sir/Madam, that is Singapore. This is Malaysia."
Other cheeky Facebook users chimed in with images of different landmarks described to be in wrong locations.
Malaysian cinema company Golden Screen Cinemas, for example, shared a photo of its Imax theatre with the caption: "Also from the archive: An Imax theatre built with vibranium in Wakanda, Johor Bahru", in reference to the fictional metal and country featured in Marvel's Black Panther comics.
One user seemed to want to give NatGeo UK a taste of its own medicine by posting a photo of an iconic British landmark: "From the Archive: A beautiful view of the Big Ben in New York, UK."
This is not the first time such an incident of mistaken identity has occurred.
In mid-July, Singaporeans hijacked a Facebook post with their hilarious takes on mislabelled landmarks here when a Scottish satirical travel page posted that Jewel Changi Airport's Rain Vortex was in Scotland at a shopping centre there.
In June last year, online users went into a similar trolling frenzy after a man in the United States claimed that Marina Bay Sands is in "downtown Chattanooga, Tennessee".