National Day Special: Singapore is a 'little microcosm of the world', says artist who now calls it home
SINGAPORE — In the 1970s, amidst the cacophony of constant bombing and shelling, nine-year-old Lakshmi Mohanbabu and her family moved to war-torn Afghanistan while others tried to flee the chaos.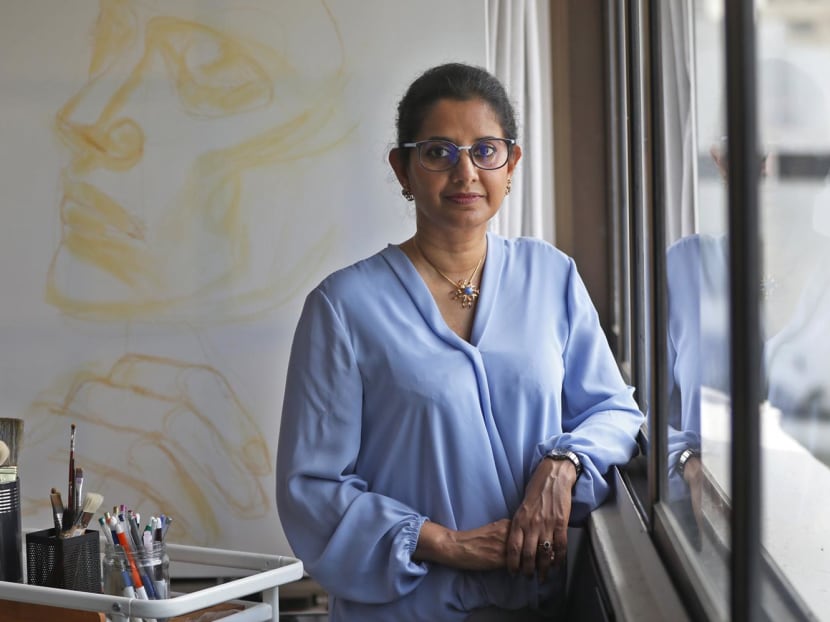 For many, "home" is about more than just a roof over our heads, yet it can mean different things to different people. The events of recent years, including the rise of identity politics around the world, the pushback against globalisation and the Covid-19 pandemic, have also forced some to rethink what "home" means. As part of TODAY's National Day Special this year exploring the sense of belonging, senior journalist Janarthanan Krishnasamy speaks to artist Lakshmi Mohanbabu on why she chose Singapore as home.
Artist and architect Lakshmi Mohanbabu, 53, was born in India but moved with her family to Afghanistan when her father was posted there to serve in the United Nations
Ms Lakshmi and her husband moved to Singapore in 2001 and became citizens in 2005
Wholly embracing Singapore as part of her identity, Ms Lakshmi said that one should not need ancestral roots here to be considered Singaporean 
Her artworks are sometimes inspired by her time in Singapore
Last year, two cubic sculptures she created were selected as part of 100 art pieces to be permanently displayed on the moon in 2025
SINGAPORE — In the 1970s, amid the cacophony of constant bombing and shelling, nine-year-old Lakshmi Mohanbabu and her family moved to war-torn Afghanistan while others tried to flee the chaos.
It seemed like an unusual move but Ms Lakshmi along with her mother and two sisters put up little resistance and left their home in Kerala, India, to accompany her father, a civil engineer, who was to take on the role as the United Nations' (UN) Chief Technical Advisor.
While the battle between Soviet forces and local Afghan militants raged on, Ms Lakshmi spent her childhood closed off from the chaos outside, living within the UN's compound of housed offices, among a close knit international community of families of UN staff. 
"Being a small group, there was much more mingling unlike in big cities where people of the same nationalities, ethnicities or faiths tend to gravitate towards each other," she said. 
This was where Ms Lakshmi started to see the idea of home as a place enlivened with multi-culturalism and interconnectivity.
Twenty-one years later, the professional artist and architect found this in Singapore — a place she describes as a "little microcosm of the world" and "a red dot" which represents the whole world.
"Singapore is the only place where I do not feel like a misfit. I just feel like I belong here,"  said Ms Lakshmi, who explained that the highly cosmopolitan nature of Singapore is why she feels at ease.  
"Home is where I get to meet people from everywhere. Home is where I feel like people are not very different. Home is where I don't see myself as just an Indian or just a Singaporean," she added.  
Ms Lakshmi, 53, eventually left Afghanistan at the age of 18, and returned to India to study architecture in Karnataka Manipal Institute of Technology and then fashion design at the National Institute of Fashion Technology in Delhi.
She married her university sweetheart Gurtaj Padda, an electrical and electronics engineer, and the couple moved to Singapore in 2001 after her husband found a job here.
They became Singapore citizens in 2005.
A SAFE SPACE
While Ms Lakshmi describes her life in Afghanistan as "wonderful", she remembers it as being rooted in insecurity.
Buildings turned to rubble, armed troops marching as well as people crying and wailing, were some of the sights and sounds she recalls from Afghanistan.  
While there, she also had to abide by a curfew of 9.30pm.
"You really couldn't take chances coming back later than that. You could probably get shot or hit by an explosive. So those were things that I grew up with," said Ms Lakshmi, who now lives near Orchard Road with her husband.
She added that her sense of being at home in Singapore also stems from the country's orderliness, cleanliness and just the ability to safely leave home and come back whenever she wants to.
CHANGING THE DEFINITION OF SINGAPOREAN 
She acknowledges that while there are many people here who might not see her as a Singaporean, she hopes that they will embrace her idea of what it means to be Singaporean.  
Ms Lakshmi, who grew up in Sikkim, a Himalayan state in the northeast region of India prior to Afghanistan, asserts that a Singaporean does not have to have many generations of ancestors living here, and that people who have come from other countries can be "just as Singaporean". 
"I feel like when you start figuring out whether an ancestor of mine came here or not, it does not even make sense because we're just such a big, multicultural, multi-ethnic, multiracial society," she said.
"Ultimately, it's the home that you live in, the home that gives you something, the home that you give back to."
"Singaporean-ness", she believes, is also about embracing local habits wholeheartedly.
Going to jalan-jalan (Malay for walks) along Orchard Road, the East Coast Parkway area, Boat Quay and spending time in libraries are among her weekend activities that are common to many other Singaporeans. 
Habits that she picked up since moving to Singapore include getting herself familiar with how to order various types of kopi and teh combinations and trying out teh tarik from different coffee shops. 
"I could use less of all the sugar, so that is probably one thing I should stop doing," she quipped.
She has also embraced the favourite pastime time here — eating. 
She gets her chicken rice fix from a food court at Bras Basah Complex and often tucks into bak kut teh (pork soup) from a stall at Old Airport road.
WANTING MORE FOR HER HOME 
Singapore though, she says, is not without its drawbacks.
Ms Lakshmi feels that even though Singaporeans are open to people coming in from all over the world, society can go further to symbolise inclusivity and welcome people like herself who have made it their home.  
She pointed out that while Singapore is definitely "much, much better" compared to other countries, biased attitudes towards women, people of different professions and differing social status still need to be addressed here. 
Ms Lakshmi also cited news reports of artists seen as non-essential during the Covid-19 pandemic as an example of how some Singaporeans are set in their ways and "not thinking out of their boxes". 
She made the news last year when her artworks were selected as part of 100 art pieces to be permanently displayed on the moon in 2025.
Her work comprises two cubes designed to represent interdependence and unity.
The first cube, called "The Cube of Interaction", is made from aluminium and resembles a blossoming flower, with arrows and waves which create "negative and positive space" to define each other.
The second cube, titled "Structure and Reflectance", used two different types of crystals to create a solid metal cube that reflects light differently.
Each side of the cube reveals a different universal symbol which Ms Lakshmi earlier described to have "connections to every part of the world, in every region, and to every group and race".
"My artworks use cultural symbols that connect people from all geographical regions, walks of life, age groups and belief systems. It is a universal language of symbols that everyone can call their own," she said.
Some of her other artwork, such her acrylic paintings for the Expressions SG50 exhibition at Suntec City in 2015, draw inspiration from Singapore as a nation.  
She hopes that Singapore will increase its presence on the world stage in the arenas of art, design and technology.
Ms Lakshmi feels that during her 20 years here, Singapore has come a long way and she is looking forward to seeing it grow even more.  
"Singapore has already gone through 50 years and I'm about the same age also.
"So in a lot of ways, I feel like as this country has grown, so have I," she said.