National powerlifter overcomes fatigue from F&B work, calluses and illness to eye a 7th gold medal in the sport
SINGAPORE — National powerlifter Matthias Yap pushed his way through calluses and illness, as well as regularly training while juggling a full time job, to "lift" himself into podium chances as the second seed for the Southeast Asian Cup.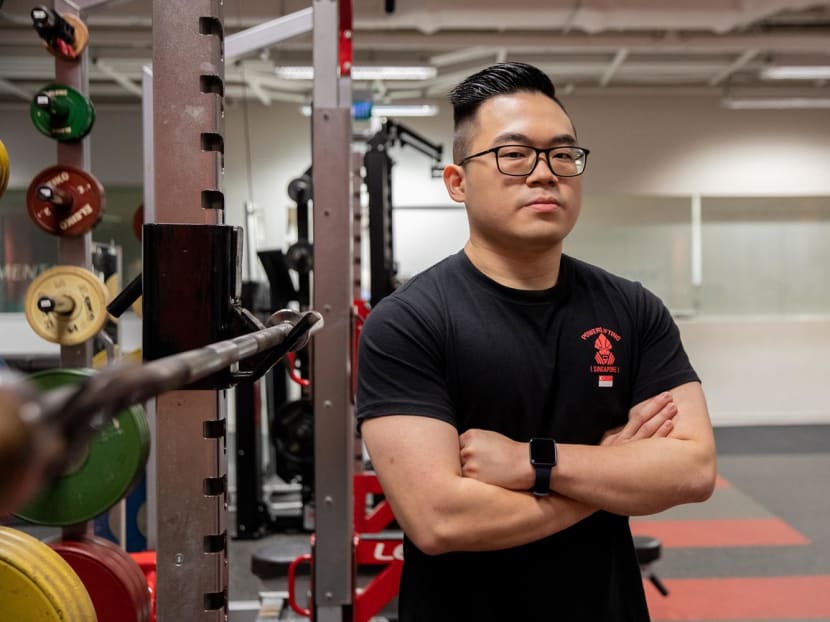 Matthias Yap, 22, will be competing at the Southeast Asian Cup
It is a powerlifting competition involving competitors from seven countries in Southeast Asia 
He had to go through a tough period preparing and training for the competition while juggling a full-time job
Yap, who placed second in the preliminary nominations, ended up clinching two silver medals and a bronze
SINGAPORE — National powerlifter Matthias Yap pushed his way through calluses and illness, as well as regularly training while juggling a full time job, to "lift" himself into podium chances as the second seed for the Southeast Asian Cup. 
Now underway in Johor Bahru, Malaysia, the inaugural powerlifting competition involves contestants from seven countries, namely Thailand, Singapore, Indonesia, the Philippines, Brunei, Vietnam and Malaysia. 
The competition started on Thursday (Sept 15) and will run until Sunday.
Mr Yap, 22, who has six gold medals under his belt from previous competitions, competed in the Under 74kg Junior Category on Saturday. 
At international powerlifting competitions, individual medals are awarded for the highest weight lifted for a squat, a bench press, a deadlift as well as the total — the total amount of weight a powerlifter lifts across all three categories. 
Mr Yap ended up clinching silver medals for his squat and bench results. In the total category, he took home the bronze medal, he told TODAY on Saturday.
His last competition was the Singapore Powerlifting Open held last year, where Mr Yap clinched the champion spot in the Under 74kg Junior Category. 
At the Southeast Asian Cup, Mr Yap faced five other powerlifters from countries such as Indonesia and Malaysia. Another Singaporean powerlifter Ryan Low also competed in the same category.
He had earlier placed second in the preliminary nominations, behind Filipino James Emmanuel Sy. Mr Yap said that the rankings are based on their performances in their latest competitions.
Powerlifting may look similar to the Olympic sport of weightlifting since they both involve the lifting of weights, but they are not the same. 
Powerlifters are judged on who can lift as much weight as possible for one repetition in three lifts: The squat, bench press and deadlift. Weightlifters are judged not just on how much weight they lift but on their technical skills and control as they execute the "snatch" and a "clean and jerk", which involve quicker and sudden bursts of movements.
In an earlier interview with TODAY on Thursday, Mr Yap acknowledged that he will have to "see (his) condition" on the competition day itself, but believed that he will clinch the top spot. 
"Mentally, I'm there without a doubt. Physically, I'm not too sure as my last week of training wasn't that great, but I have a lot of faith in myself," he said with a chuckle. 
Within the last week, Mr Yap had recovered from a flu, threw up once after work because he felt nauseous and tore a callus (an area of hard skin) on his hand while doing deadlifts during training. In a deadlift, he has to position himself in front of a bar of weights on the floor, then pick up the bar and stand up.
"It's very important not to have it (a callus) tear before competitions so the odds are really not in my favour. There are so many things that aren't supposed to happen right before the competition," he said. 
He added that he has not been performing at his best during training sessions because his squats and deadlifts are not "moving as fast as they should". 
"I think it's the fatigue that has built up because of work."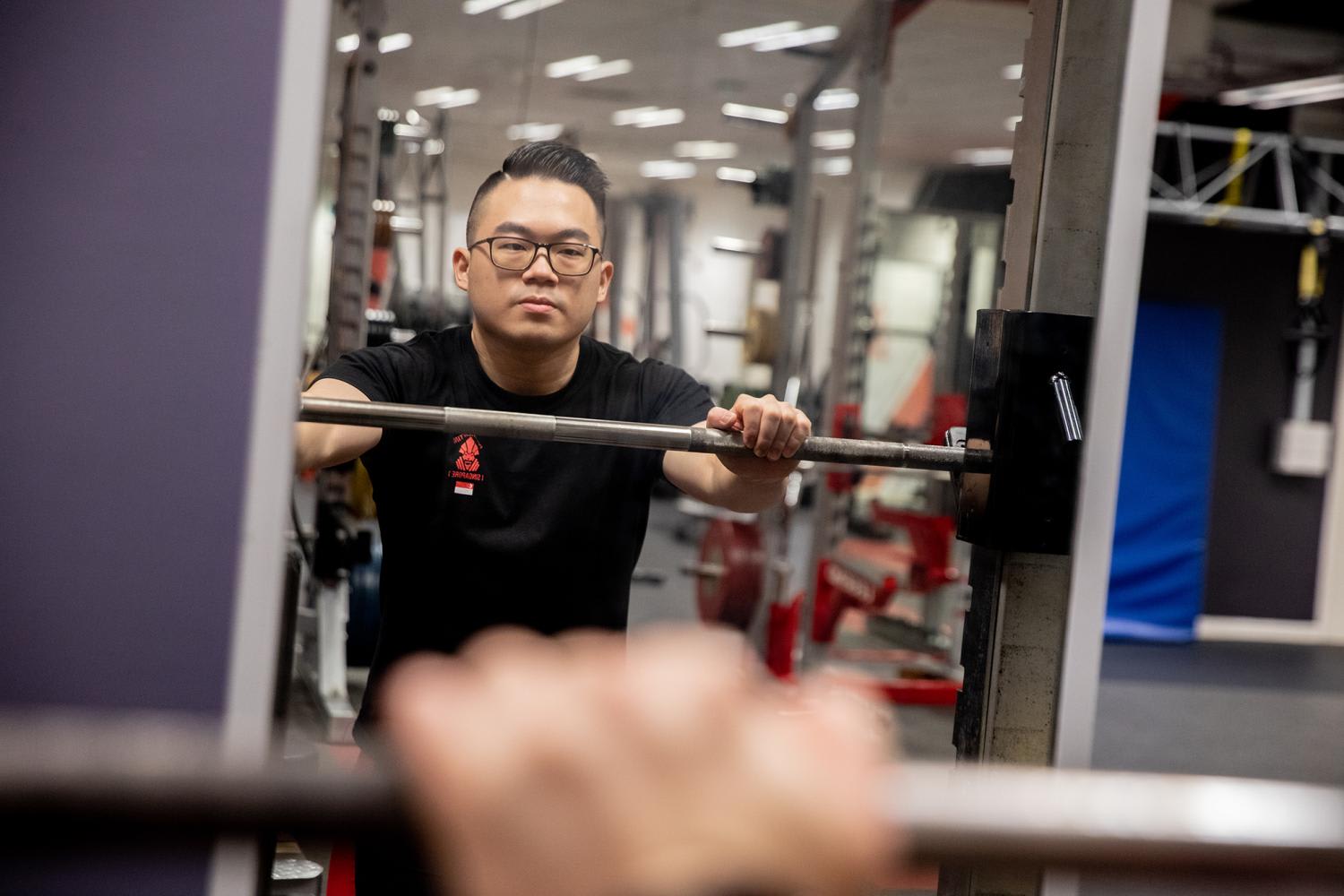 Mr Yap is working in the food-and-beverage industry. It is his first job since graduating from the Singapore Hotel and Tourism Education Centre, where he pursued a Diploma in Pastry and Baking. 
He explained that unlike other national athletes, powerlifters are not funded by the Government since they do not have a recognised national sports association, and most powerlifters have a full-time job while training. 
So unless a powerlifter is sponsored by an organisation, they would have to pay for competitions entirely out of their own pocket. 
The costs could easily come up to around S$3,000 for each competition, which includes competition fees, flight tickets if the event is held overseas, anti-doping tests and other miscellaneous fees, Mr Yap said. 
For this event, Mr Yap is sponsored by Temasek Foundation's Inspire Fund for Athletes. 
For Mr Yap, it has not been easy juggling a full-time job and training, so much so he had to reduce his training sessions from four times a week to three. Each session lasts around four hours and involves warm-ups and practising his lifts. 
On top of that, he does brisk walking at the gym for 40 minutes three times a week as a cardiovascular exercise. 
Despite these challenges, Yap has remained resolute and said: "I expect myself to get on the podium at the competition and I'll fight for first place." 
He added that he had a mindset shift three weeks ago, when he realised that being pessimistic "wouldn't help at all" and being optimistic allowed him to enjoy training more.  
"I knew that I couldn't stay pessimistic because I'm nearing a competition that I have been preparing for a while. And it being an international competition after four years, I thought I should be more positive." 
Yap's last international competition was in 2018 at Mongolia for the Asian Championships, where he clinched the gold medal. 
HOW IT ALL STARTED 
Yap's first foray into the world of powerlifting was when he was just 15. 
The youngest of three children, he has two older brothers Marcus and Matthew who are also powerlifters. They had introduced him to the sport by taking him to the gym to try it out. 
"I was very reluctant at first because I don't like to work out and exercise that much and I felt sore after a gym session," he recalled. 
Yap said that at the time, he would rather stay home instead and bake.
However, he changed his mind after getting a taste of the thrill of the competitive sport and felt a sense of achievement lifting weights. 
After just three months of training, his brothers encouraged him to enter the Singapore Powerlifting Alliance Championships in 2015, where he clinched a gold medal. 
That was when he got hooked on the sport, because he loved the atmosphere and environment at the competition. 
"What got me really interested was the thrill of competing, the thrill of lifting more weights and seeing Singaporeans on the international stage. That really inspired me," he said.