NDR 2021: Here's what you need to know
SINGAPORE — In his broad-ranging National Day Rally speech lasting nearly two hours on Sunday (Aug 29), Prime Minister Lee Hsien Loong weighed in on a slew of issues related to race and religion, low-wage workers as well as anxieties over foreign work-pass holders.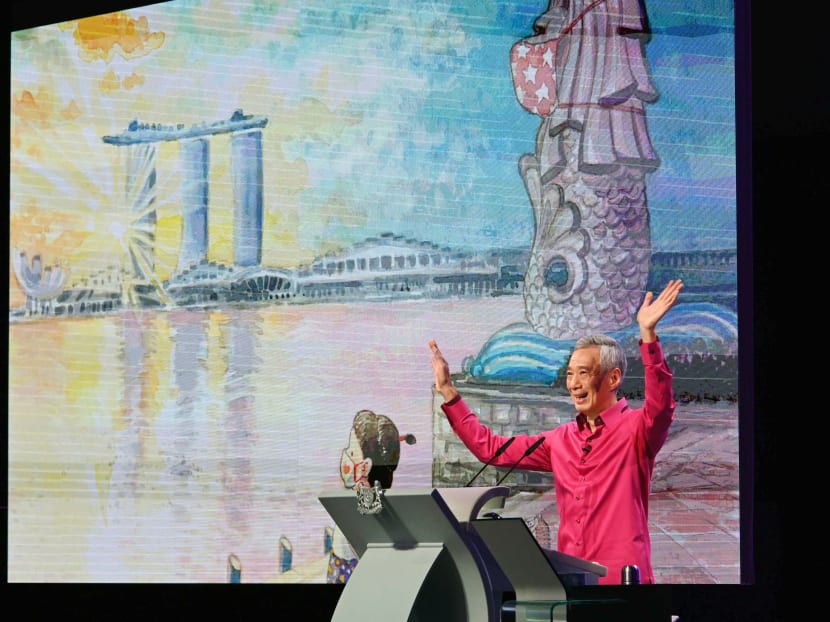 SINGAPORE — In his broad-ranging National Day Rally speech lasting nearly two hours on Sunday (Aug 29), Prime Minister Lee Hsien Loong weighed in on a slew of issues related to race and religion, low-wage workers as well as anxieties over foreign work-pass holders.
These difficult issues were made more urgent by Covid-19, which sharpened fault lines here, Mr Lee said in his televised address from the grounds of national media network Mediacorp. 
The National Day Rally, which was cancelled last year because of the pandemic, is widely seen as the most important political speech of the year.
Here is all you need to know about the three speeches he delivered in Malay, Mandarin and English.
1. Racial harmony law in the works
The Government plans to pass legislation on racial harmony because current laws dealing with serious racial offences such as hate crime are scattered in different places, including under the Penal Code and Sedition Act. Present laws also focus purely on crimes and punishment.
Dubbed the Maintenance of Racial Harmony Act, it will collect in one place all the Government's powers to deal with racial issues.
It will also incorporate some "softer, gentler touches" that will "heal hurt, instead of leaving resentment", Mr Lee said. For example, someone who causes offence could be ordered to make amends by learning more about another race and mending ties with members of that race.
2. Muslim nurses to be allowed to wear a tudung
From Nov 1, the Ministry of Health will revise its uniform policy in the public healthcare sector to allow female Muslim staff members, including nurses, to wear a tudung, or headscarf, if they wish to do so. This change will be applicable to more than 7,000 female Muslim uniformed staff members serving in public healthcare. 
Mr Lee, who announced the move, said that wearing the tudung has become increasingly important for the Muslim community and, for many Muslim women, it is an important part of their faith and an expression of a deeply felt identity. 
3. Chinese majority must better understand concerns of minorities
In his Mandarin speech, Mr Lee said that Chinese Singaporeans should try to better understand the concerns and difficulties faced by ethnic minorities. Even so, he said that it was "entirely baseless" to claim that Chinese privilege exists in Singapore. 
Later, in his English speech, he said that apart from being more sensitive to the concerns of minority groups, Singaporeans must also have the "moral courage" to take a stand against racist behaviour and call out deliberate racist agitation that masquerades as something else.
Citing the example of the campaign against the India-Singapore Comprehensive Economic Cooperation Agreement, a free-trade deal between the two countries, Mr Lee said that it claimed to be about putting Singaporeans first but had a "strong racial undertone".
4. Rising share of Malay households in rental flats among 'worrying trends'
In his Malay speech, Mr Lee pointed to what he described as "worrying trends" in home ownership and education that last year's census illuminated. Among these trends is an increase in the proportion of Malay households in rental flats. The number of Malay households in one-room and two-room public housing rental flats climbed from about 9,100 in 2010 to about 18,600 last year.
5. Enshrining fair employment guidelines in law
The Government will heed calls to toughen enforcement of guidelines on fair employment practices by enshrining them in law. The move will expand the range of actions that the authorities can take in tackling workplace discrimination. The laws will beef up protection for workers against discrimination based on nationality, age, race, gender or disability.
6. Improving livelihoods of low-wage workers
The Government has accepted three proposals from a workgroup comprising the Government, unions and employers that studied how low-wage workers can get more help. These are:
Extending progressive wages to more sectors: This will begin with the retail sector next year, followed by food services and waste management. The authorities will also cover specific occupations across all sectors simultaneously, starting with administrative assistants and drivers.

Firms hiring foreign workers must pay all Singapore employees at least a "local qualifying salary": Right now, such firms already have to pay a S$1,400 qualifying salary to some of their resident employees, depending on the number of foreigners they hire. The change means such companies will be required to pay all their Singapore employees this sum at a minimum. 

Introducing a Progressive Wage Mark: The mark will accredit companies that pay all their workers progressive wages, signalling to consumers which firms are paying all their workers decent wages. As a major buyer of goods and services, the public sector will take the lead to procure only from these businesses.
The first two measures will benefit eight in 10 low-wage workers, Mr Lee said. 
7. Criteria for Employment and S Pass holders to continue to tighten over time
The salary cut-offs for holders of Employment Passes and S Passes were raised last year, and the authorities will continue tightening the criteria over time, said Mr Lee. These passes allow foreign professionals and skilled staff to work in Singapore. 
But he said that the criteria would not be tightened suddenly or sharply such that it would hurt businesses.
This is to ensure that the foreign professionals, managers and executives and mid-level skilled workers "come in where we most need them" and that Singapore "won't be flooded with more than we can absorb, doing jobs for which Singaporeans are qualified and available".
8. 'Changing gears' with Covid-19 under control
Mr Lee said that Singapore must "change gears", now that the Covid-19 crisis is under control. It is no longer about drawing down its reserves to keep the country afloat. Instead, the focus should be on generating new growth, jobs and prosperity. This entails preserving Singapore's business hub status, drawing more foreign investments, and growing Singapore companies and entrepreneurs.