Network of cycling paths in Tampines to be tripled by 2022
SINGAPORE — Tampines, the first town in Singapore to have dedicated cycling paths back in 2010, will triple its network of cycling paths by 2022.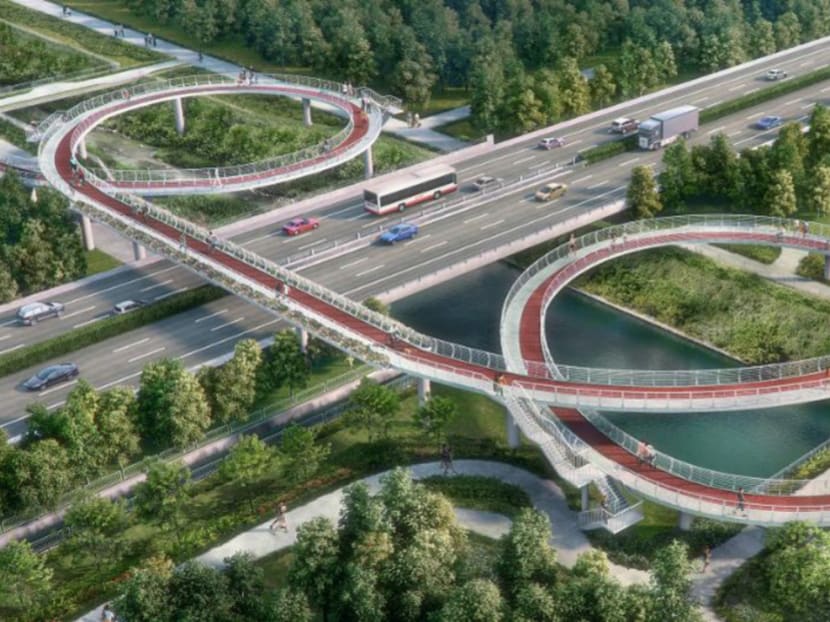 SINGAPORE — Tampines, the first town in Singapore to have dedicated cycling paths back in 2010, will triple its network of cycling paths by 2022.
It could also see a bridge built across the Tampines Expressway for cyclists to get to Pasir Ris. The Land Transport Authority (LTA) announced details yesterday of plans, first announced in March, to transform Tampines into a Walking and Cycling Town — the second here after Ang Mo Kio.
The authority will be calling a tender for design consultancy, and will work closely with the Centre for Liveable Cities and the Tampines community to draw up plans, it said in a media statement.
By 2022, the existing 6.9km cycling path network will triple to about 21km, one kilometre more than the 20km in Ang Mo Kio. The network will connect the town's three MRT stations — Tampines on the East-West line and Tampines East and Tampines West on the Downtown Line 3, which opens on Oct 21 — and other key amenities such as community and food centres, homes and schools.
Existing cycling paths will be widened and improved bicycle crossings will feature additional signs and markings.
The LTA will build trunk cycling routes between Tampines and the neighbouring towns of Simei and Pasir Ris, as well to Changi Business Park and the Singapore Expo Convention and Exhibition Centre.
This will support Tampines' growth as a regional employment centre in the east.
It is studying the feasibility of building a cycling bridge over the Tampines Expressway to connect Tampines and Pasir Ris, as well as a cycling underpass to link Tampines to Simei.
For pedestrians, the LTA said existing footpaths will be widened and barrier-free ramps will be added. To help elderly pedestrians cross the road safely, the LTA will introduce two-stage crossings.
Plans of the enhancements were met with cheer from Tampines residents TODAY spoke to.
While cycling paths around the main thoroughfares of Tampines are wide enough, there is "very poor provision (for cyclists) within the smaller estates", said Mr Eric Wong, 26, a resident of 17 years, who cycles from the Tampines MRT Station to his home.
Ms Jane Toh, 34, welcomed improvements to the pedestrian footpaths. "By expanding the cycling path network, it will take some pressure off the existing pavements that pedestrians share with cyclists," the sales manager added.
Mr Travis Lim, a resident of Pasir Ris who works in Tampines North, said a link for cyclists between Pasir Ris with Tampines would provide an incentive to cycle to work, especially if it results in a faster commute.
The 26-year-old tried cycling once to work, instead of taking the bus, but said the current route "involves a few detours due to schools or the expressway".
Yesterday's statement comes after the LTA said in September last year that cyclists in Tampines, Pasir Ris, Yishun, Sembawang and Taman Jurong would enjoy better facilities such as ramps, racks and bicycle crossings at junctions.
It said almost 30 bicycle crossings in Tampines, mostly in school zones, would be marked to distinguish lanes for cyclists and pedestrians.
A new cycling path is also slated to be installed along Tampines Concourse and Tampines Central 7 — linking up the existing cycling path with places such as the MRT station, Tampines Regional Centre and Sun Plaza Park.
The Government has said it will construct cycling path networks in all 26 Housing and Development Board towns by 2030. In March this year, a spiral bridge across the Pan-Island Expressway was also mooted for cyclists as part of plans to rejuvenate spots along the Kallang River.