Never a dull moment during meal times with Yong Pung How, government ministers and friends recall
SINGAPORE — He was a raconteur, someone who was brilliant at telling interesting or amusing stories.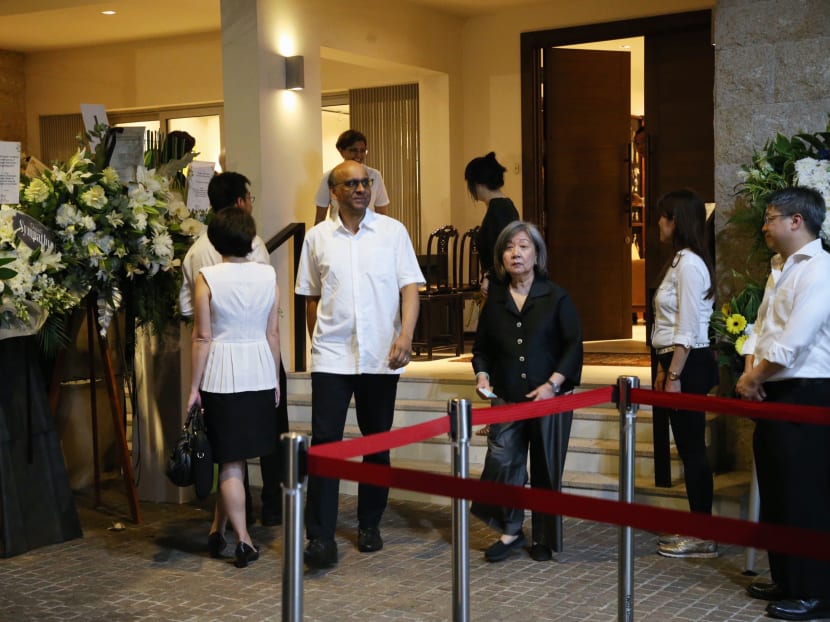 SINGAPORE — He was a raconteur, someone who was brilliant at telling interesting or amusing stories.
That was how Senior Minister Tharman Shanmugaratnam remembered former chief justice Yong Pung How, during the days when he first joined the Monetary Authority of Singapore (MAS) which Yong used to head. 
"(A) wonderful storyteller at every meal. You sometimes remember people not just for their contributions, but their character. And he had so much colour to what he did," Mr Tharman told reporters.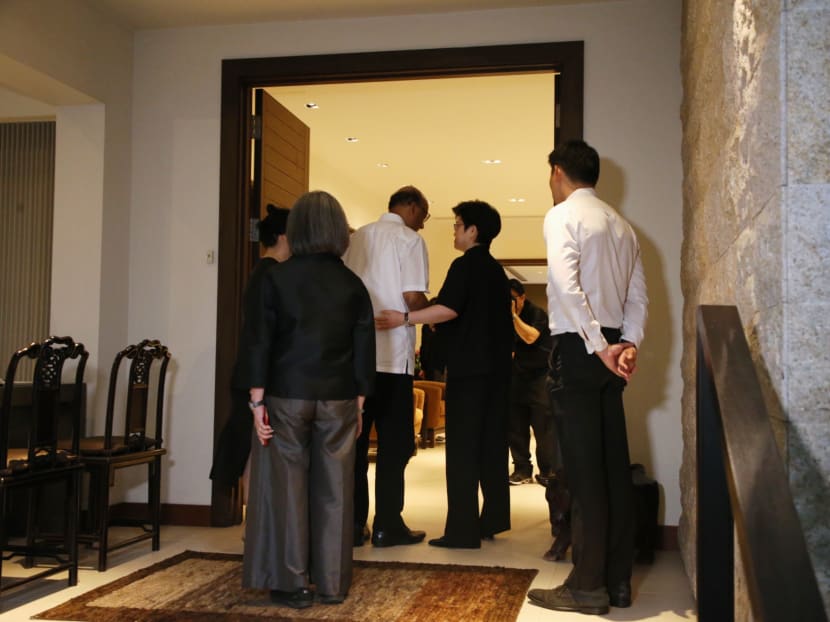 He was one of about 1,000 people who attended the first day of Yong's wake at his home on Nassim Road held from 5pm to 10pm on Friday (Jan 10). The funeral will take place on Monday.
The former chief justice, who was also once chairman and chief executive officer of OCBC bank before rejoining the legal sector, died on Thursday at the age of 93. 
He was the second chief justice to head the judiciary after Singapore's independence, serving from 1990 to 2006. 
Apart from Mr Tharman, other current and former government ministers as well as other political office-holdders who turned up at the wake on Friday included Prime Minister Lee Hsien Loong, Senior Minister Teo Chee Hean, Trade and Industry Minister Chan Chun Sing, Emeritus Senior Minister Goh Chok Tong and former deputy prime ministers S Jayakumar and Wong Kan Seng. 
Chief Justice Sundaresh Menon and other Supreme Court judges were also there, as were staff members from the Attorney-General's Chambers, the State Courts and the Ministry of Communication and Information, where Yong's daughter, Ms Yong Ying-I, is the ministry's permanent secretary. 
Mr Beh Swan Gin, chairman of the Singapore Economic Development Board, and MAS chief economist Edward Robinson were among the visitors. 
Reporters were not allowed in past the main gate except to interview political office-holders at the driveway, and visitors were in and out like clockwork. By 7pm or so, the crowd had thinned out. 
Mr Goh, who was prime minister when Yong was serving as chief justice, said that he did a "great job": "I had, as prime minister, no problems whatsoever with the bench. He looked after the judiciary very, very well." 
Recounting his personal interactions with Yong, Mr Goh said: "He had a very lively mind and very vivid recollection of incidents in his life and he was a great storyteller." 
As the last judge to be appointed to the bench before Yong retired, Mr Menon said that his former boss was "extremely good to the judges and the staff". 
"He had a wonderful heart for the people who worked with him and he really looked after them and nurtured their careers," he added. 
One long-serving staff member is Ms Phyllis See, 71, who was Yong's secretary for 35 years, from the time he was working at the Singapore International Merchant Bankers. 
She followed him after he moved to OCBC and also when he returned to the legal sector as a judge. 
"In the courts, they find that he is very strict because he was trying to hurry them and clear the backlog and all that. But actually he is very nice. He is not strict. He is very kind to the staff," Ms See said. 
Former civil servant and current opposition political party chief Tan Jee Say was also spotted at the wake. He said that he had interacted with Yong before while he was working at the Ministry of Trade and Industry in the 1980s when Yong was heading MAS and the then Government Investment Corporation, now known as state investment firm GIC. 
"He would take down notes from meetings of whoever he met and he would file them so that he could remember who they were the second time he met them. This is a very good habit which I also kept, the habit that I follow through," said Mr Tan, who is the secretary-general of Singaporeans First and also a former presidential election candidate. 
Mr Christopher de Souza, Member of Parliament for Holland-Bukit Timah Group Representation Constituency, who is a lawyer by profession, said that Yong was his first boss when he joined the legal sector. 
"I would call on him in his chambers two to three times a week. We would speak often one-on-one about cases. But he would also impart his wisdom beyond cases, beyond the law. He would talk about Singapore… And so I'm eternally grateful to him. We stand on the shoulders of giants," Mr de Souza said. 
Recalling his last meeting with Yong more than a year ago, former Supreme Court judge MPH Rubin said that they had dinner and although Yong was in a wheelchair, he was still in "good humour". 
"He has a very rich background. He remembers the things in Malaysia and Singapore and all the legal history and many anecdotes," Mr Rubin said.