'Never say never' to cryptocurrencies going mainstream, MAS chief says
SINGAPORE — While the Monetary Authority of Singapore (MAS) does not consider cryptocurrencies as money, there is potential for this to happen in the future, its managing director Ravi Menon said.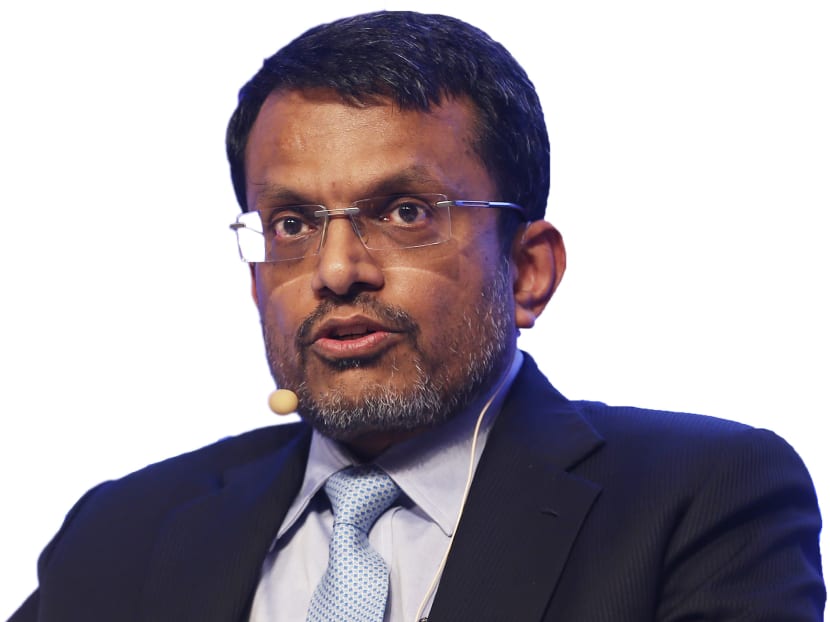 SINGAPORE — While the Monetary Authority of Singapore (MAS) does not consider cryptocurrencies as money, there is potential for this to happen in the future, its managing director Ravi Menon said.
Although the central bank's view is that the nature and scale of cryptocurrency activities in Singapore "do not currently pose a significant risk to financial stability", it is prepared that the situation could change and is closely watching this space with "great interest", Mr Menon said.
For example, a second generation of cryptocurrencies is emerging to address some of the challenges related to network congestion, transaction time, energy costs, money laundering risks and price stability.
Besides that, "some of the best minds in the field are applying their creative energies to make cryptotokens mainstream".
"With technology, never say never," he said.
Speaking on Thursday (March 15) at the Money 20/20 Asia conference held in Singapore for global payments and financial services industry players, Mr Menon said that for cryptocurrencies to be put to mainstream use, one signal would be when there is "public trust and acceptance".
After all, will people put their faith in currency that is not backed by a trusted public institution such as a central bank, which is dedicated to protecting its value, he asked.
"Perhaps, (it could happen) if an algorithm can mimic the reaction function of a central bank and preserve the value of the cryptotokens better than central banks can do with respect to fiat (legal tender) currencies."
Explaining why cryptocurrencies do not fulfil the same functions as money, he drew reference to discussions by Mr Agustin Carstens, general manager of the Bank of International Settlements (BIS), a global financial institution owned by central banks, as well as Mr Mark Carney, Governor of the Bank of England. Both men have spoken at length about this matter.
Cryptotokens, for instance, are not widely accepted as a medium of exchange in any market. They are often "slower and more expensive" to transact than conventional electronic transfers of money. They are not seen as a store of value due to their volatile price fluctuations, and they also do not qualify as a "unit of account" for, say, the upkeeping of financial statements.
In his speech, Mr Menon highlighted the concerns and "dangers" that arise from cryptotoken activities, such as money laundering and terrorism financing, as well as investors being susceptible to potential fraud when caught up in "crypto mania".
He also briefly mentioned that MAS is not about to issue retail central bank digital currencies to the general public yet, because there is no "compelling argument" to do so now, given that digital payment networks are already enabling digital transactions.
"It's not that we are saying 'never', it is just that we don't see an urgent need."
Earlier this week, the BIS issued a report cautioning countries considering the use of digital currencies for the general public to "carefully weigh the implications for financial stability and monetary policy".

CAREFUL NOT TO 'STIFLE INNOVATION'
Mr Menon said that MAS' views on the "crypto space" are "still evolving". The authority does not regulate cryptocurrencies directly, but look at the activities associated with them, the risks, and try to "ensure that (it does) not stifle innovation", he said.
"Regulation should not try to front-run innovation. Take one step or maybe two steps back. Watch closely what is going on… when you haven't figure out how exactly you are going to define these things, and put in place regulations."
For now, the central bank is also watching "with interest" the developments in the United States, where futures contracts based on cryptotokens have been introduced on regulated exchanges and there are clearer rules governing trade activities, with the potential to "stabalise" prices.
At home, the Government here is exploring wholesale central bank digital currencies, having issued a digital Singapore dollar on the blockchain called Project Ubin, to facilitate payments among the banks without going through MAS.
The central bank has entered into a collaboration with the Bank of Canada to test and develop a cross-border solution using cryptotokens issued by the two central banks.
The project "looks promising," Mr Menon said, but due to the complexities of the technology, it would take "quite some time" before it is ready to show results.