Quiet weekend at car showrooms amid high COE prices
SINGAPORE — Car sales have been declining amid rising Certificate of Entitlement (COE) premiums, with the latest statistics showing the number of registrations for new cars dropping sharply in February.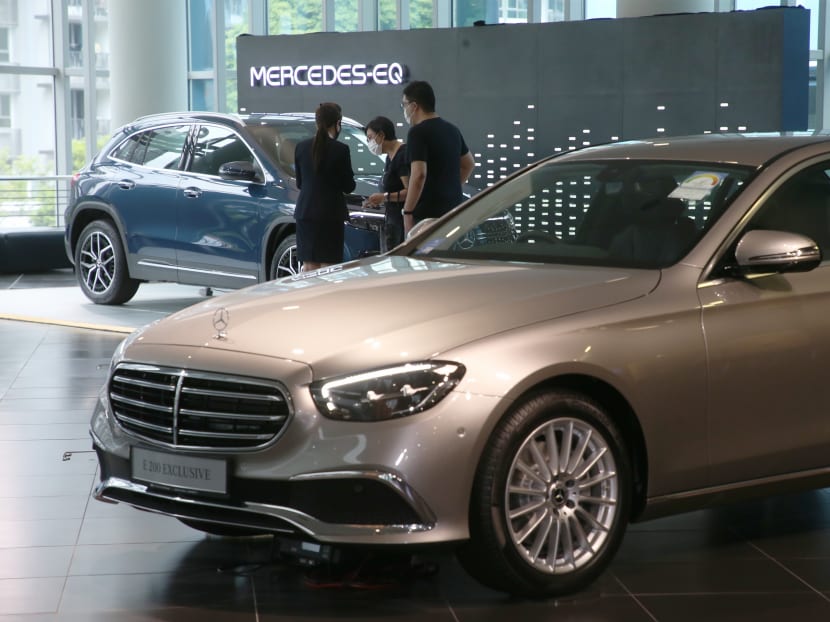 Few car buyers turned up at the showrooms over the weekend following the latest round of COE bidding which closed at S$99,999 in the open category
Car salesmen TODAY spoke to said they have seen interest decline steadily over the past few months with customers adopting a wait-and-see approach 
One salesman said that this has prompted some salespersons to move to different industries
SINGAPORE — The first weekend after Certificate of Entitlement (COE) premiums closed just short of S$100,000, saw potential buyers shying away from car showrooms. 
Car salesmen whom TODAY spoke to said that they have seen a decline in interest in recent weeks, owing to an uptrend in COE prices as buyers seem to be adopting a wait-and-see approach.
When TODAY visited various car showrooms at Leng Kee Road on Sunday (April 10) afternoon, they were mostly empty.
Only luxury car showrooms such as the Cycle and Carriage showroom and Mercedes had a few groups of interested buyers present. 
At another luxury car showroom nearby, an employee said that turnout that day was "less than normal".
In fact, car salesmen whom TODAY spoke to said that the decline in buyer interest had started earlier this year, amid rising COE premiums:: Since January, premiums have gone up by about 20 per cent for both Category B, which is used for larger cars, and the open Category E, which can be used for any type of car but end up usually used for larger cars. Premiums for COEs in for the small car category, or Category A, meanwhile have risen by around 25 per cent.  
A salesman for a luxury car brand, who only wanted to be known as Mr Chua, told TODAY that footfall has halved in the past few weeks, compared to January, as a result of rising COE premiums. He said: "We don't have to talk about sales even. The number of walk-ins we are seeing has dropped drastically."
He added that walk-ins were particularly poor on weekdays, which would be about a quarter of customers coming in compared to weekends.
Other showrooms are seeing similar trends.
Mr Ray Perumal, the manager for VIP Auto Nation, which sells both new and used cars, said that COE premiums have been the main reason for the decline in new car sales in the past few months. 
"It is going to take a while for everything to simmer down," he said.
Industry watchers told TODAY previous that they expect COE prices to continue rising possibly till next year given the tight supply for certificates and the relatively elastic demand for bigger and luxury cars. 
Mr Chua said that the rising COE prices have led potential buyers to hold out for when prices fall, while some continue to "sit on the fence". 
He said: "The prices are the main issue, on top of others, like stock availability. Some people cannot wait for their car and might end up with a used car instead."
The decline in sales for new cars has prompted some to consider other professions. 
One salesman said that he has seen six people in his industry switching jobs due to declining new car sales.
Mr Richmond Chan, the sales director of car dealership MIDAS Automobile, a used car dealership, said that the higher prices have turned car buyers to the used car dealers.
"So early last year, what happened was, when the COE went up, people were waiting for it to fall again. But now, people have accepted the fact that is going to be high, so they are buying used cars instead," he said.