Plans to protect Pulau Ubin's rich biodiversity in the works
SINGAPORE — A rejuvenated shoreline, a new coastal boardwalk and spaces for critically endangered animal species — such as otter dens — are in the works for Pulau Ubin, in an effort to protect the island's rich biodiversity.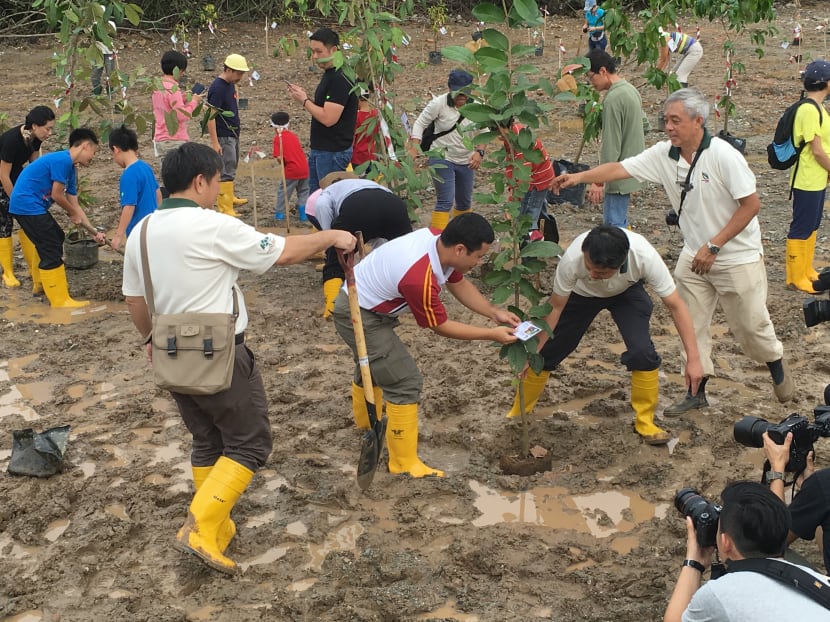 SINGAPORE — A rejuvenated shoreline, a new coastal boardwalk and spaces for critically endangered animal species — such as otter dens — are in the works for Pulau Ubin, in an effort to protect the island's rich biodiversity.
Works to restore the island's shoreline — in particular the northern shoreline — are expected to begin next year and conclude by early 2020, the National Parks Board (NParks) announced on Sunday (May 22). A tender will be called soon for this purpose. 
Plans to restore the shoreline were announced in 2014 as part of the Ubin Project, an ongoing effort to gather suggestions on enhancing its natural environment and protecting its rustic charm. Pulau Ubin's shoreline, particularly at Noordin Beach in the island's north, had been observed to be eroding, threatening coastal and mangrove habitats and exposing the foundations of old buildings, among other things. Erosion was also behind the closure of Noordin Beach, a popular camping site, in 2013.  
Feasibility studies on shoreline restoration work, which took place over a year and wrapped earlier this month, found that changes in wave conditions, due in part to wakes generated by the movement of ships, as well as land-use change, were among the key causes of the erosion. 
Following modelling studies by external consultants, the construction of headlands with armour rocks has been identified as a possible measure to restore the island's northern shoreline, particularly at the Noordin and Mamam beaches. The headlands, spaced 200m apart from one another and with sand nourishment between them, will serve as control points, allowing for a curved beach to form.
In addition, mangrove restoration measures will be deployed in tandem by filling undercuts chiselled by waves with substrate in biodegradable sacks — such as soil — alongside rocks at the toe, to shield the shoreline from further erosion by the waves. Wooden poles will also be erected to break up the energy of the waves, creating an environment conducive to the growth of mangroves.
These measures, NParks said, have been "assessed to be most suitable in protecting and rehabilitating the northern shoreline with minimal impact to the surrounding".
A coastal boardwalk, which will span about 500m in length and partly extend into the sea, will also be built as part of shoreline restoration efforts. From the boardwalk, visitors will have views of the island's coastal mangroves and hills. Noordin Beach will reopen to the public for outdoor recreation when the restoration works are completed. 
Also unveiled on Sunday was a design for new otter dens, or "holts", as part of species-recovery efforts for the oriental small-clawed otter. 
It is the first time such spaces are being built for the critically endangered species endemic to Pulau Ubin and Pulau Tekong. 
Two such otter holts will be erected at Noordin Beach and near the Sensory Trail ponds on the island by year-end to monitor and study the behaviour of the mammals. Species-recovery efforts are also underway for bats on the island, with two bat houses set up near Noordin Beach and at Bukit Belukar earlier this year and 30 bat boxes being installed progressively across the island.
(CLICK TO ENLARGE) 
Senior Minister of State (Home Affairs and National Development) Desmond Lee, who joined the community in planting mangrove saplings at the Ubin Living Lab's mangrove arboretum on Sunday, said more must be done to protect Pulau Ubin's rich biodiversity. 
But the authorities cannot do this alone, he noted. "There will certainly be more avenues for community participation … I hope that many more Singaporeans will join us in our endeavour to conserve the many living organisms that exist alongside us," he said.
Conservation expert Ho Hua Chew, vice-chair of the Nature Society (Singapore)'s conservation committee, said the shoreline restoration works were "necessary". 
Dr Ho pointed to the importance of breaking up wave action in preventing further erosion, and was confident that NParks had studied the shoreline and wave movements and considered its course of action carefully.
On the other hand, Mr Ben Lee, founder of nature conservation group Nature Trekker, thought the plan to erect a boardwalk unnecessary. A boardwalk will attract scores to the island's north, disturbing the tranquility of the area, he said, adding that its development would also have an impact on the environment. "To me, Ubin is to be left as natural as possible — (that) is the best," Mr Lee said.
Meanwhile, an upcoming community event to celebrate all things Ubin — Ubin Day on June 4 — will include guided walks and craft workshops showcasing the island's biodiversity. Author Neil Humphreys will also be reading from his latest children's book on Pulau Ubin, in a storytelling session for children below 12.