New Mandai resort will offer 'unprecedented access to nature', treehouses for guests
SINGAPORE — An eco-friendly resort to be built within a lion's roar of Singapore Zoo and the other wildlife attractions in Mandai, thus giving guests unprecedented access to nature, has moved one step closer to opening in 2023.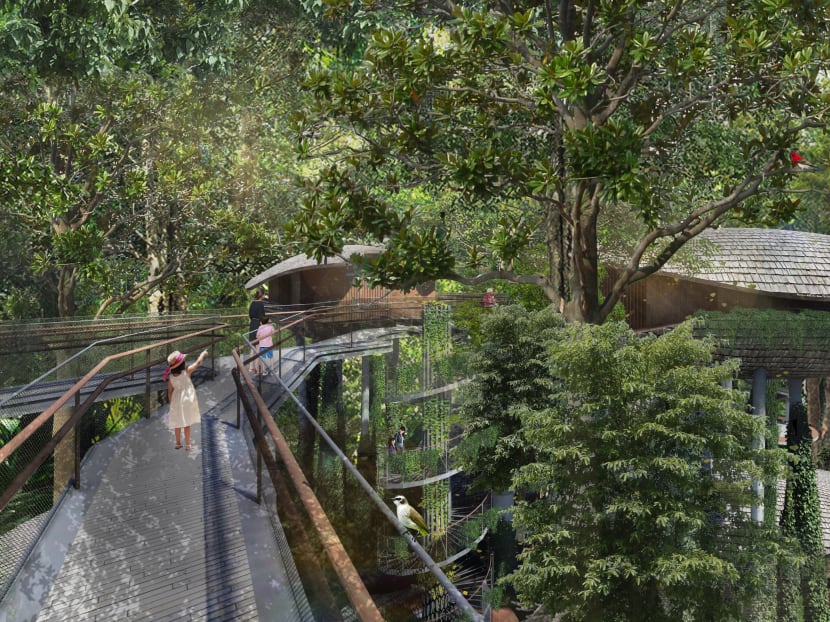 SINGAPORE — An eco-friendly resort to be built within a lion's roar of Singapore Zoo and the other wildlife attractions in Mandai, thus giving guests unprecedented access to nature, has moved one step closer to opening in 2023.
Visitors wanting to escape the urban jungle will be able to stay in rooms nestled among the trees at the resort, to be run by luxury resort operator Banyan Tree Holdings. For now, the 4.6ha site is used by Singapore Zoo for back-of-house operations.
On Thursday (May 23), Wow Architects was appointed to design the resort, which does not have a name yet. It is set to feature 338 rooms, of which 24 will be treehouses. The project was first unveiled in 2017.
Located at the northern tip of the Mandai area, the resort will provide convenient access to all five zoological parks in the district when it is open.
The upcoming Bird Park is slated to open next year, and the Rainforest Park will open by 2023, just before the resort is due to open. They will join Singapore Zoo, Night Safari and River Safari.
The attractions rank high on many tourists' must-see lists.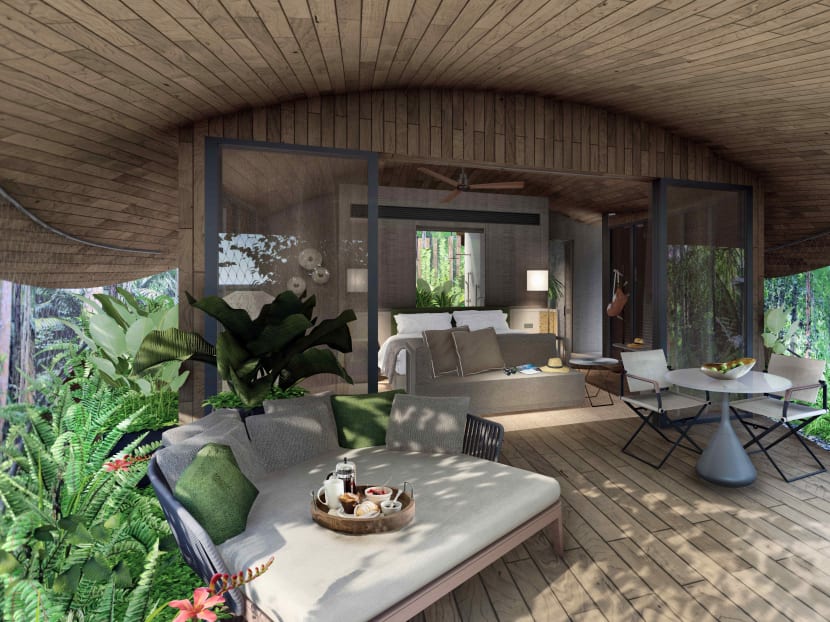 Guests will be able to enjoy a specially curated programme of activities, including behind-the-scenes views of the zoos' operations, guided nature walks, and hands-on activities that feature closer interactions with the animals.
Mr Wong Chiu Man, managing director of Wow Architects, said that the project is aiming to be Singapore's first "super low-energy" resort. The "biophilic design" — a term meaning the occupants are connected to nature — of the site integrates it with the surroundings, and "blurs the interface between nature and man", he added. 
Mr Wong was speaking at a press conference on Thursday announcing the firm's appointment as architect for the resort.
Its concept has been designed in tandem with existing vegetation, treelines and topography, to minimise the footprint left on the natural environment, Mr Wong said.
Mr Mike Barclay, the group chief executive of Mandai Park Holdings, which runs the wildlife attractions, said that the resort will revolve around the central theme of a "conscious stay".
"We want them to be conscious of the rainforests all around them, be conscious of how it's best to interact with plants and animals, and also to leave with some consciousness of how we can lighten our touch on the natural world," he said.
NATURE AT YOUR WINDOW
Mr Ho Kwon Ping, Banyan Tree's executive chairman, said that the resort will give visitors "unprecedented access to nature".
"So much has been done to create a sensitivity on interactions with nature, and this could possibly be the most mindful vacation that Singaporeans will have," he added.
The resort will engage guests to promote environmental awareness, sustainable best practices and the conservation of biodiversity.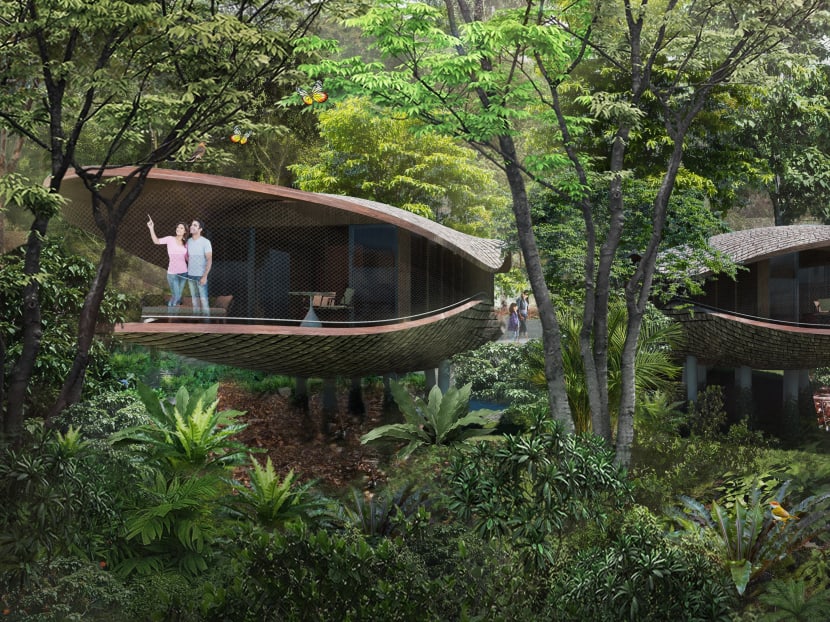 For example, guests will be encouraged to reduce energy and water consumption in their rooms, to practise recycling, to dispose of their food waste responsibly, and to be respectful of the surrounding flora and fauna.
Speaking to TODAY, Mr Barclay said that signs will be put up around the premises, and short briefings will be given to guests when they arrive at the resort.
These will be key messages "about the rainforests and how they should treat their surroundings, and also how they should interact with wild animals if they see them".
MINIMAL HUMAN IMPACT
While construction work may inevitably cause environmental impact, with earlier reports suggesting that the precinct's development could affect groundwater quality and disrupt certain habitats, the resort is to be designed with "maximum sensitivity", Mr Barclay said.
For instance, the resort's site was chosen because it is already a built-up area, as it houses the Singapore Zoo's back-of-house facilities and water treatment plant.
With this in mind, "we planned to cluster the resort's buildings in areas which have already been cleared of trees, to minimise the tree fall on the site," Mr Barclay added.
Mr Wong also noted that more than half the trees on the site will be retained, of which 40 per cent are of conservation value. This will complement extensive planting on the roof and facade of the resort buildings.
Re-greening efforts will also double the number of trees in the area.
"By the end, the tree canopy will be far more richer than it is today — more complete. And it will be an excellent area for biodiversity to thrive around the resort," he said.
SUSTAINABLE DESIGN
As a "super low-energy" resort, active steps will be taken to adopt sustainable and environment-friendly best practices, Mr Wong explained.
The resort will have several energy-saving measures, such as natural lighting and ventilation, and mixed mode air-conditioning that additionally utilises fresh air. Solar panels will take up half of the roof space.
The 24 elevated treehouses will also feature passive displacement ventilation, a solution that cools air using chilled water rather than traditional air-conditioning compressor units.
Rooms will feature blinds instead of curtains, and guests can choose to leave their windows completely open and sleep without any air-conditioning, Mr Wong said.
"With this, you can choose to be completely open and be one with nature." 
Wherever possible, the resort will be elevated several metres above the ground to allow native wildlife to move across the site.
It is also being designed to be unobtrusive, sitting below the upper canopy layer of the surrounding trees.
With intensive efforts to promote sustainability through design, "we want to show how a building can give back even more than it takes away," Mr Wong said.