New measures to help employers be better matched with foreign maids
SINGAPORE — The Government is introducing measures to help employers and foreign domestic workers find a better fit and have more lasting relationships.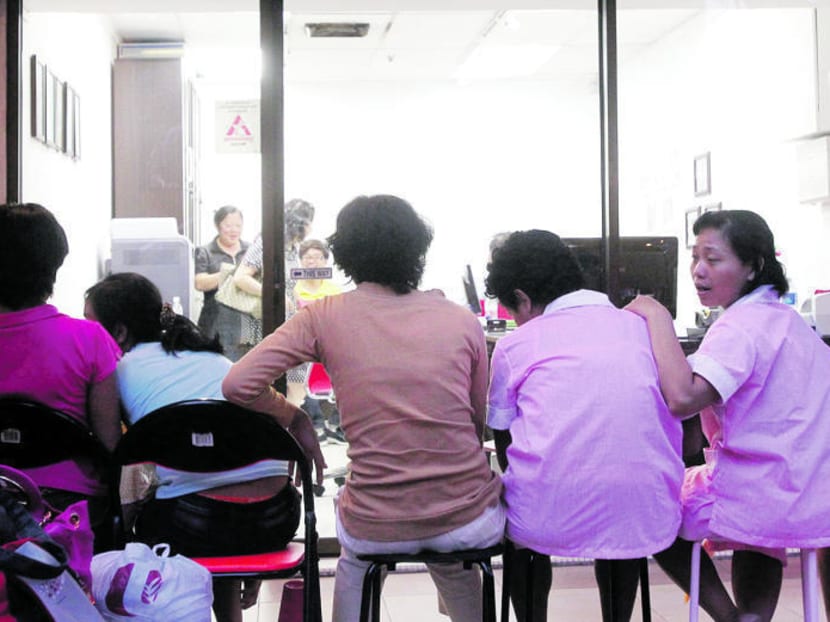 SINGAPORE — The Government is introducing measures to help employers and foreign domestic workers find a better fit and have more lasting relationships.
They include giving more information on the previous work experience of potential maids to employment agencies and employers, as well as a partial refund of service fees by employment agencies if a helper terminates her contract early.
The measures, which were announced on Sunday (Oct 6) by the Ministry of Manpower (MOM), will be rolled out over the next two years.
WHY IT MATTERS
There are approximately 250,000 foreign maids working in Singapore currently. According to MOM, two in three do not make it to the end of their two-year contracts, with early termination being costly and disruptive to both employers and workers.
The measures come following a year-long engagement with employers, employment agencies and non-governmental organisations (NGOs) representing foreign domestic workers.
Among some of the issues raised during the engagement were the lack of information available to employers on why maids left their previous employment, as well as a lack of incentive for employment agencies to ensure that the workers see through their contracts.
The following are the measures that will be introduced:
HELPING EMPLOYERS AND MAIDS FIND A BETTER MATCH
In addition to a maid's length of employment, prospective employers and employment agencies will soon have more information on her previous work experience as well.
From October next year, they will have access to information such as the type of residence and the size of the household a maid previously worked in, reasons her previous employer ended her contract and her key job scope (ie caregiving for the elderly or cooking and cleaning).
This information will be available on MOM's online work permit system for foreign domestic workers. Employers will be required to enter this information when conducting the work permit transactions of their maids, for instance when a permit is renewed or cancelled.
From next October onwards, employment agencies will also have access to the profiles of maids hired by employers who change five or more helpers within a year. The MOM said that with more information, employment agencies can better advise such employers, who make up 0.1 per cent (or 250) of the total number of employers here last year, in selecting suitable helpers.
Currently, employers who have changed more than three maids within a span of a year and wish to apply for another one will have to attend an "Employers' Orientation Programme" or an interview with MOM before their applications are processed.
ENSURING EMPLOYMENT AGENCIES TAKE AN INTEREST IN THE OUTCOME OF THEIR MATCHES
From October 2021, all employment agencies will have to provide an option for a refund of at least 50 per cent of the service fee charged to employers when a maid's employment ends within the first six months. Employment agencies will decide on how much refund to offer.
While some employment agencies currently offer refunds of their service fees, this is not mandatory. Some agencies also offer to replace maids. With more options available, employers may choose to take a refund and engage another employment agency who may have more suitable helpers.
In addition, employment agencies will soon be able to keep tabs on maids who have worked in Singapore before but no longer do so. From October 2021, MOM will notify employment agencies when the workers they have placed leave Singapore after completing their contracts here.
The ministry said that these maids were likely to have adjusted well in Singapore and have had good working relationships with previous employers. As such, bringing them back would benefit other prospective employers.
HELPING MAIDS AND EMPLOYERS BUILD BETTER RELATIONS
At the end of this month, employers and maids will have access to free dispute resolution services offered by Centre for Domestic Employees (CDE) and Foreign Domestic Worker Association for Social Support and Training (Fast).
CDE is a non-governmental organisation that helps both local and foreign domestic workers address work-related challenges that they may face, while Fast is a charity that provides skills training for maids.