New national programme to boost Singaporeans' 'digital confidence'
SINGAPORE — Sixteen years after the Government embarked on a national programme for Singaporeans to pick up basic computer skills, a new national initiative will help prepare them for the digital economy.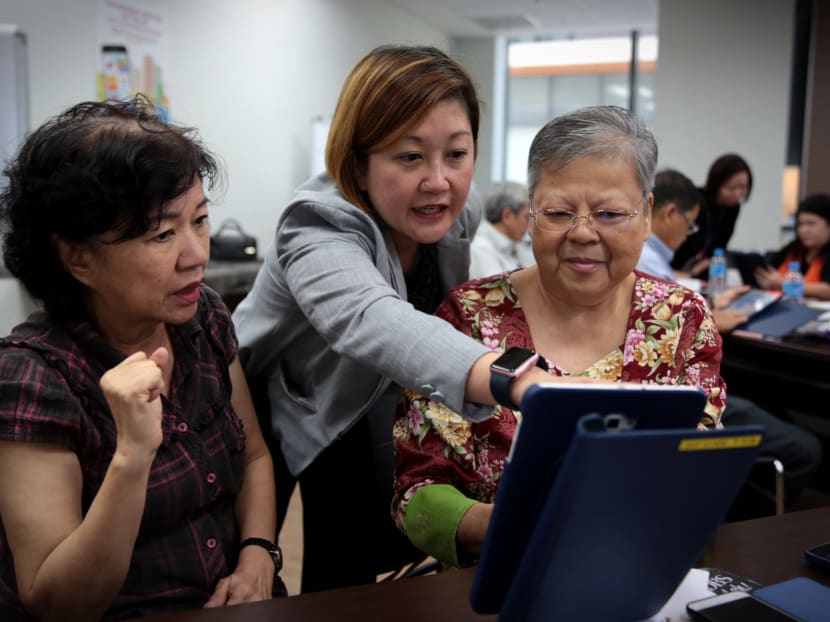 SINGAPORE — Sixteen years after the Government embarked on a national programme for Singaporeans to pick up basic computer skills, a new national initiative will help prepare them for the digital economy. 
The aim of SkillsFuture for Digital Workplace: To build digital confidence and a positive mindset towards change among the public.
Launched on Thursday (Oct 5), it aims to reach 100,000 people over the next three years. Structured as a two-day training programme, the courses offered will vary in content and range from the basic — teaching participants how to make e-payments, for instance -  to higher level skills such as incorporating robots in frontline food and beverage operations. 
All courses will cost S$50 and can be paid for with one's SkillsFuture credit. There is no age restriction.
Thursday's announcement comes in the wake of recent plans for a fully cashless public transport system and to increase the uptake of cashless payments in hawker centres. Prime Minister Lee Hsien Loong also highlighted the need for Singapore to take "full advantage of IT" at his National Day Rally in August.
SkillsFuture for the Digital Workplace is the largest national training effort focusing on digital skills to be undertaken, since the National IT Literacy Programme launched in 2001. The latter had aimed to train 350,000 Singaporeans in basic computing and Internet skills over three years.
Amid disruption of industries wrought by digitalisation, it is essential for workers to be equipped with knowledge of technology such as robotics, said Education Minister (Higher Education and Skills) Ong Ye Kung. 
"We don't have to be experts, we all don't have to be coders but we must know these are our 'friends'. We know how to use it, we know how to make our work more efficient, make our work more competent and we're not afraid of it," he told reporters at the launch on Thursday.
SkillsFuture Singapore chief executive Ng Cher Pong said courses will be guided by a common syllabus that covers key areas – technology, data, and innovation and mindset. This involves gaining foundation knowledge of data analytics, different apps, platforms and smart devices as well as understanding of cybersecurity.
The courses will be delivered by seven training partners such as Capelle Academy and NTUC LearningHub for now. By the end of the year, training providers will include all polytechnics, the Institue of Technical Education and tech giant IBM.
The courses will be customised based on participants' different needs. For instance, the elderly may learn about online grocery shopping, and how to compare prices of products listed on various websites.
Retail workers, meanwhile, may learn to use data to come up with innovative retail concepts and to drive sales.
SkillsFuture for Digital Workplace began its pilot run in July and over 330 participants from about 21 companies such as Singtel and Courts have been trained so far.
Its technology partners include Microsoft, Samsung and Lazada, which will share expertise on the latest technologies and will be tapped to update course content.
To be successful, the programme needs to reach out and be accessible to people, especially those who are not familiar with digital technology, said Mr Ong. The courses should also be useful and practical. "No point teaching coding language, something so profound – but, really, day-to-day usage that people find (they can use at the) workplace'," he said. 
More than 35 companies have pledged to send their employees for training within the next 12 months. 
Individuals who are keen may visit skillsfuture.sg/digitalworkplace or contact the training providers, whose numbers are listed on the website, to find out more.
The training providers plan to conduct classes at convenient venues such as community centres and public libraries.
On whether he felt Singaporeans are struggling to keep up, Mr Ong said the pace is "not set by us but the pace is set by technological advancement". 
Singapore will become uncompetitive if it fails to embrace digitalisation.
"The better way, especially for us as a small country … should be moving faster than others. But in moving faster than others, we must ensure every Singaporean, every Singaporean worker can come along," he said.