New toy-sharing platform lets parents rent toys, reduce wastage and clutter
SINGAPORE — Many toys often end up in the storeroom or in the trash when a child outgrows or loses interest in them.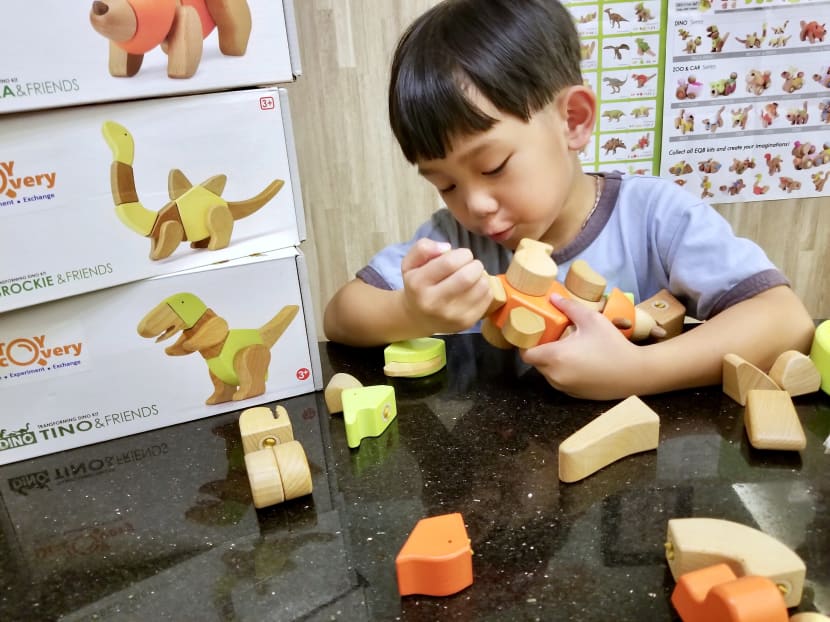 SINGAPORE — Many toys often end up in the storeroom or in the trash when a child outgrows or loses interest in them.
Now a new toy-sharing platform can help parents solve this problem of wastage and reduce clutter, while giving them access to educational toys at a low cost.
Named Toy Discovery @ Kidisquare, the online platform has a collection of more than 50 toys that parents can loan for nine days.
The service targets families in Punggol with young children.
In addition to reducing wastage and preventing regrettable purchases, the platform aims to promote "meaningful play" through a range of educational toys, explained co-founder Marcus Loy, 48.
A parent himself, Mr Loy said he came up with the idea based on his own experience in choosing toys for his 11-year-old daughter.
"Kids lose interest after a while, and the cycle of buying new toys and throwing them away is not environmentally friendly," he explained, adding that many other parents share the same concerns.
"Parents don't know what kind of toys are best suited for their children, and excessive screen time is a problem."
'CAREFULLY CURATED COLLECTION'
Interested parents can sign up for free and they will be able to loan a selected range of toys. Paying a monthly subscription — currently at a "promotional price" of S$2.99 — gives them access to the entire collection.
The parent can collect the toy from a designated pick-up point and drop it off at the same location when it is time to return.
The toys' retail prices range from S$15 to more than S$300, though most cost over S$100.
Mr Loy said his collection is "carefully curated" based on several factors: The toys have to be fun, meet safety standards and, most importantly, have what he calls "educational play value".
"The educational play value is important, because it has to be meaningful play. This covers a wide range, like some toys are connective in nature while others are building models."
In line with this, Mr Loy added that the platform "shuns away" from typical stuffed toys, and focuses on "premium toys" that may be harder to find in Singapore.
Some of these toys in the catalogue include Primo's "Cubetto" playset, B Toys' "Build-A-Ma-Jigs" aeroplane model and Learning Resources' "Botley the Coding Robot" activity set.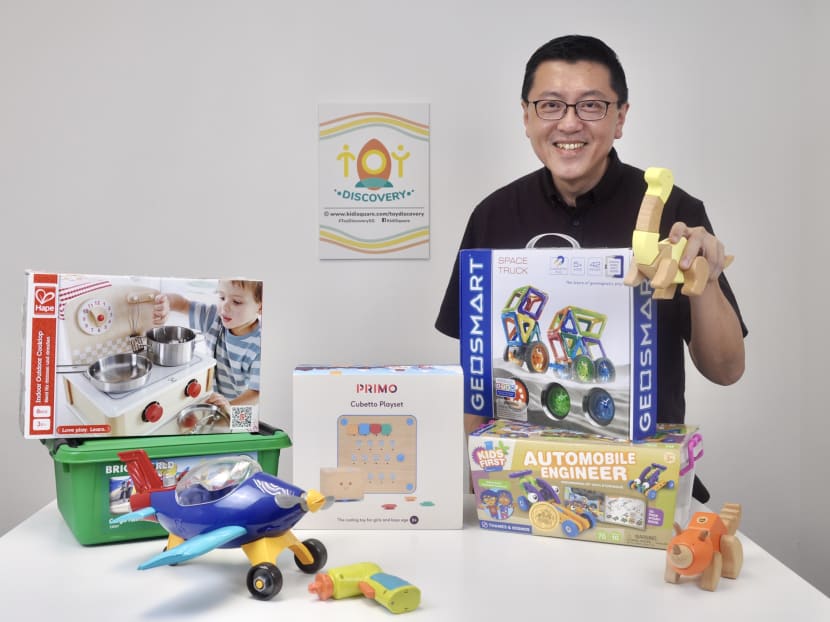 Ms Esther Wong, who has used the service four times, said she was "very satisfied" with the range of toys offered and it has helped her family save money.
"These are toys I would invest in myself, because there's a point in playing each of them. Some are coding related, some are about construction," said the 36-year-old educator, who has two children.
"If money wasn't a problem, I would buy every single one but that would obviously burn a big hole in my pocket."
SANITISATION PROCEDURES
Before Toy Discovery's official launch on Monday (April 1), it conducted a trial from November to December last year to "test the market for toy sharing". Eleven parents were roped in to try out different toys over three rounds of trials.
One of the participants, Ms Selena Tay, 42, said she had initial concerns about hygiene, but was reassured by the sanitisation procedures in place.
"We had doubts for sure, but the toys were in good condition even in the second and third trial round. No hand, foot and mouth disease or anything," said the part-time teacher.
Mr Loy explained that all toys go through stringent cleaning and sanitisation each time they are returned.
COMMUNITY SPIRIT
While there are other toy-sharing platforms in Singapore such as Rent That Toy! and The Toys Land, Mr Loy believes that Toy Discovery's community-based approach sets it apart from the others.
It focuses on families living in Punggol "because they have the most young parents and they have a lot to share with each other", he said.
"You're all in the same area, so you can recommend facilities or where to buy certain things, or maybe your children even go to the same school together."
Currently, the platform has a "Play Experience" page where parents post their reviews of the toys, allowing them a medium to "exchange views and ideas with each other" as well as provide feedback to Mr Loy's team. Photos and videos can be added as well.
Homemaker Candyce Ang said this allows parents to share their experiences.
"Nowadays, parents are into seeing reviews first before getting it for their kid," said the 30-year-old.
Ms Wong shared the sentiment, pointing out that her five-year-old son Royce particularly enjoyed participating in the toy reviews.
"We did photo and video reviews of each toy, and Royce had a lot of fun. It's even boosting his presentation skills," added Ms Wong.
Mr Loy said he is looking to extend the platform to other locations in Singapore, as well as allow parents to contribute to the toy library as well.