S$28m boost for fund to help PMETs switch careers
SINGAPORE — In a clear signal of the threat coming the way of older white-collar workers, more money will be pumped into helping them switch careers, at an accelerated clip.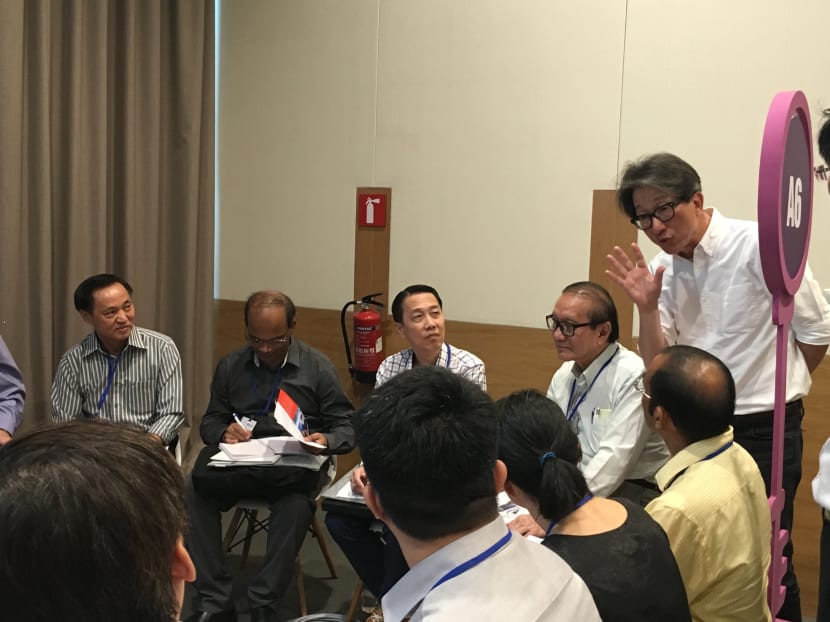 SINGAPORE — In a clear signal of the threat coming the way of older white-collar workers, more money will be pumped into helping them switch careers, at an accelerated clip.
For the next two years, an extra S$28 million will be funnelled into the Professional Conversion Programme (PCP), which pays for training courses and wage support for workers learning skills in new industries. This translates to a 60 per cent top-up to the scheme, which will have an S$80 million war chest until 2018.
The target: For 3,000 more professionals, managers, executives and technicians (PMETs) to be able to take on jobs in new sectors by that time. For comparison, since the PCP started in 2007, about 7,000 have undergone courses and made a career switch.
The additional funding is to also cover more sectors — 20, up from the current 10. The new sectors include retail, food services and events, for which four courses were launched on Tuesday (June 14). Other sectors that will be covered down the road include logistics, public transport, and aerospace.
Manpower Minister Lim Swee Say, who announced the increased funding on Tuesday at a career fair held at the Lifelong Learning Institute, noted the rising unemployment among older workers and the longer time retrenched workers are taking to find new jobs. As economic restructuring continues, the jobs and skills mismatch — something the Government has flagged since the start of the year — is "likely to grow rather than narrow in future", he added.
"What this really means is that what we are fearful about for a long time is actually happening now — which is the growing mismatch between the job seekers and job demand," said Mr Lim. "A growing number of PMETs will find that their job experience and their job expertise in some cases may no longer be directly relevant to the job opportunities of the future. More and more of them will have to learn new skills and start a new career in areas they may not be familiar with."
In the latest labour market report issued on Monday, the unemployment rate for residents above 50 years old rose to 2.2 per cent in the first three months this year, up from 1.8 per cent a year ago. Among the 4,710 workers laid off in the first three months of the year, about 71 per cent were PMETs, and two-thirds were aged 40 and above.
Speaking to reporters at the career fair organised by the Singapore Workforce Development Agency (WDA) on Tuesday, Mr Lim said that while the degree of structural unemployment in Singapore today is "still very low", it was important to take action before the problem becomes "unmanageable".
"With the faster pace of restructuring, the quality of jobs is ... improving at a faster pace, (and) there is now an urgent need to upgrade skills at the same pace," he added.
Under the new PCPs launched on Tuesday, up to 80 workers will be trained each year and placed in jobs in the retail, food services, and MICE and events industries.
Mrs Sounthra Kummar, who is in her 50s, was considering going into retail at the career fair, after having had no luck for more than a year finding a job in her finance and accounting background.
"(The job market is) very competitive nowadays, so I am more keen on any good opportunity that comes by. When the employer is keen to pay attention to you and train you, I will just grab that opportunity," she said.
Human resource and information technology director at SingEx Holdings Michael Lim said his firm welcomes new hires from other industries, as they can "bring insights and expertise from another organisation". While there is "always a challenge of fit" when hiring PMETs, what is key is their ability to learn, he added.