UniSIM and SIT to offer work-study degree programmes
SINGAPORE — Work-study degree programmes, where students work while pursuing degrees, will be launched at the Singapore Institute of Technology (SIT) and SIM University (UniSIM) from this academic year, and such a model could be offered by other varsities here.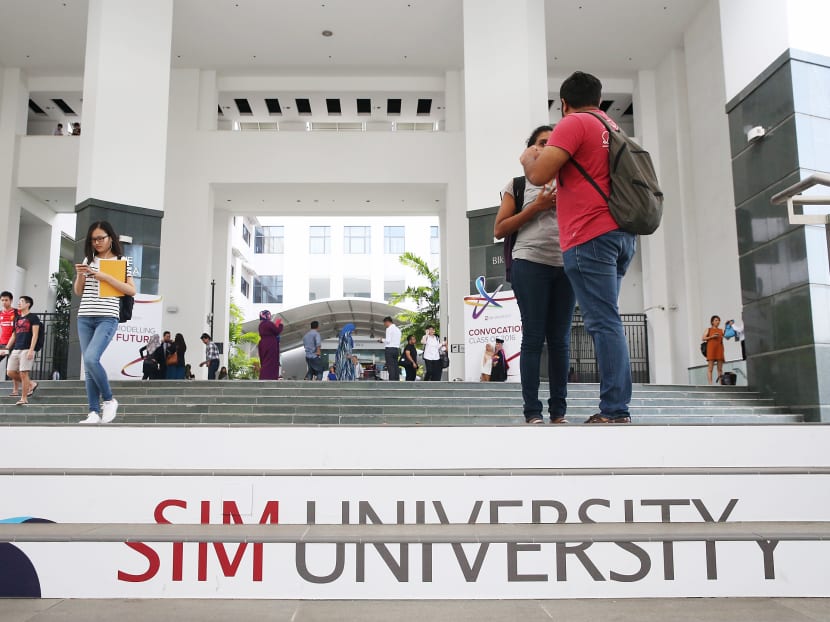 SINGAPORE — Work-study degree programmes, where students work while pursuing degrees, will be launched at the Singapore Institute of Technology (SIT) and SIM University (UniSIM) from this academic year, and such a model could be offered by other varsities here. 
Announced by Education Minister (Higher Education and Skills) Ong Ye Kung on Friday, such programmes see undergraduates spending up to four days a week at work with the programmes' partner employers — who co-design the programmes —  with at least a day set aside for study. 
Students can also alternate between working and studying over the semesters. And upon completing their studies, they could secure full-time jobs with the firms. 
Called SkillsFuture Work-Study Degree Programmes, they are built into existing programmes, and will span seven growth sectors such as business analytics and information security. Most of the programmes will be rolled out in the second half of this year.
About 65 places are being offered as a start. Twelve employers — among them government agencies, small and medium enterprises and multinational corporations — have signed up to design and deliver the programmes together with the universities. 
The employers – among them Accenture, the Government Technology Agency, Standard Chartered Bank, Inspire-Tech and Samwoh Corporation — will also decide if students, who are hired as contract staff throughout the duration of their studies, become full-time employees upon graduation.
Such "co-operative" degree programmes, which can be found in Europe and Canada, were first floated by Mr Ong last June. Currently, SIT already offers an Integrated Work Study Programme, where undergraduates gain work experience for eight to twelve month in their final year.
Speaking at SIT's inaugural graduation ceremony on Friday, Mr Ong said the new work-study programmes "take the work-learn concept a step further", with the university and industry cooperating in their design, development, and delivery.
Noting the Government's goal of a university cohort participation rate of 40 per cent by 2020, Mr Ong said the establishment of more avenues, such as applied degree programmes, will help meet this goal. 
"But when cohort participation reaches 40 per cent, with much more diverse talents and skillsets, employers need to ensure a good match between talents and skills of the graduates they hire and organisational needs," he said. "This is why internships, attachments, and industry projects become relevant during an undergraduate education. It is as much a good learning opportunity for students, as it is an avenue for employers to spot talent."
The MOE said in designing the programmes, both universities and employers need to agree on different aspects of the programme such as the duration, modality, and method of delivery. 
At SIT, the new programmes will be in areas such as information security, software engineering, hospitality business, electrical power engineering and civil engineering. 
While the programmes are targeted at incoming first-year students, those in the second year and working professionals can apply for some of them.
For instance, civil engineering professionals can apply for the four-year Bachelor of Engineering (Civil Engineering), where they can work for four-days, with two half-days of study to minimise work disruption. 
UniSIM's programmes — focusing on finance and business analytics — will be open to students in their second and third year only. Its degree course in finance was introduced last month, with six students attached to Standard Chartered Bank and undergoing a three-day work and two-day study arrangement. 
Those who apply for these programmes will be assessed not only on their grades, but also passion for the industry and a good track record in leadership. Both universities said that the fees and duration of these programmes will remain unchanged.
TODAY understands that the trainees are bounded by contractual agreements which would vary across the companies 
In a statement, Mr Bill Chang, chief executive officer (group enterprise) at Singtel, one of the participating employers, said the local industry is in short supply of trained software engineers, and the economy is in need of trained cyber security professionals.
Under the work-study programme, students, as trainees of the company, will undergo industry induction, mentorship, attachments and capstone projects. "The students would acquire skills and experience relevant to the needs of the company while the company gains a productive contributor and an avenue to recruit, assess, groom and retain talent," said Singtel. 
Tan Wei Liang, a second-year student at SIT has applied for the work-study programme in Information and Communications Technology (Information Security). "There's a need for more information security personnel, so I'm not that worried about the gloomy job market. But, in any case, I will have an advantage over those who didn't go through the programme," said the 29-year-old.