Newly-formed FairPrice Group could mean lower consumer prices: Experts
SINGAPORE — A move on Tuesday (Oct 22) to form FairPrice Group — bringing together NTUC FairPrice, NTUC Foodfare and recently acquired food court operator Kopitiam — could mean lower costs for consumers, said experts.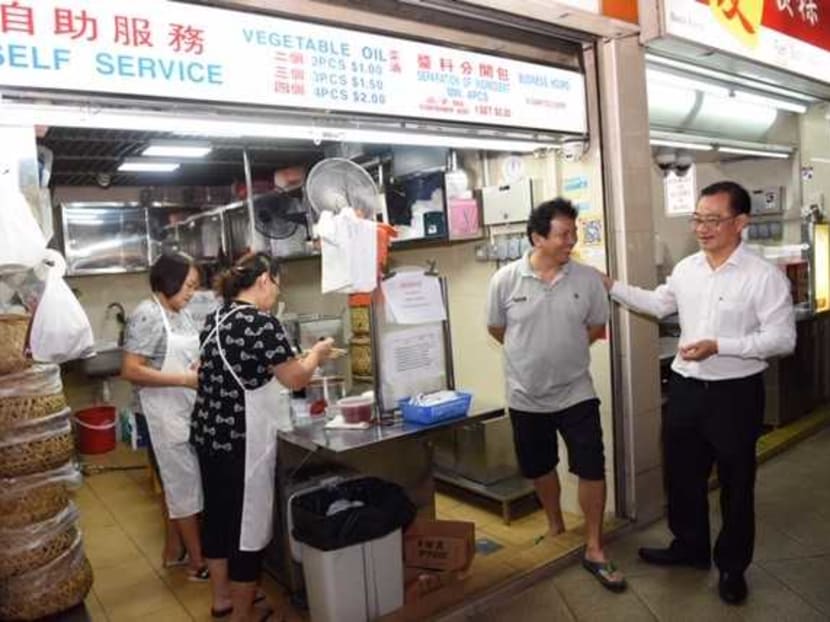 SINGAPORE — A move on Tuesday (Oct 22) to form FairPrice Group — bringing together NTUC FairPrice, NTUC Foodfare and recently acquired food court operator Kopitiam — could mean lower costs for consumers, said experts.
In announcing the new entity, NTUC Enterprise said it was to "cater to consumers' evolving food-related needs" though it has yet to disclose details on what the move might mean on a practical level.
"FairPrice Group will optimise resources of all three social enterprises and leverage their respective strengths to better deliver quality, affordability, convenience and enhanced experiences for all Singaporeans," it added.
Experts told TODAY the move could mean savings among the three entities through bulk purchases or strong negotiating clout for commercial space, for example, leading to lower prices for consumers. The FairPrice Group could also look to cross promotions between the two food and beverage operators and the supermarket operator, they added.
Mr Seah Kian Peng, group chief executive officer of NTUC Enterprise, said at a media briefing on Tuesday that FairPrice Group is currently "working on several projects" but he did not share any further details.
He said: "As modern lifestyles become more complex and demanding, FairPrice Group's integrated products and services — from groceries to prepared food — will enable us to serve consumers through different life stages.
"Through our omni-channel retail and dining network, we are well poised to deliver greater value to consumers, providing them ease and convenience."
Mr Seah cited the way that KopiTech at Funan mall allows patrons to place their order and pay at the self-service kiosks or via the Facebook Messenger app.
Together, the three entities have major clout across the Singapore retail scene:
NTUC FairPrice has 375 outlets including FairPrice supermarkets, Unity Pharmacies and Cheers outlets.

NTUC Foodfare runs 14 food courts, 11 coffee shops and nine hawker centres, along with the Rice Garden and Wang Cafe chains.

Kopitiam runs 50 food courts, three hawker centres and 24 coffee shops. NTUC bought homegrown Kopitiam for an undisclosed sum earlier this year.
TODAY sought the views of experts on how the formation of FairPrice Group could affect back-end business operations and what the move would mean for consumers.
BUYING IN BULK
DBS research analyst Alfie Yeo said the move will help the three organisations pull their resources together and achieve greater synergies.
He said: "When you go and assess a new location, maybe a mall, you can collectively go to a landlord and say that you want to put a food court and a supermarket. (This could mean) lower costs and allow them to pass this on to the consumers."
He added that this may not necessarily mean lower costs, but instead a cap on rising prices and ensuring a control on costs.
Mr Samuel Tan, course chair in the retail management course at Temasek Polytechnic's School of Business, said that being able to buy in bulk would allow them to save costs, which could translate to better prices for customers as well.
"FairPrice is the biggest player in the marketplace now and this is added portfolio in the way. When they source for materials and ingredients, they will have more bargaining power. In the marketplace, when you source for products, the more you buy the more savings you get and this is transferable to consumers and can go a long way," he said.
Mr James Fong, manager of Singapore Institute of Retail Studies, added that shoppers can also expect improved accessibility, range and variety of offerings on top of price.
"The grouping of FairPrice, Foodfare and Kopitiam into a single group could be more a business alignment decision. As a group, there will be less duplicated work vis a vis three separate entities. For NTUC, it brings productivity and efficiency internally. As a group, the business can consolidate purchases leading to lower product cost which could translate to lower prices for consumers," he said.
NEW POSSIBILITIES
The experts said that FairPrice Group will be able to continue riding on the successful formula of cross promotions between the supermarket chain and the two food and beverage businesses.
Mr Fong said: "With the group in the food solution business, it opens up many new possibilities and permutations for cross marketing and promotions. For example, the consumption in one business could provide consumers with reward points to be consumed in the other business."
Mr Tan added: "If you look at FairPrice carefully, they have different models and each of them is capable of sourcing for different grade of products and FairPrice will be able to ride on the network that they have.
"FairPrice is capable of going into different marketplace in different stores and this is the same model in their food courts." Tenants and hawkers are set to benefit too, he added.