'No choice but to play it safe': Foreign worker dorm manager locks close contacts of Covid-19 case in room
SINGAPORE — A manager of a dormitory that came under fire on Tuesday (April 21) for locking 20 foreign workers in their room after a tested positive for Covid-19 on Monday said the facility had "no choice" but to do so for the safety of some 800 workers living there.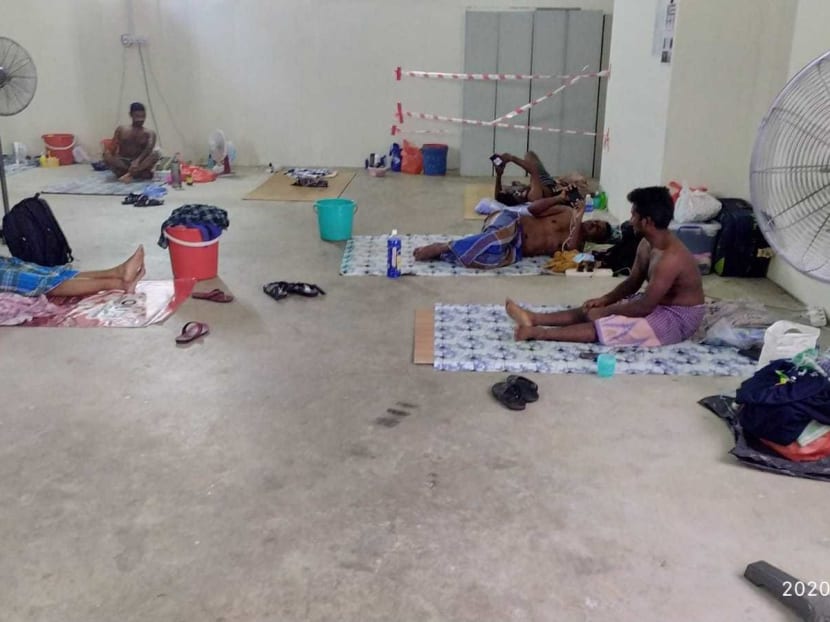 SINGAPORE — A manager of a dormitory that came under fire on Tuesday (April 21) for locking 20 foreign workers in their room after one of them tested positive for Covid-19 on Monday said the facility had "no choice" but to do so for the safety of some 800 workers living there.
Speaking to TODAY, the 35-year-old manager of Joylicious dormitory at 11 Tuas Avenue 10 who wanted to be known only as Mr Thng said: "We have no choice but to play it safe. I have 800 workers to take care of here, and they have 800 plus families to answer to. (We can't allow) one black sheep to cause this whole thing (to spin out of control)."
Migrant workers rights group Transient Workers Count Too (TWC2) said on its Facebook page at about 1pm on Tuesday that the men had been locked up since April 17 after receiving what they called a "distress call" from the men.
But Mr Thng said they had in fact been locked in the room for "less than 24 hours", and there were 20 workers, not 21 workers as TWC2 had claimed.
The reason the men remained locked in the room was that the dormitory's management needed time to prepare a new space on another floor for the workers to stay in, this time with a toilet attached, unlike the previous room, said Mr Thng.
In a subsequent post at about 5pm on Tuesday, TWC2 said the men were in a larger room, one floor down, with an attached toilet, but that the room was still locked. The group provided a photograph purporting to show a latch locking the door of the new room.
Both Mr Thng and Ms Reena Wong, the design director of the men's employer V Spec Engineering & Supplies, however, said the workers are not locked up, unlike before.
Then in a further post at about 9pm, TWC2 posted: "The police came and the door was opened. Now, the door is left open and they get fresh air. Hope it stays that way."
Speaking to TODAY, V Spec defended the dormitory's actions on Monday, stating that it would not have made sense to allow the workers from the room which they had shared with the infected worker to roam around freely at the dormitory, when it was clear that they are close contacts of the confirmed case.
The infected worker, who is a Chinese national, was sent to the hospital at about 8pm on April 18 after developing a fever, the firm said.
Ms Wong told TODAY: "Don't tell me your colleague got virus, you still go and walk around? Cannot be what! For the sake of every man at the dorm, we as an employer told them not to go around. For goodness' sake, it is only temporary."
The 51-year-old added that two Bangladeshi workers were causing trouble, by requesting to use the toilet every half hour. Allowing them access to the toilet would mean that dormitory staff would have to ensure that the common toilet was cleared of other occupants before letting them enter.
"Why don't you behave properly? What are you trying to do? You are trying to spread (the coronavirus) to others, is it?… They are adults behaving like children," she said.
Ms Wong added that the workers have not been issued any quarantine order by the authorities. "We are still waiting for the call. In the meantime, to ensure that they don't spread to others, I asked my men to stay put," she said. "It is for everybody's sake."
IT'S LIKE A PRISON CELL: TWC2
According to TWC2, the workers who had been locked in the room and wanted to go to the toilet or take a shower were asked to call the facility's security guards who would take "up to half an hour" before showing up to unlock the door.
After TWC2's initial post over the men being locked up since April 17 was disputed, its general manager Ethan Guo later told TODAY that the workers were "wrongfully confined" for more than 24 hours at least.
This was the information gathered by one of its volunteers who verified with a worker that he and his peers were locked in from 10.16am on Monday till 11am on Tuesday at the very least.
TODAY tried reaching out to the worker who made the distress call to get the facts straight, but he declined to be interviewed for fear of retaliation.
Responding to the dormitory's explanations, Mr Guo said: "That still doesn't make it right, right? It's just like a prison cell. Even prison cells have got intercoms for emergencies. What are these workers going to do if there is a fire and they need to get out quickly?"
Ms Wong sent an email to TWC2 on Tuesday requesting that the rights group take the posts down until further investigations were conducted and apologise to all relevant parties. The email was seen by TODAY.
In it, she elaborated on the trouble that the two allegedly problematic workers were causing, stating that the company may be compelled to take legal action against them.
"We believe two of our employees on work permit… have been spreading false media claims and making a riot internally," she said in the email. "For example, they had informed others that a fight had taken place inside the dormitory. I had checked with our other employees in the same dormitory and found that it is not true."
TWC2 had notified the Migrant Workers' Centre (MWC) of the case on Monday evening, but no action was taken as of about 12.30pm on Tuesday, TWC2 said.
Responding to TODAY's queries, MWC chairman Yeo Guat Kwang said their "normal practice" was to alert the Ministry of Manpower's (MOM) enforcement unit so that their officers could carry out a prompt inspection since the organisation could not access private property.
He added that MOM had carried out an enforcement visit to Joylicious on Tuesday afternoon and are continuing to follow up on the case with the parties concerned.
"The safety of our migrant workers are our utmost concern and such dangerous acts, what more during this crucial circuit breaker period, will not be condoned," said Mr Yeo.
"We would like to urge our migrant brothers and sisters, who might be caught in a similar situation or need any assistance, to reach out to the MWC on our 24-hour helpline at 6536 2692."
TODAY has sought comment from MOM.