'No need to rush and be the first': Khaw on S'pore's approach to adopting newfangled transport technologies
SINGAPORE — Spelling out the Government's approach to the adoption of transport technologies, Transport Minister Khaw Boon Wan said on Monday (Oct 21) that Singapore is not in a rush to be "ahead of the curve" and be the first in adopting "newfangled technologies, especially for essential services like public transport".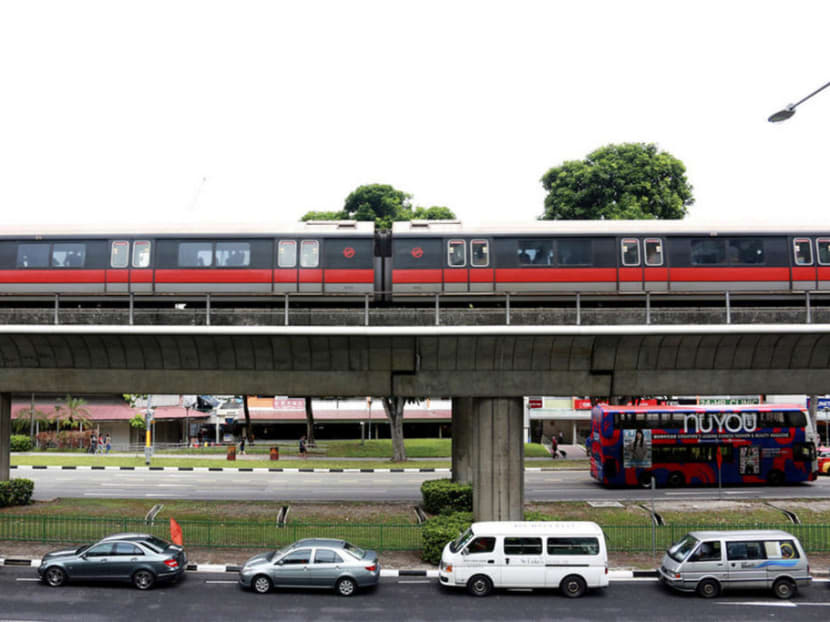 SINGAPORE — Spelling out the Government's approach to the adoption of transport technologies, Transport Minister Khaw Boon Wan said on Monday (Oct 21) that Singapore is not in a rush to be "ahead of the curve" and be the first in adopting "newfangled technologies, especially for essential services like public transport".
"We take our time to understand, to clearly define the public transport problem we are trying to address, before we try to assess the options… This preparatory work allows us to be able to choose wisely," said Mr Khaw, who was speaking at the opening ceremony of the Intelligent Transport Systems World Congress at the Suntec Singapore Convention & Exhibition Centre.
Even as intelligent transport systems provide "compelling" upsides, there are pitfalls that societies need to watch out for, Mr Khaw cautioned. For instance, they can create a divide "between the technologically savvy and the vast majority who may not yet be technology-ready" — as in the case of third-party ride-booking applications such as Grab and Uber that have benefited most commuters, yet caused fear among some seniors over the availability of street-hail taxis.
Then there are concerns over cyber security: As transport systems become more intelligent, they could also become vulnerable to cyber attacks.
As a transport minister, Mr Khaw told the audience — comprising academics, experts, manufacturers and policymakers — that he looks beyond the technological element.
Politically, what matters is a fast, safe, reliable and affordable transport system for all, he reiterated. "It must contribute to their (the people's) quality of life and this is what matters to them most," he said. Any intelligent transport system must be developed and rolled out "wisely", he reiterated.
Elaborating on the Government's approach, Mr Khaw said it takes a "technology-neutral stance", exploring a "range of technology platforms before shortlisting a few promising solutions, based on hard-headed calculations".
By not rushing headlong into all things new, neither is Singapore burying its head in the sand.
It is "crucial" that Singapore is plugged in and fully aware of what new technologies are available, said Mr Khaw. This may require the Republic to participate in the development of technologies through joint research and development, trials and pilots.
"Such participation allows us to influence global standards where we can and to have a more objective assessment of the state of maturity of a new technology. This allows us to better judge the timing for adoption and then to scale up wisely," said Mr Khaw, who is also Co-ordinating Minister for Infrastructure.
In his speech, Mr Khaw gave examples of how the Government's approach is borne out in some transport technologies: 
ERP AND COE SYSTEMS
To tackle traffic snarl-ups, Singapore began pricing roads in 1975 via an area licensing scheme to regulate vehicle flow in the Central Business District.

 The system has since evolved from having police officers look for decals on windscreens to the present Electronic Road Pricing (ERP) system, complete with gantries, sensors and in-vehicle units that deduct congestion charges automatically. From next year, the system will be gradually replaced by a satellite-based ERP system. This raises efficiency and flexibility, said Mr Khaw.

Complementing road pricing is the Certificate of Entitlement (COE) system, aimed at putting a lid on the pool of vehicles in the city-state. Owners can register their vehicles only after they get a COE through a regular auction.   

These measures have been effective in managing traffic congestion, but Mr Khaw acknowledged that they are also unpopular. "In Singapore, the policies are politically wearable only because we have also invested heavily in public transport, so that commuters have a viable alternative," said Mr Khaw, noting that the Government subsidises the operating costs of public transport to the tune of nearly S$2 billion every year.
AUTONOMOUS AND ELECTRIC VEHICLES
While Singapore sees the potential of autonomous vehicles transforming urban mobility and improving the living environment, Mr Khaw said it is not in a hurry to be the first adopter of these machines.

Instead, it is keeping abreast of the latest developments, supporting deployment tests islandwide. For example, self-driving buses and shuttles will ply the Punggol and Tengah towns, as well as Jurong Innovation District come 2022.

Mr Khaw said that while he looks forward to a larger-scale adoption of autonomous-vehicle technology, he believes this will not happen "in the near future". For that to take place, Singapore needs new infrastructure and "enablers", such as dedicated lanes and vehicle-to-infrastructure communication technology.

As for electric vehicles, Mr Khaw noted that the Government is working with French company Bollore to roll out 1,000 shared electric cars and install 2,000 charging points in Singapore, and with other firms such as utilities company SP Group to build up the charging infrastructure for these cars. Faced with the existential issue of climate change, Singapore is committed to a clean and green land-transport system, he stressed.
POTENTIAL OF 5G NETWORKS
Looking ahead, Mr Khaw said he sees great potential in tapping fifth-generation (5G) communication networks to improve urban mobility by supporting the growth of autonomous vehicles. The 5G technology could also support Singapore's future Tuas port, which is set to be the world's biggest fully automated terminal when ready in 2040, he noted.
Differing from its approach to new technology for essential public services, the Government does "not hesitate to be among the first adopters" for infrastructure like 5G, said Mr Khaw.
"The Government will play a crucial role in supporting 5G trials, and co-invest with the industry to develop new use cases for enterprises and for consumers," he said. "This will sharpen Singapore's competitive edge."
NO ONE-SIZE-FITS-ALL MODEL 
When it comes to intelligent transport, there is no one-size-fits-all model "that transcends location and time", said Mr Khaw. He pointed out that for instance, what works for Denmark may not work as well in Singapore. And what works for Singapore today may not be the case in 10 years, he added. "The adoption of technology should be customised to each country's needs and context," he said.
Mr Khaw reiterated that as a small yet densely populated city, Singapore takes transport planning very seriously. "We regard an efficient and reliable land-transport network as a critical enabler for our economy," he said. "We are allergic to traffic congestion, and we do our best to eliminate it, so that people and goods can move across the island easily and efficiently."