No tapping needed: Hands-free ticketing trial involving commuters with disabilities kicks off
SINGAPORE — Wheelchair user Rohaizad Roslan, 38, usually depends on his wife to tap his transit card when entering or exiting MRT stations.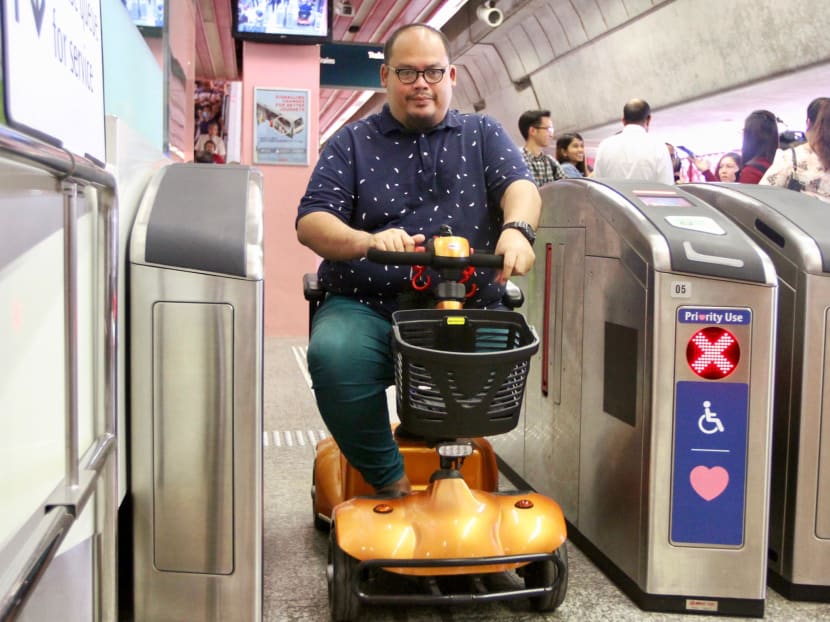 SINGAPORE — Wheelchair user Rohaizad Roslan, 38, usually depends on his wife to tap his transit card when entering or exiting MRT stations.
When she is not around, the act of tapping becomes a tricky task, especially on a manual wheelchair. He sometimes knocks into the gantries and fears damaging them.
Paying for train rides will get easier for Mr Rohaizad and other persons with disabilities with hands-free ticketing technology.
A six-month trial by the Land Transport Authority (LTA) and ST Engineering involving 50 participants, including Mr Rohaizad, began on Friday (June 22) at four MRT stations – Redhill, Tiong Bahru, Kembangan and Bedok.
Participants are given a radio frequency identification (RFID)-enabled card, which can be detected by sensors installed on both sides of the wider fare gates at the stations, even if the cards are kept in bags or pockets.
The RFID technology is similar to what retailers use at their shops to deter shoplifters.
Mr Rohaizad Roslan and Madam Zhou Mei Gui showing their Radio-Frequency Identification Device (RFID) test cards at Redhill MRT. Photo: Chng Shao Kai/TODAY
With a wider sensing range, the cards on trial are unlike ez-link and other transit cards, which use radio waves and must be no more than 10cm from card readers.
"I can just concentrate on getting through the gantry without having to find my card and tap the card," said Mr Rohaizad, who lives in Bukit Merah and is a member of charity organisation SPD, which works with individuals with disabilities.
The LTA said Redhill and Tiong Bahru MRT stations were chosen for the trial because of their proximity to SPD and SG Enable, an entity that helps people with disabilities.
Kembangan and Bedok MRT stations were chosen because they are close to LTA's Bedok Campus and would allow the authority to monitor the trial more closely.
The concept of a hands-free automated fare collection system was first mooted in 2015. Plans for tests at selected MRT stations were first announced last October and a prototype of a hands-free fare gate was on display at the Future of Transport showcase.
A trial for buses is expected to start later this year and more details will be announced in the fourth quarter, said the LTA on Friday.
Plans to expand the technology to a Bluetooth-enabled mobile phone application will also be announced later this year.
The LTA conducted hands-free ticketing trials for six months before the current one involving the 50 participants, said Senior Minister of State (Transport and Communications and Information) Janil Puthucheary. "We have to have further trials out in public so we can know how to develop the sensor, other parts, the way it works and if it gives a good user experience."
The technology could also improve the commutes of other groups such as parents with prams and the elderly, he said.
"Getting the inclusion part of our public transport system right is very important," he said.
The LTA did not say if there are plans to make RFID cards available to all commuters.
Mr Rohaizad, meanwhile, is already looking forward to the trials on buses.
"If I'm travelling alone, the bus drivers are the ones tapping the card for me so it's a hassle for the rest of the commuters," he said. "With this technology, I'll feel less guilty."