'Bold' moves for car-lite Singapore in the offing
SINGAPORE – In a decisive step towards making cycling one of the Republic's key transport modes, the Land Transport Authority (LTA) will be studying how to turn the impending North-South Expressway (NSE) into a North-South Corridor.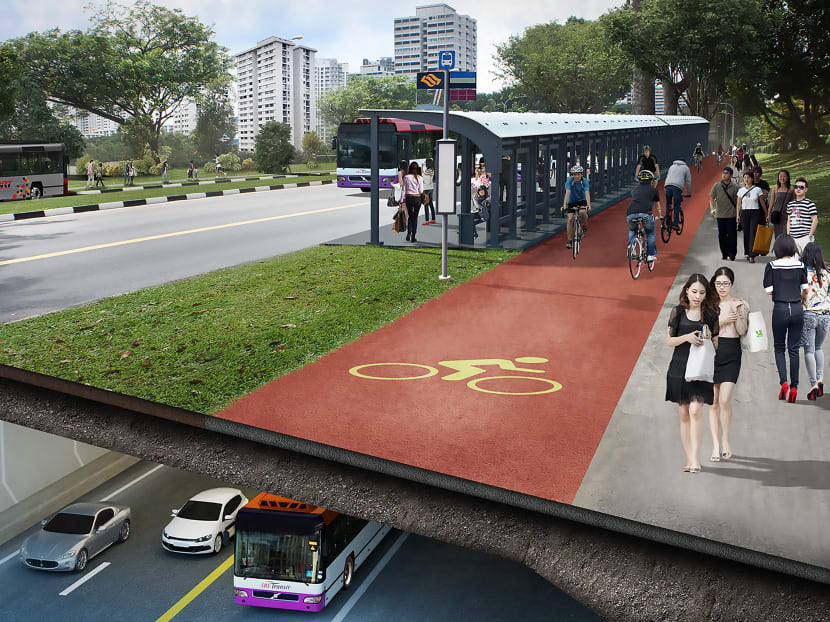 SINGAPORE — In what observers describe as a "bold" move to realise the goal of a car-lite culture in Singapore, the Land Transport Authority (LTA) today (Jan 21) announced a redesign of the upcoming North-South Expressway to incorporate dedicated cycling paths the whole way, and express bus lanes.
The partially-underground expressway, which was slated for completion by 2020 to link housing estates in the north such as Woodlands, Sembawang and Ang Mo Kio with the city area, will also feature wide walking paths along the surface corridor that will have greenery for shade.
In his ministry's addendum to the President's Address to Parliament, Transport Minister Khaw Boon Wan today set out his goal in bare terms: To make walking, cycling and riding public transport "the way of life for Singaporeans".
In a blog post on the addendum later, Mr Khaw added: "There is a growing consensus among developed cities that fewer cars mean less traffic congestion, less air and noise pollution, and more land for public spaces and amenities. "Cities designed to encourage active mobility, such as walking and cycling, also improve mental and physical health, reduce stress, and build a strong sense of community. Overall, car-lite cities make for a better quality of life."
The Government has hitherto resisted clamour from cyclists to build dedicated cycling lanes which have been created in several cities that have successfully weaned their populations off cars. Nevertheless, to improve first- and last-mile connectivity, dedicated cycling paths have also been completed in four towns — Tampines, Sembawang, Pasir Ris and Yishun. By 2020, 11 more towns will join the list.
In an interview with TODAY last August after he had announced he was stepping down, former Transport Minister Lui Tuck Yew also cited space as a consideration for the idea of having dedicated cycling lanes.
Commenting on the latest move, Members of Parliament (MPs) and experts noted the boldness of the plan, in a signal of the resolve to nudge Singaporeans away from cars.
SIM University senior lecturer Walter Theseira said: "I think the mindset change in part is due to the recognition that more needs to be done to reduce demand for private car transport, by making all other modes of travel more pleasant and efficient." He added that it makes economic sense to build paths for other modes of transport at the outset instead of adding these on subsequently, as the latter could entail land acquisition or redevelopment.
"It's also a strong signal that in the future, land transport developments will embrace multiple modes of transport — many of our road development projects historically benefited largely private car traffic and this signals a mindset change," he said.
MP Ang Wei Neng (Jurong GRC) said the move is "more than just (a) pilot" or trial conducted by the Government. "To put this in perspective, to build a lane on the expressway for dedicated cycling paths, it's an (expensive) and extensive project." he said. "It's an extensive use of land because how many (people) will use cycling paths? So it's a bold experiment."
Agreeing, SIM University adjunct associate professor Park Byung Joon said the announcement is "significant" as the Government is pumping money to build "serious infrastructure" for cyclists. "Building such infrastructure is very, very expensive. It's not something that we want to try out and ... if you don't like it, you just do it away with," he added.
In the addendum, Mr Khaw also outlined the his ministry's plans for the next five years, which include transforming part of Bencoolen Street — closed since October 2011 for the construction of Downtown Line 3's Bencoolen station — into a conducive stretch for walking, cycling and public transport when it reopens next year.
Two of the four original car lanes will be converted into wide footpaths lined with trees and benches for pedestrians. There will also be a dedicated cycling path connecting Rochor Canal and Bukit Timah to the Central Business District, with more bicycle parking facilities to be added in the area. This is among other cycling connectivity improvements such as Queenstown-City Link and the Bishan-Kallang Link, said Mr Khaw. A dedicated bus lane will also be incorporated into the design of Bencoolen Street.
The plans unveiled today are the latest in moves to achieve the Government's target of having three out of four commuters use public transport as their main mode of travel by 2030, with the rate increasing to at least 85 per cent by the 2050s.
"We will support this shift by making it much easier to walk and cycle in Singapore, since this is how almost every public transport commuter gets to the MRT station or bus stop today," said Mr Khaw.
He also said a car-centric transport system is not sustainable in Singapore where space is an issue. "Already, one million private vehicles ply the roads today and 12 per cent of our land is used for roads," said Mr Khaw.
He noted that "a growing number of cities are also decisively" moving their transportation model away from private cars, for an improved urban environment and high quality of life.