NSF Liu Kai's death: Commander of Bionix says he wasn't alerted to overtaking by Land Rover, thought road was empty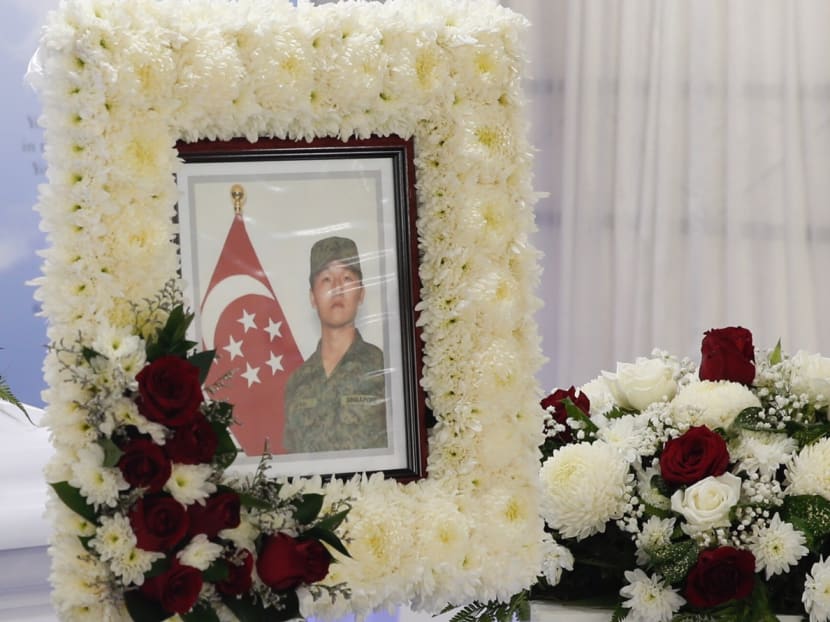 The commander of the Bionix that reversed and crushed a military serviceman gave his testimony in court
He said he did not expect any vehicles on the same road that day
He also said that the vehicle commander of the Land Rover behind the Bionix did not alert him before overtaking
Another commander taking part in the exercise testified that he had not been overtaken before without warning


SINGAPORE — The commander of an armoured military vehicle that reversed into a car and killed full-time national serviceman (NSF) Liu Kai testified in court on Friday (March 19) that he had not expected any other vehicles on the dirt road. 
Mr Nathaniel Ho — a second lieutenant serving national service at the time — told the court that when he was in the Bionix Infantry Fighting Vehicle and felt it tilting, he thought that it had struck a kerb.
It was only when he popped out of a vehicle hatch that he realised that the Bionix had mounted a Land Rover driven by Corporal First Class Liu Kai, 22.
Mr Ho was taking the stand on the second day of a trial in the State Courts over the fatal accident on Nov 3, 2018 along Jalan Murai near Lim Chu Kang.
ON SAME RADIO NETWORK
He told the court that he was on the same radio communication network as a platoon trainer, Captain (CPT) Ong Lin Jie, who is accused of causing Liu's death by a rash act.
At the time, Liu was driving Ong, who was responsible for Liu's safety since he was the vehicle commander.
Ong, now 30, is accused of failing to keep a safety distance of 30m between the two vehicles and commanding Liu to overtake the Bionix when it was not safe to do so. 
He pleaded not guilty on Thursday.
On Friday, Mr Ho testified that Ong did not alert him that the Land Rover was going to overtake his Bionix. 
Mr Ho thought that the dirt road he was on was empty and did not know where Ong was at the time, he said.
At the same time when Liu was driving forward to overtake the Bionix, Mr Ho spotted vehicles from a "rival force" and immediately commanded his driver to reverse, as part of a drill in such engagements.
Liu heard rounds being fired and stopped 16m to 18m behind the reversing Bionix.
When Mr Ho heard another soldier in his armoured vehicle shout, "Stop, stop, stop", he said he instinctively echoed the command to his driver.
The Bionix came to a stop seconds later but by then, it was too late.
The 24-tonne armoured vehicle had mounted the driver's side of the Land Rover, pinning Liu in his seat. He was pronounced dead at the scene at about 10.35am due to traumatic asphyxia, an injury that interrupts breathing.
Ong, who managed to free himself, has been suspended from service since the accident.
PROTOCOLS FOR OVERTAKING 
Earlier on Friday, another platoon commander taking part in the exercise, Lieutenant Gibson Tay, testified that he has never been overtaken by a vehicle during a training without the vehicle's commander first establishing contact with him.
He said he was taught in the Officer Cadet Course that the commander of any vehicle — armoured or otherwise — must inform the vehicle in front if he wants to overtake it.
Taking the stand after Lieutenant Tay was CPT Chua Jin Yuan, who was his Officer Commanding.
CPT Chua testified that it was unusual for a trainer to overtake participants during an exercise. 
"Trainers are always behind all vehicles and assessing us from the rear. Usually they will not try to overtake us while we are having our mission," he told the court.
Ong's defence lawyer Teo Choo Kee then provided an example of a Bionix engaging in simulated combat near a cross junction and asked whether the trainer had to be on the road directly behind the Bionix or if it could be someone else on the junction observing the firefight.
CPT Chua replied that he could not answer because he was not a trainer. 
Mr Teo replied that he was told by Ong to ask that question. 
"Those are my instructions and my client is a trainer."
The trial continues. If convicted, Ong could be jailed up to five years or fined, or both.