NTUC FairPrice and Sheng Siong urge customers not to panic buy in wake of enhanced Covid-19 restrictions
SINGAPORE — Two major supermarket chains have urged customers not to over-purchase groceries, hours after the Government announced stricter rules on Friday (May 14) to curb the spread of Covid-19 in the community.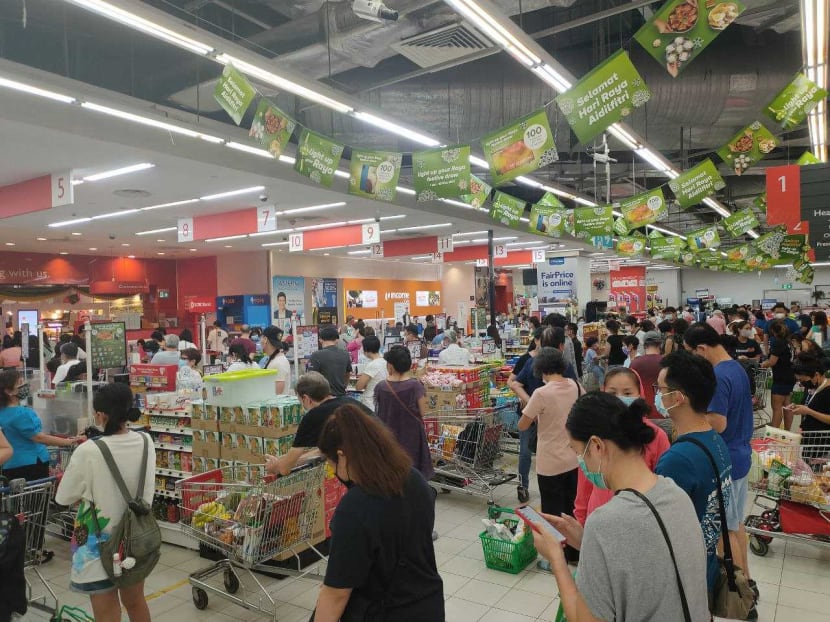 Two supermarket chains urged restraint among shoppers after the Government bans dining in at F&B outlets
Residents will still be able to do takeaways and deliveries from eateries
Shoppers do not need to panic-buy because stocks are adequate, Mr Chan Chun Sing said
Some supermarkets that TODAY visited had long queues, with customers snapping up essential items
SINGAPORE — Two major supermarket chains have urged customers not to over-purchase groceries, hours after the Government announced stricter rules on Friday (May 14) to curb the spread of Covid-19 in the community. 
NTUC FairPrice chief executive officer Seah Kian Peng said that the supermarket chain has observed higher customer traffic and bigger purchases at its stores and online platforms since the midday announcement, and assured customers that the chain is "better prepared than we were compared to last year". 
"Our inventory and stockpiles are also at higher levels than before," he wrote on Facebook. "(There is) no need to rush to buy what you need, our stores will always remain open." 
Similarly, supermarket chain Sheng Siong also took to Facebook to assure customers that its supply chain is resilient and it has sufficient inventory for goods such as food supplies and toiletries. 
"We would like to remind you to stay calm and do not over-purchase your groceries and necessities," it said. 
"Our sources of supply are well-diversified and we will continue to work closely with our suppliers." 
Among the enhanced restrictions announced on Friday were a reduction of social group sizes from five to two, and the prohibition on people dining at food-and-beverage outlets such as restaurants and hawker centres. 
These restrictions will take effect from Sunday and last till June 13. 
Trade and Industry Minister Chan Chun Sing said in a Facebook post on Friday that there is no need to rush to buy groceries or other essential items because all retail outlets including supermarkets will remain open during this period.
"Our stocks are adequate. Our supply lines are intact. Let us continue to remember to buy only what we need and look out for the more vulnerable among us," he said.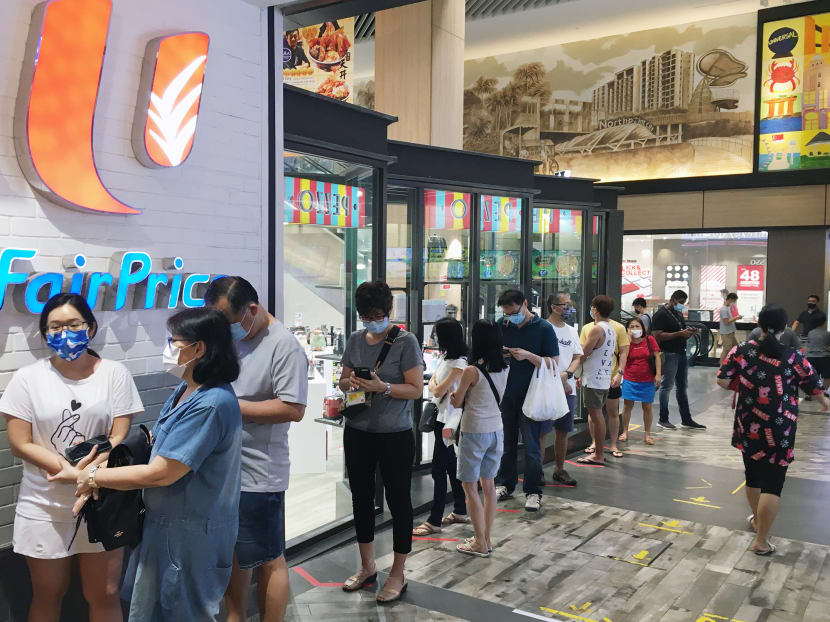 CROWDS AT SOME SUPERMARKETS
When TODAY visited several supermarkets on Friday afternoon, crowds were spotted at some, although not all had long queues. 
The FairPrice outlets at Downtown East and White Sands mall in Pasir Ris had long queues of 20 to 30 people that snaked from the cashier into the shopping isles, with customers buying multiple bags of groceries. 
Some shoppers walked out of the supermarkets with trolleys filled with groceries while there was a queue of about 20 shoppers waiting to enter the White Sands branch because it has reached its capacity limit.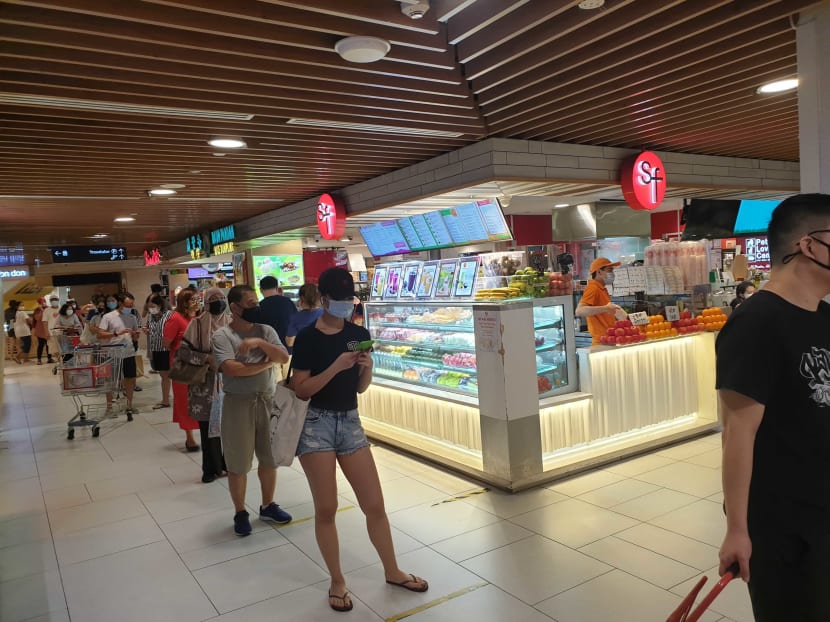 The FairPrice supermarket on Tampines Street 11 also saw long queues, with some customers buying essential items such as rice and toilet paper. 
Mr Alan Tan, 47, who was shopping at the outlet to buy some drinks, said that he did not see himself as panic-buying. 
"This is because from past experiences, these essential items were always still available." 
On the other hand, the Giant outlets at 56 Marine Terrace and Lorong 4 Toa Payoh had short queues and no signs of overcrowding when TODAY visited at about 2pm. 
Giant supermarket at Pasir Ris Drive 4 was also relatively less crowded at 3pm, with queues of seven or eight persons forming at the cashiers.
One of the customers was Pasir Ris resident M Shanmugam, 52. 
"I think there are crowds at supermarkets because people are worried and uncertain due to the surge in cases again," he said.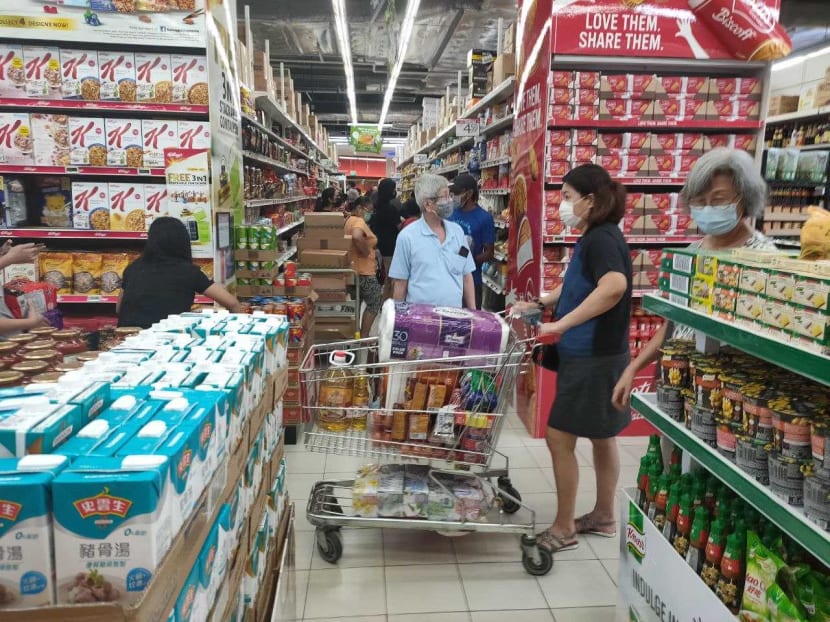 Over at FairPrice Xtra supermarket at Nex mall in Serangoon, there were large crowds observed at 5pm, with long queues of 10 to 15 people at each of its 15 cashier counters.
Mr Qing Ye, a customer at the outlet, said that the situation was "much better this time" compared to when major announcements on Covid-19 regulations were made in the past. 
"I don't think it's necessary to panic-buy because Singapore has enough supplies and this is not the first time we are going through this," the 35-year-old engineer said.