Nurses in S'pore wary of being ostracised by public, even as work takes its toll during coronavirus outbreak
SINGAPORE — At work, they have to be on guard and vigilant against a virus that has the potential to sicken them badly and put their families at risk. Going to and leaving work, they have to face a stressful environment as well.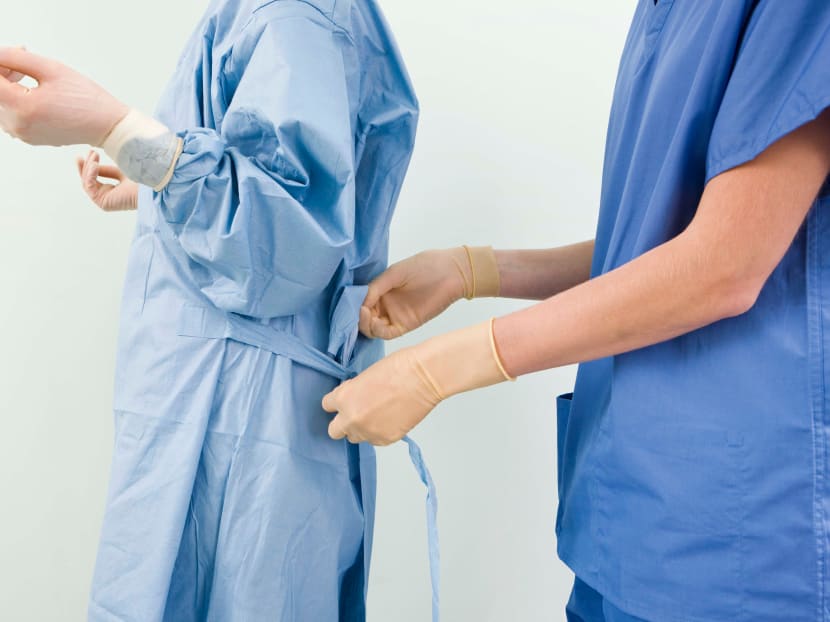 SINGAPORE — At work, they have to be on guard and vigilant against a virus that has the potential to sicken them badly and put their families at risk.
Going to and leaving work, they have to face a stressful environment as well.
Teresa (not her real name), a senior nurse in her 50s, who works in the general ward of a public hospital, said: "Taxi drivers are reluctant to pick up anyone in medical uniforms. In the MRT, people stay clear of nurses and make comments like, 'Hope you have taken a shower after your shift'."
Teresa, who did not want to be identified, added that a member of the public even took a picture of one of her colleagues and questioned why she was outside of the hospital in her uniform.
At the hospital where she works, nurses in general wards are allowed to go home in their uniforms. Nurses from emergency wards have to wear personal protective equipment and are told to shower before returning home.
Megan (not her real name), a 25-year-old nurse who works in the same hospital as Teresa, said that she is afraid to appear in public while in uniform.
"As much as possible, I try not to wear my uniform outside of the hospital because I feel like the public is always looking at us. My attire when at work now is scrubs that the hospital will provide and they will wash for us.
"We have been protecting ourselves… we also make sure we shower after every shift so that we are clean when we return home to our loved ones."
A 24-year-old nurse working at another hospital, who asked to be identified only as Elaine, said she was disheartened to hear that there were some people who were disrespectful to nurses.
"After a long day at work, with sometimes no time to even use the bathroom or eat, we definitely want to just quickly get home. It is surely dampening to receive criticism from the public when you know you have put in the best for the society, but are treated this way."
Elaine added that at the hospital where she works, nurses have to change out of their uniforms before they go home and cannot wear the uniforms out.
A student-nurse, who gave her name as just J, was attached to Tan Tock Seng Hospital until recently and said that all nurses have to be in scrubs, except those serving in the clinics and certain wards, who are the ones allowed to wear their uniforms outside of the hospital. Those wearing scrubs will have to change into their own clothes after their shifts.
The 24-year-old, who was working at the general medicine and mental health ward where she did not have to wear scrubs, felt "hurt" when people stared at her on the MRT train and kept their distance from her.
Still, she does not blame the public for their reaction.
"Everyone is scared right now. I can understand. I tried to stand far from them whenever I was on the MRT, even though I knew that there was a very low chance that I carried this virus."
She added: "(The hospital workers) are also scared of the virus, but we have no choice. We have to fight it."
On Monday (Feb 10), Mr Simon Ong, general secretary of the Healthcare Services Employees' Union, published a post on the union's Facebook page urging members of the public not to discriminate against healthcare workers.
"Instead, a kind gesture of a word of thanks will go a long way in brightening their day and encouraging them in their noble work of care," he wrote.
'WHY ME? WHY AM I DOING THIS?'
Apart from them being ostracised, the nurses have had to put in more than their regular shift at work as the coronavirus outbreak continues to spread.
When other Singaporeans were celebrating Chinese New Year with their friends and family, Megan was suddenly recalled to join a medical team dedicated to nursing suspected cases of the novel coronavirus at a public hospital.
This meant working for 12 hours instead of her regular nine-hour shift, as well as an erratic work schedule where rosters are frequently changed.
"Sometimes on social media, I see my other friends still going about their lives as per normal and… I just feel frustrated that I'm 'stuck' here," she said.
"There were many times when I asked myself, 'Why me? Why am I doing this?' But there has been a lot of encouragement from the people around me to just hang in there and do the best that I can."
For Elaine, she said that her workload has increased since the outbreak began, and that some wards in the hospital had to switch to 12-hour shifts to accommodate a heavier influx of patients.
Although she was still able to claim rest days and take leave, she said that some nurses volunteered to give up their leave should they need to be redeployed to other departments in need of manpower.
When the Ministry of Health implemented a policy to limit the number of people visiting each patient at hospital wards, family members of some patients approached nurses and demanded that they change the maximum visitor count allowed, Elaine said.
Most of the nurses interviewed by TODAY said that spirits are still high in the hospitals.
Teresa said that the nurses who work with her are "coping with the increased tensions with a sense of humour". 
Megan said that her team's mood was optimistic, and some of her colleagues would contribute food to the pantry at their work stations in order to keep up morale.
Elaine said: "We chose this profession and are more or less prepared to jump into action when society needs us.
"I think one quote from the doctors in China resonates well with me: 'We don't want to be martyrs, but we will not be cowards'."