NUS students find a pawsome way to destress
SINGAPORE — You could say it was the "purr-fect" antidote to a "ruff" day. With the examinations looming on Monday (Nov 30), some students at the National University of Singapore (NUS) got to destress by mingling with some furry friends last Monday and Tuesday.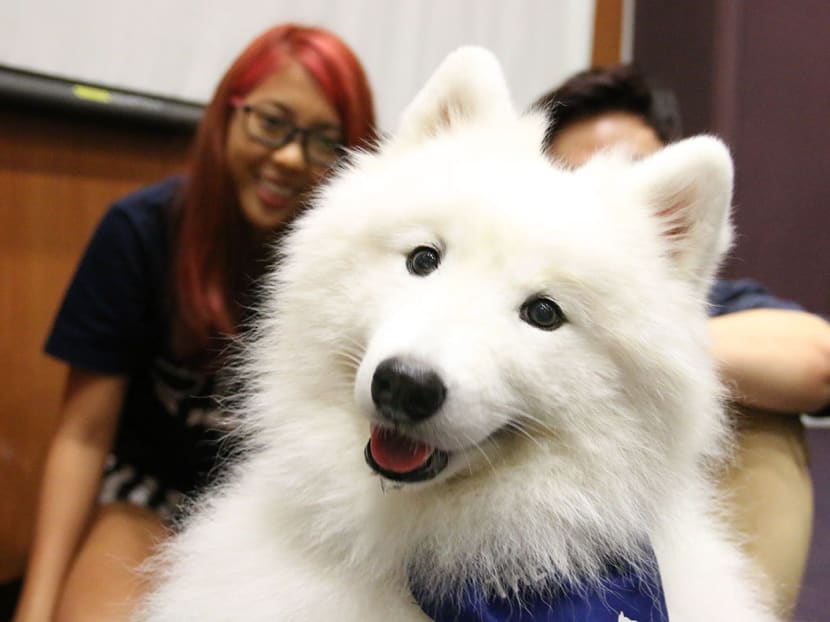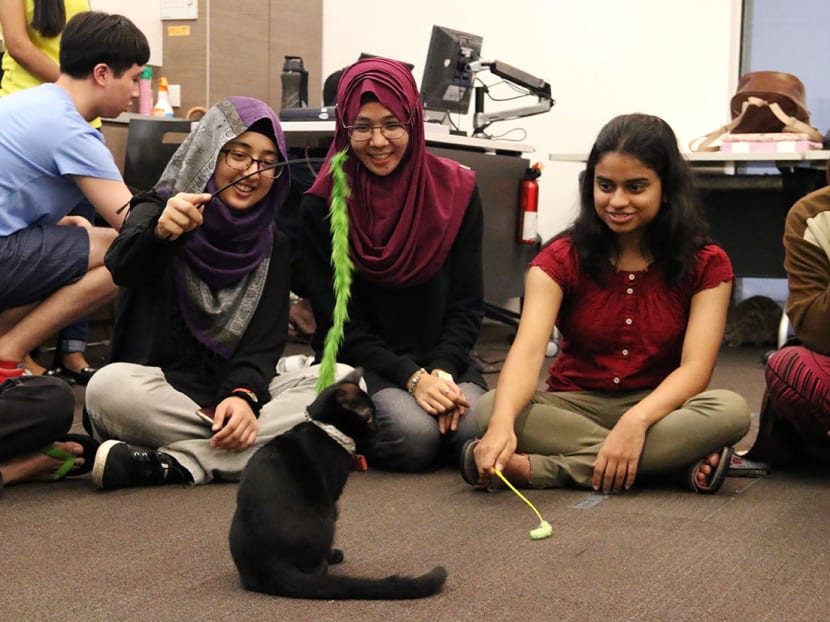 SINGAPORE — You could say it was the "purr-fect" antidote to a "ruff" day. With the examinations looming on Monday (Nov 30), some students at the National University of Singapore (NUS) got to destress by mingling with some furry friends last Monday and Tuesday.
The idea was to take "paws" and revel in creature comforts via four animal therapy sessions organised by NUS interest group PEACE (People Ending Animal Cruelty and Exploitation).
The PEACE CatCafe and Therapy Dogs Programme partnered with external animal welfare groups, the LoveKuching Project and Therapy Dogs Singapore for a total of four sessions.
SPREADING PAWSITIVE VIBES
The oversubscribed dog therapy sessions saw around 80 students filling up a lecture theatre to play with 11 friendly pooches, including a Samoyed named Porschevuitton and a French Bulldog called Cheese Takoyaki.
"I signed up for this dog therapy because I think it is really interesting and I really love dogs. And if you see dogs playing around, it really relieves your stress, especially during this exam period," said 24-year-old student Gregorious Ivaniddo. "I'm very happy because it's very rare to see dogs running around in Singapore — you can only see it in parks. Here in school, you never see them," he added.
Said the project director of Therapy Dogs Programme Tran Thuy Linh:"We believe that with more interaction with animals, you grow a sense of love towards animals. So by promoting this kind of therapy, we help the students to understand that dogs, aside from being a very good companion, we should appreciate them more."
Since 2013, the Therapy Dogs Programme has partnered with Therapy Dogs Singapore to facilitate the hour-long stress-relief sessions. Apart from these ad hoc visits, the non-profit voluntary welfare group also facilitates regular pet-assisted therapy sessions with its beneficiaries at seven "adopted" homes.
The organisation has around 119 volunteer dog owners who join in with their certified canines. Ms Julie Richards, 57, is one such volunteer who attended the sessions in NUS with her 11-year-old golden retriever, Duke.
"It's something that I've always wanted to do because Duke has been such a calm dog. It's just so therapeutic to pet a dog and just have their quiet companionship," she said. "I think the kids have very difficult classes and very hard exams, and I think it's nice for them to come and pet the dogs and not think about their studies for a while."
About 30 students interacted with eight kitties during the sessions organised by CatCafe in partnership with LoveKuching Project.
It is the second time the felines have helped cat lovers in NUS such as 24-year-old Andrew Ng unwind ahead of their exams.
"Since I love cats, I just come here to destress before the exam period. I'm very excited, very happy. It was very good, I really hope more people can come and play with the cats," Mr Ng said.
The community-based cat rescue group began facilitating feline therapy sessions a year and a half ago. Since then, it has been visiting special needs schools and nursing homes as part of its outreach efforts.
While some of the cats are volunteered by their owners, others are rescues such as Mathilda, a one-eyed Bengal cat who was from a breeding farm. The 10-year-old cat lost her left eye due to an untreated infection and malnourishment.
Another animal welfare group which facilitated a session in conjunction with LoveKuching was Cat Safari, a cat therapy centre set up by animal welfare group Voices For Animals.
"​Cat therapy has been known to bring about health benefits, but I think mostly we hope to provide an avenue for students before their examinations,and also allow them to know about cat care and welfare issues in an informal setting," said project director of CatCafe Kiran Shukbir.
"There has been a positive response, students mention they get an opportunity to get up close with the cats, they can carry and play with them, so they are happy," said the 22-year-old.
"And for students who are afraid for cats, this is actually exposure for them because they're therapeutic, so it helps," she added.
One such participant is 20-year-old Nora Atiqa Adha, who has a phobia of cats. "I came here because I wanted to overcome my fear of cats. After 20 years I've never held a cat, so it's my first time. Actually it's fun and nice, the cats are very friendly and not that scary at all," she said.
For cat and dog owners, it is also about spreading awareness on animal welfare. "From the sessions conducted, these are the people who will be a good audience to help us to reach out to more people," said Cat Safari founder Derrick Tan. "When a non-animal person attends such therapy sessions, they'll actually feel very good after the sessions. You never know these are the people who will engage more of their friends."
"One thing I believe in strongly about animal therapy is that in all kinds of situations, animals don't judge us. They don't see the appearance of humans. They just want to be there for you," the 34-year-old said.
"Like a situation today whereby people are stressed - your final exams are coming, it's a good point for them to destress. The animals don't have to do anything, the cats just need to be there for them." CHANNEL NEWSASIA