Singapore-Johor Baru MRT to run in 2024
ISKANDAR (Johor) — A cross-border rail link that will connect Singapore and Johor Baru in Malaysia is slated to begin passenger services by the end of 2024, ministers from the two countries announced on Monday (July 31).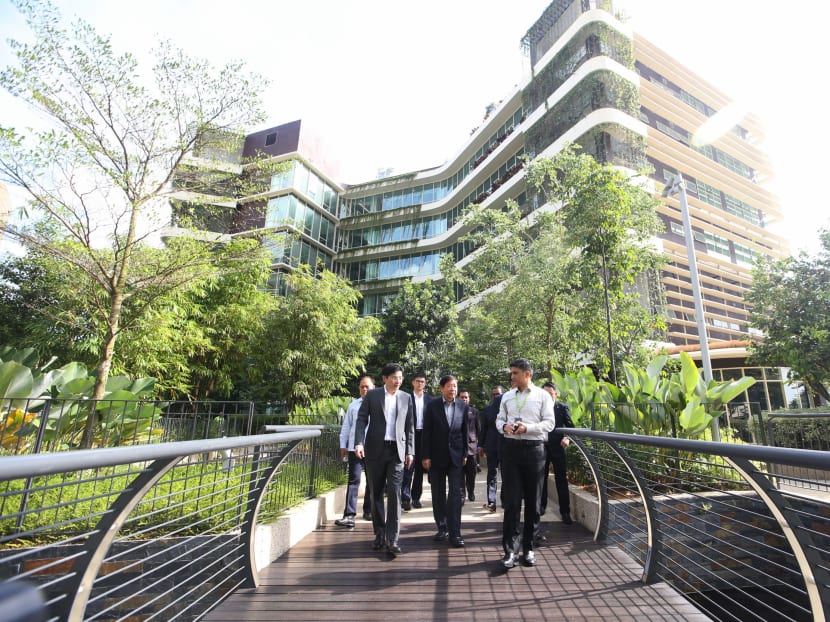 ISKANDAR (Johor) — A cross-border rail link that will connect Singapore and Johor Baru in Malaysia is slated to begin passenger services by the end of 2024, ministers from the two countries announced on Monday (July 31).
Singapore rail company SMRT and Malaysia's metro operator Prasarana Malaysia will be exploring a joint venture to be the operating company to help design, build, finance and operate the trains, tracks and systems for the Johor Bahru-Singapore Rapid Transit System (RTS) Link.
The details were disclosed on Monday during the 13th meeting of the Malaysia-Singapore Joint Ministerial Committee for Iskandar Malaysia (JMCIM), held in Iskandar Puteri, Johor Baru. The committee was set up in 2007 as a collaboration between the two countries.
The meeting was co-chaired by Mr Khaw Boon Wan, Singapore's Coordinating Minister for Infrastructure and Transport, and Mr Abdul Rahman Dahlan, Malaysia's Minister in the Prime Minister's Department.
The RTS Link will connect Woodlands in Singapore and Bukit Chagar in Johor Baru via a high bridge across the Straits of Johor.
Commuters will be able to transfer to Singapore's upcoming Thomson-East Coast Line.
Once the RTS Link starts passenger service, the Tebrau train service run by Malaysian railway operator KTMB will cease operations within six months.
The RTS link is expected to carry up to 10,000 passengers per hour in each direction.
The panel said the operating company for the RTS Link will be directly appointed for the first concession period of 30 years.
Singapore and Malaysia will each appoint an infrastructure company to fund, build, own, maintain and upgrade the civil infrastructure and stations within their own countries.
On why the committee will be appointing the operating company instead of calling a tender, Mr Khaw said that Singapore has discussed the issue with its Malaysian counterparts and felt that the project was "too small" and might not attract competitive bids. Fares will not be regulated but left to the market operator, he added.
There is also the competitive landscape that the company has to grapple with, such as coach operators.
Mr Khaw said that even though the KTMB service will stop once the RTS starts, there will still be other travel options.
He mentioned that the KTMB Tebrau shuttle increased its 14 daily trips in 2015 to 26 as of June to cope with the demand. Both countries are also working to increase the number of train services.
While Mr Khaw noted that there are no "quick immediate solutions" to the traffic congestions at the Causeway, the frequency of the Tebrau service may be raised to 36 daily trips in the "next few years". Once the KTMB train service is terminated and its land is returned to Singapore, there can be a more "comprehensive planning" of how Singapore's Woodlands checkpoint can be redeveloped, so that the problems of the jams can be "significantly mitigated or even eliminated", Mr Khaw said.
Commenting on why SMRT was involved in the project, Mr Khaw said: "We wanted our joint-venture partner to be experienced train operators... Malaysia has a few, but Singapore only has two. So we leave it to them to discuss with the Malaysian partner most keen on this project ... which is Prasarana and SMRT for now. They are in preliminary discussions and I think (they) have a good fit."
National Development Minister Lawrence Wong, who was also present at Monday's meeting, said that these "exciting plans" will help to propel the Woodlands and Jurong areas into up-and-coming commercial hubs for businesses and create more jobs for Singaporeans.
The upcoming Kuala Lumpur-Singapore High-Speed Rail (HSR) terminus will be located in the Jurong Lake District will be where, and a detailed masterplan on the developments will be put together in an exhibition later this year.
Giving their views on the 2024 target for the RTS Link, transport researchers such as Professor Lee Der-Horng from the National University of Singapore does not foresee any major issues with the engineering works to be completed within these 6.5 years, given that a bridge is easier to build than a more extensive underground network system.
However, transport analyst Walter Theseira from the Singapore University of Social Sciences (SUSS) told TODAY that the timeline is "ambitious" considering the amount of cooperation needed for a cross-border project like this.
Dr Theseira said the decision to appoint an operating company for RTS could be "to reduce risk from a possibly protracted tender process".
As for transport fees, Prof Lee said that the potential fare benchmark "should not be cheaper" than what KTMB is charging now.
Dr Park Byung Joon, transport analyst from SUSS, said that the RTS could follow the Singapore example, whereby the Government pays for the construction then commuters pay for operating expenses.
In the interim though, Prof Lee felt that a temporary solution is sorely needed to combat traffic woes along the Causeway, and he suggested having a waterway connection via ferries could be an option.