Outdoors and exposed: More beds provided for homeless during circuit breaker, but some still sleeping rough
SINGAPORE — For many Singaporeans, the directives to stay home, wash their hands regularly and wear a mask when outside have been hard enough to abide by. For the homeless, these rules are almost impossible.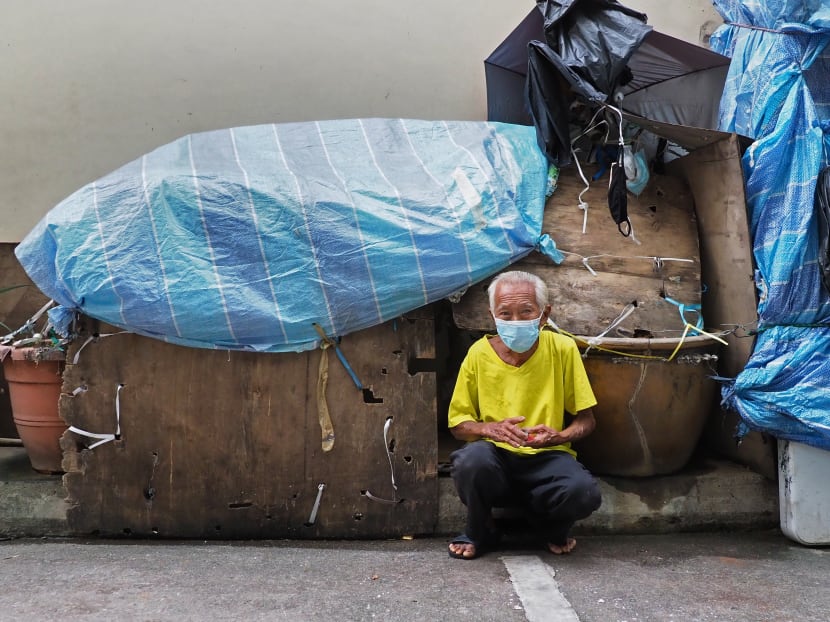 SINGAPORE — For many Singaporeans, the directives to stay home, wash their hands regularly and wear a mask when outside have been hard enough to abide by. For the homeless, these rules are almost impossible.
Take Jason (not his real name). All the 37-year-old can think of these days is his limited access to toilets, the six cents left in his bank account and whatever is left of the hand sanitiser placed in the lift at the void deck where he sleeps rough.
Wearing a mask would make his nights even more insufferable than they already are. In this hot weather, his clothes and makeshift cardboard "mattress" are usually soaked with sweat in the mornings.
Staying home is not a choice, said Jason, who started sleeping outdoors in November last year after his mother chased him out of their house with a court-issued domestic exclusion order. 
In his words, life since the circuit breaker kicked in on April 7 has been "worse than a nightmare" for the homeless like him.
TODAY spoke to four people sleeping rough during this circuit breaker, and found a variety of reasons why they are doing so. Some simply have no homes to return to because of life circumstances. Others say they prefer to be outdoors. 
In Parliament earlier this month, Minister for Social and Family Development Desmond Lee said 27 new organisations had answered a call to offer their premises as safe sleeping places to meet a demand for more shelter spaces during the circuit breaker. 
It brings the number of organisations offering such spaces to 35. They collectively offer about 700 beds for rough sleepers. Of these, about 400 were still available, he said.
Still, there are some who, for one reason or another, have not sought shelter at these organisations. 
THE MANY PATHS TO HOMELESSNESS
Jason, for one, said access to such help has not been a straightforward process.
He said he reached out to the Ministry of Social and Family Development's (MSF) Social Service Office for shelter months ago, but the process is now at an impasse because his case worker had requested that he be assessed at the Institute of Mental Health (IMH) for an alcohol addiction. But he refuses to undergo the assessment because he does not think he has such a problem. 
On Monday evening, Jason told TODAY that his case worker had just followed up with him to provide him with one week of free accommodation at a hostel in Jalan Besar, pending the outcome of his request for temporary shelter or a rental flat.
Asked why Jason has not been offered a space at one of the shelters meant for rough sleepers, an MSF spokesperson said the ministry takes into account various factors, including the safety and health of staff members and other residents at the shelters, before taking in newcomers.
The spokesperson added that Jason was previously admitted to a shelter, but could not continue staying there because he refused to abide by certain guidelines. TODAY understands that Jason had returned to the shelter drunk one night. 
"His dependence on alcohol and aggressive behaviour towards staff and other residents also made placing him in other shelters and residential facilities difficult," the spokesperson said. 
The spokesperson added that Jason is receiving ComCare support, comprising cash grants and public healthcare benefits, and Thye Hua Kwan Family Service Centre@MacPherson and HCSA Highpoint Halfway House have been counselling him.
Jason was one of seven rough-sleeping individuals TODAY spotted on a single night last week at the Rochor district in central Singapore despite the circuit breaker.
Five among them are seniors, the very group considered to be the most vulnerable to Covid-19.
One was 80-year-old dishwasher Pang Jee Tang, whom TODAY had first interviewed in 2017 after he was seen sleeping on the streets. His makeshift "home" between two large flower pots along an alley in Purvis Street now features three face masks — two disposable and one reusable — being lined out to dry. 
Workers at Chin Chin Eating House, where he works, said Mr Pang remains his usual happy-go-lucky self and has simply adapted to the circumstances.
Mr Pang, who has been sleeping rough for more than 20 years, said he was used to it. 
"I am always here. I have never gone anywhere else," he said.
There is also a 64-year-old cleaner at a condominium in Newton who started sleeping rough about half a year ago to avoid quarrelling with his 59-year-old wife, whom he is in the process of divorcing. 
Before the coronavirus hit, the cleaner, who declined to be named, said church volunteers had approached him to offer shelter, but he turned them down as he did not want to have to listen to religious sermons in return for their help. 
"I am afraid that they will brainwash me," he said.
Since the circuit breaker began, the volunteers have stopped visiting, he said. Police officers come by once in a while, but they do not ask him to move.
He is happy to remain where he is for now as he is "used to it", packing up each morning and reporting to work at the condominium by 6am. He also said he wanted to sleep near where he works and was unsure where he would be sent if he sought shelter.
Mr Rick Toh, the lead pastor of Yio Chu Kang Chapel, which started offering shelter to the homeless last November, said that for his church at least, there were no strings attached to receiving shelter. 
"We welcome and respect (people from) all races and religions. We do not require them to donate money to the church. We are doing this to serve the community. All is done out of compassion and love."
THE LONG-TERM SOLUTION
Assistant Professor Ng Kok Hoe of the National University of Singapore's Lee Kuan Yew School of Public Policy said a key lesson to draw from the Covid-19 crisis is a need to deepen understanding about social disadvantage and act on it.
The homeless are more vulnerable to illnesses such as Covid-19 as they tend to be older, have pre-existing health conditions, suffer from poor nutrition and find it more difficult to maintain hygiene, he said, citing findings from his study, which uncovered that about 1,000 people sleep rough in Singapore.
Homelessness is associated with poverty and income insecurity, Asst Prof Ng added, noting that adequate policy responses need to be in place to prevent the recently homeless from becoming chronically homeless.
In the meantime, several social service agencies and volunteer groups say their hands are tied during the circuit breaker as they can no longer conduct walks at night to identify those who might need help. They have since resorted to calling their existing homeless contacts to see how they are doing.
Mr See Choon Wai, executive director of Pasir Ris Family Service Centre, said: "These rough sleepers are very resilient, resourceful and value their independence. They are also self-aware that they may have difficulties living with other people."
Those who run the shelters noted that some individuals do have it tougher than others when it comes to getting a space.
Mr Toh of Yio Chu Kang Chapel said checks are in place for "safety and care concerns".
"(It is to check that) they do not bring in weapons, consume alcohol or drugs, they are not physically or mentally unfit, or require nursing care, as we do not have such capacity or facility to help them."
Homeless Hearts of Singapore co-founder, Mr Abraham Yeo, added: "For safety reasons, (the shelters) cannot host people with alcoholism, substance abuse or people with serious mental conditions... In those cases, we will try to help link them up with IMH."
MSF'S APPROACH
In response to TODAY's queries, an MSF spokesperson said the ministry works with its partners under the Partners Engaging and Empowering Rough Sleepers (Peers) Network to proactively identify, befriend and reach out to homeless people to offer shelter and help. 
These include walks at night and during the day, and checking in on rough sleepers via phone calls.
The priority is to "strongly encourage rough sleepers to seek immediate shelter during the circuit breaker", the spokesperson said.
"The shelter provides safe distancing measures to ensure their safety, is equipped with hygiene products such as hand soaps and sanitiser, and monitors the temperature of its residents at least twice daily," he added. "Staying indoors with strict precautionary measures during this time will safeguard the health and well-being of everyone."
Once these rough sleepers are in a shelter, the MSF Peers Office and partners such as Social Service Offices and Family Service Centres will then help these individuals work on their social and housing needs for the longer term, the MSF spokesperson said.
Join our Telegram channel to get TODAY's headline news: t.me/todayonlinesg