Over 11 years' jail, 9 strokes for man who raped maid, then molested stranger while on bail
SINGAPORE — A then-married man asked his foreign domestic helper to massage him in the master bedroom, then seized the chance to hold her down and rape her.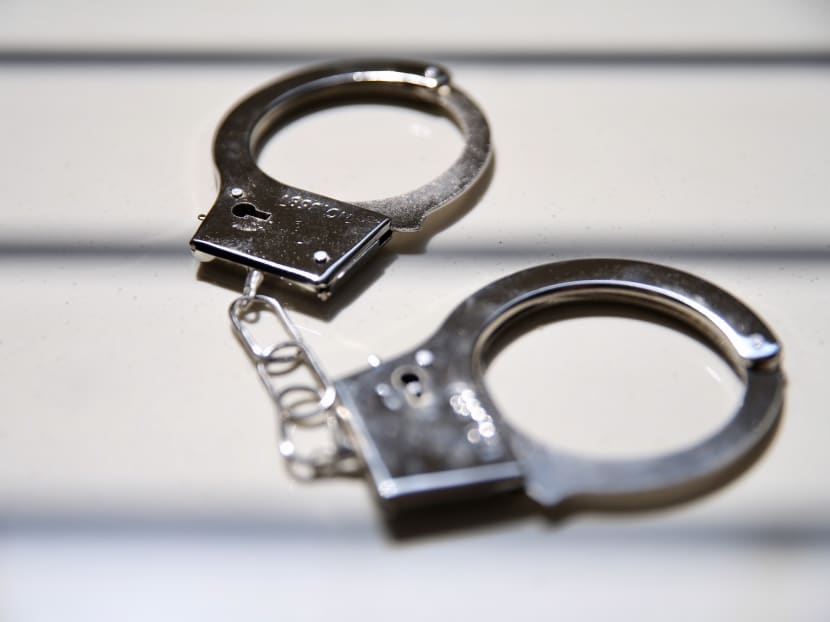 SINGAPORE — A then-married man asked his foreign domestic helper to massage him in the master bedroom, then seized the chance to hold her down and rape her.
After he was charged in court and released on bail, he broke the law again by molesting another woman at Chinatown MRT Station.
Two months later, he assaulted a third woman at the same station. He has been in remand since.
On Monday (March 23), the 43-year-old Chinese national and Singapore permanent resident was sentenced in the High Court to 11 years, six months and five weeks' jail, as well as nine strokes of the cane.
He had pleaded guilty to one count of rape and another charge of molestation. Two other charges of sexual assault by penetration and voluntarily causing hurt were taken into consideration for sentencing.
He cannot be named due to a court gag order to protect the 32-year-old maid's identity. He and his wife have since divorced.
While the gag order did not originally extend to his identity, his lawyers Sunil Sudheesan and Diana Ngiam applied for it, saying that his son was a potential suicide risk and is going for "constant counselling" in school.
Justice See Kee Oon granted the order after noting that the prosecution did not strongly object to it.
For rape, the man could have been jailed up to 20 years and fined or caned. For molestation, he could have been jailed up to two years, fined, caned, or any combination of the three.
MAID SOUGHT HELP TO CALL POLICE
The court heard that the man's maid began working for his household — comprising himself, his ex-wife, their son and two tenants — in July 2017. They were her first employers in Singapore.
On Feb 22, 2018, the maid, who hailed from Myanmar, and the man were alone in the unit at about 3pm. Its location was redacted from court documents.
In the midst of drinking beer alone in the master bedroom, he called her in and told her to massage him.
As she massaged his legs, shoulders and upper back, he gestured for her to massage his collarbone area. But he then suddenly sat up, pulling her towards him and onto the bed.
He held her down as she struggled to escape and sexually assaulted her, before making her lie facedown on the bed, grabbing her wrists and holding her hands behind her back.
He then raped her.
When he finally let her go, she ran back to her room, locked the door and contacted her friend — another maid from Myanmar — on her mobile phone. She wanted to call the police but did not know the hotline number.
She also heard the man asking her to come out of the room but she refused to. He eventually left the unit at 4pm.
Police officers went to the unit later that day and he was arrested the next morning, before being charged on Feb 24, 2018.
'RUTHLESSLY EXPLOITED' HER: DPPs
While out on bail, he molested a 38-year-old Briton on May 14 last year.
The victim was going up an escalator at Chinatown MRT Station when she felt someone touching her elbow several times. He then reached under her skirt and touched her upper left thigh near her buttock.
Shocked, she immediately turned around and saw the man standing behind her. He began speaking to her but she could not understand him.
After getting off the escalator, she reported the incident at the control station.
Court documents showed that two months later, at about 9.30pm on July 19 last year, he kicked another woman's buttock and hit her face with a bag. No further details were given.
Deputy Public Prosecutors Gregory Gan and James Chew sought at least 12 years and five weeks' jail and 10 strokes of the cane, saying he had "ruthlessly exploited" the maid's vulnerability instead of "treating her with dignity and respect".
He had initially wanted to claim trial, the prosecutors revealed, arguing that his guilty plea was "very belated".
In mitigation, Mr Sudheesan — who asked for 10 years and two weeks' jail and six strokes of the cane — said that his client was "very sorry" for his offences.
He had been embroiled in a dispute with his business partner and was highly stressed at the time, Mr Sudheesan told the court.
The lawyer added: "He has fully accepted that he acted impulsively and foolishly. He concedes that his helper's life has been changed as a result of this act and he's fully sorry for this and accepts responsibility for his actions.
"This incident which occurred has totally destroyed his life… He appreciates that this pales in comparison to what happened to the victim."