Over 9,500 drivers sign up with new ride-hailing app Tada
SINGAPORE — Less than a fortnight after the launch of its mobile application, new ride-hailing platform Tada has signed up more than 9,500 drivers and chalked up nearly 50,000 bookings, but analysts said questions over its staying power remain.
SINGAPORE — Less than a fortnight after the launch of its mobile application, new ride-hailing platform Tada has signed up more than 9,500 drivers and chalked up nearly 50,000 bookings, but analysts said questions over its staying power remain.
Demand has been greater than expected, said Mr Jonathan Chua, general manager of Mass Vehicle Ledger, which operates Tada.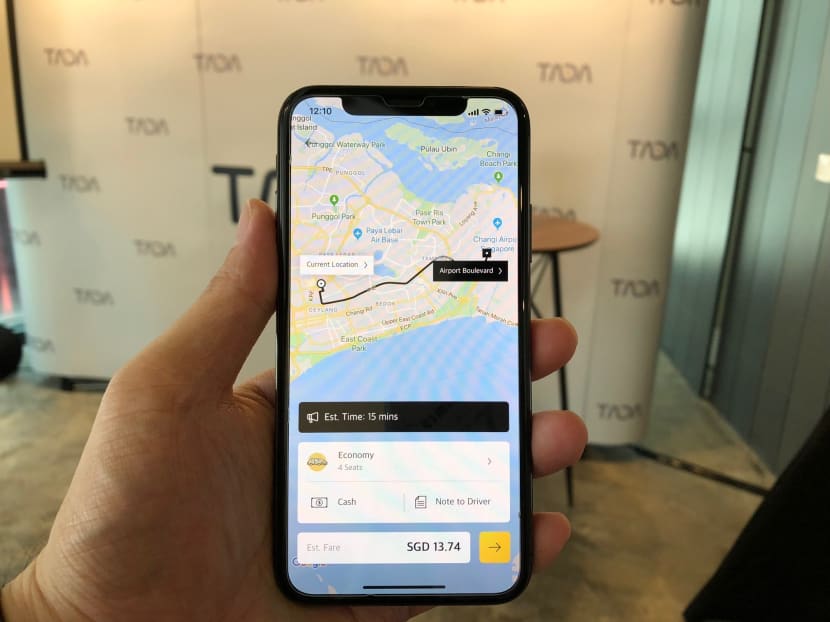 The app, which launched on July 26 with more than 3,500 drivers, had set a target of 4,000 driver sign-ups by the year's end.
More than half the drivers have used the app, and the rest are in the midst of being verified according to Land Transport Authority standards, said Mr Chua.
In the first week of its launch, the app was downloaded more than 30,000 times, the firm said.
Tada promises lower fares during peak periods and — unlike rivals Grab and Ryde — does not take a commission from its drivers.
It charges a transaction fee of 3.4 per cent with an additional 50 cents on credit-card payments, which goes to the payment gateway Stripe.
Users who spoke to TODAY said Tada's fares were up to 2.5 times cheaper than Grab's during peak periods, but reported difficulties landing a ride.
A user, who wanted to be known only as Mr Faizal, 35, installed the app on July 26. He tried unsuccessfully to book a ride seven or eight times in over a week and had to turn to Grab.
The civil servant finally secured his first Tada ride on Monday night (Aug 6) from the Grand Hyatt hotel to his Upper Serangoon View home. The fare was S$17, markedly lower than the S$42 fee offered by Grab at the time.
"I just hope that more drivers will sign up with the Tada platform," said Mr Faizal.
Tada does not adopt dynamic pricing during rush hour, but will impose a surcharge to be determined between 7am and 10am, and 5pm and 8pm.
Another user, Mr Zac Chua, 27, has used Tada twice and noted that its fares were about 10 per cent cheaper than Grab's, especially at peak hours. But wait times were slightly longer, said the local gourmet-snack company founder.
Drivers reported that bookings were sporadic at times — with waits of up to 45 minutes between bookings on weekdays — but noted that it takes time to build a strong customer base.
Some among Tada's pool of drivers are also with Grab, which does not require its private-hire car drivers to use its platform exclusively.
Mr Benedict Goh, 40, who started out driving for Uber 1.5 years ago, hit the roads for Tada late last month. He told TODAY he has since completed an average of four trips daily via the app.
This was insufficient to sustain his income and he has had to turn to other apps, Mr Goh said. There could be waits of 30 to 45 minutes between bookings on weekdays, but on weekends, the waits were shorter and bookings could even be back-to-back.
Mr Goh believes the platform can succeed with its attractive zero-commission model and lack of dynamic pricing.
Fellow driver, James Leong, 37, said he completed three trips in an hour the last few times he drove for the service. The bookings are mostly around the city centre.
Another driver Jones Ng, 44, believes Tada will improve its operations with more drivers testing its service and providing feedback.
CAN TADA GO THE DISTANCE?
Singapore University of Social Sciences (SUSS) transport economist Walter Theseira said the number of driver sign-ups and user downloads so far did not equate to staying power in the market.
The strategy employed by Tada's rivals is to tie down drivers by, for instance, nudging them to devote significant amounts of time to their apps, he noted. In contrast, Tada's business model does not lock drivers in or oblige them to stay with the app.
Dr Theseira and urban transport analyst Park Byung Joon, who is also with the SUSS, said users cannot be expected to return to the app after several failed attempts to get a ride. If this happens, it will "quickly become a forgotten app", said Dr Park.
One of the ways in which the company plans to make money is via data, it said previously. Its blockchain system will gather data on its users, such as driving speeds and traffic records, as well as on vehicles' repair history.
The company hopes to sell the data to third parties, such as autonomous-driving research laboratories and insurers, with users' consent.
Dr Park raised questions about the revenue model of the firm — which said it is not-for-profit — adding that the money-making potential of big data in public transport was "grossly overstated".
Tada needs to do much more to make its business sustainable, said the analysts. This entails spending money to offer rider discounts and minimum-income guarantees for drivers to tie them to the platform.
The US$16 million (S$21.8 million) that the company has raised in funding was inadequate for it to offer significant rider promotions, felt Dr Park.
But its zero-commission model could take off. "In the end, since this is a free service (for drivers), many people (may) start using it … (and) eventually this may pick up," he said.
Sign up for TODAY's WhatsApp service. Click here: