PAP and NTUC's 'twin' alliance lets workers have a stake in society: PM Lee
SINGAPORE — Workers in Singapore have a stake in helping to build society up, instead of trying to tear down a society that has not worked for them, thanks to the symbiotic relationship between the labour movement and the ruling People's Action Party (PAP) government, Prime Minister Lee Hsien Loong said.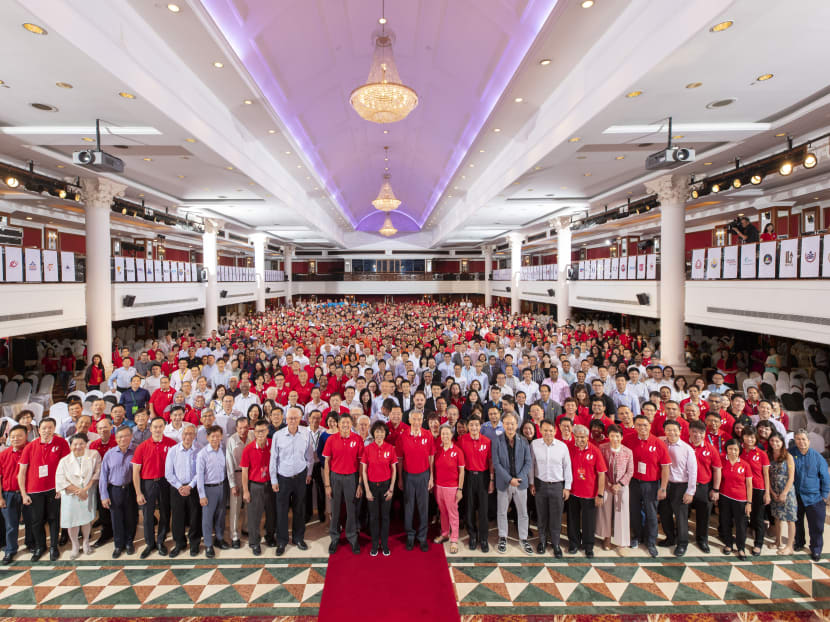 SINGAPORE — Workers in Singapore have a stake in helping to build society up, instead of trying to tear down a society that has not worked for them, thanks to the symbiotic relationship between the labour movement and the ruling People's Action Party (PAP) government, Prime Minister Lee Hsien Loong said.
Addressing more than 1,000 union leaders at the annual NTUC National Delegates Conference on Tuesday (Oct 15) at the Orchid Country Club, PM Lee described the National Trades Union Congress (NTUC) and PAP as "twins" and that the system has allowed workers to have influence and interests within it.
"You do not have to go outside it, work around it, or worse, try to pull it down and replace it. This is your system — make it succeed and take pride in it," said PM Lee, who is also the PAP's secretary-general.
Unlike Singapore, many countries without such a system is experiencing a growth in populist movements, he noted, such as with Brexit in the United Kingdom, the "Yellow Vest" protests in France, the presidency of Mr Donald Trump in the United States, as well as the unrest in Hong Kong.
"The masses are angry that the elites in their country — their leaders — seem disconnected and only looking after themselves. And worse, the people feel that they have been looked down upon, and the social compact, that trust and mutual reliance, has been fractured," said PM Lee. 
"So people are angry and they just want to tear the system down because it is no longer working for them. What comes after that, they don't know. Will it be better? No idea."
Even though Singapore's situation is "quite different" from Hong Kong's, it should study closely these global events and ask whether these deep social angst and divisions can happen here, he said.
Otherwise, the country will suffer worse consequences if it is not careful. This is because Singapore is not immune to the underlying divisive forces that are tearing at these other countries.
PM Lee said: "We are exposed to the world, we are globalised more than them, we are vulnerable because we are smaller than them, and we feel the same forces and we have to resist it better than them… (or else) it will become impossible to govern Singapore, to make and carry out difficult decisions or to plan for the long-term good of the nation."
He added: "Confidence in Singapore will be destroyed – Singapore will be finished."
AVOIDING HONG KONG'S DIRE SITUATION
PM Lee said that one of the PAP's core missions is to advance the well-being and future of workers, a goal that it has shared with NTUC since the conception of both organisations more than 50 years ago — when the late Mr Lee Kuan Yew represented the postal workers' union as a young lawyer in the early 1950s before he became Singapore's first prime minister.
At the time, unions were part of the struggle against the colonial government, and in their advocacy for better working conditions, they had called for strikes and industrial action.
"In Singapore, you may not know, but when people say industrial action, they really mean industrial 'inaction' — that means nothing is happening, but it shows that you are angry, and there was a lot to be angry about in the 1950s," PM Lee said.
PAP made common cause with the unions then and because of this symbiotic relationship, Singapore has the PAP government which already represents workers' interests. Many PAP Members of Parliament come from the labour movement, and the NTUC secretary-general sits as a full government minister in Cabinet.
Mr Ng Chee Meng holds that position now.
In Hong Kong, the widespread unhappiness seen in the demonstrations and riots are mostly political, PM Lee said, and there is also an underlying sense that serious economic and social concerns were not addressed, such as in housing and in starting families and having children.
Younger Hongkongers are "not optimistic about their future, no matter how hard they study or work", he added.
In Singapore, PAP has been able to build affordable homes, high quality healthcare, a good education and preschool system and an affordable, reliable and efficient public transport system.
"Most of all, the PAP government creates jobs and opportunities for workers, to enable every citizen to improve their lives through their own efforts with confidence and pride.
"This is far better than having a populist government that gives vent to the frustrations of the population, or panders to short-term passions at the expense of our future," PM Lee said.
CHALLENGES AHEAD
Yet, there are new challenges ahead for this intertwined PAP-NTUC partnership, due to a more uncertain world and increasing technological disruption across many industries, which means that workers have to be ready for changes. "We are once again sailing into uncharted waters," he noted.
Detailing the evolution of NTUC and PAP over the past 50 years, Mr Lee said that the relationship between the two have been tested at several occasions in the past.
For example, when the Government cut Central Provident Fund rates during previous economic downturns , and there were post-independence legislative changes to attract foreign investment which had "curtailed the bargaining power of the unions".
It led to the Modernisation Seminar in 1969 after Singapore gained independence from the British, where union leaders discussed "the race between modernisation and extinction" — as Mr Devan Nair, then-adviser to the NTUC, had put it.
The late Mr Lee Kuan Yew, Dr Goh Keng Swee and Mr S Rajaratnam, who were Cabinet Ministers, laid bare Singapore's harsh realities at the seminar and, by the end, a new social compact was reached between both sides, PM Lee said.
NTUC became more than an institution for collective bargaining and expanded its role into the social sphere, taking on responsibilities shared by the Government and businesses.
Today, PM Lee said that as NTUC continues to "rethink its role" to be relevant to the needs of workers, the Government remains committed to their shared objective.
"We will always stand with workers and ensure your well-being. We will always do our best to help you and your children progress with Singapore and have a better life, and we will ensure that no Singaporean, regardless of background or circumstances, will ever be shut out from opportunities or be left behind."
NTUC delegates at the two-day conference will elect a new central committee on Wednesday.