Strong mandate for PAP Govt makes 'crucial difference' domestically and internationally, as seen during Covid-19: PM Lee
SINGAPORE — Whether voters give the People's Action Party (PAP) a strong or weak mandate makes a crucial difference, said its secretary-general, Prime Minister Lee Hsien Loong, on Sunday (Nov 6).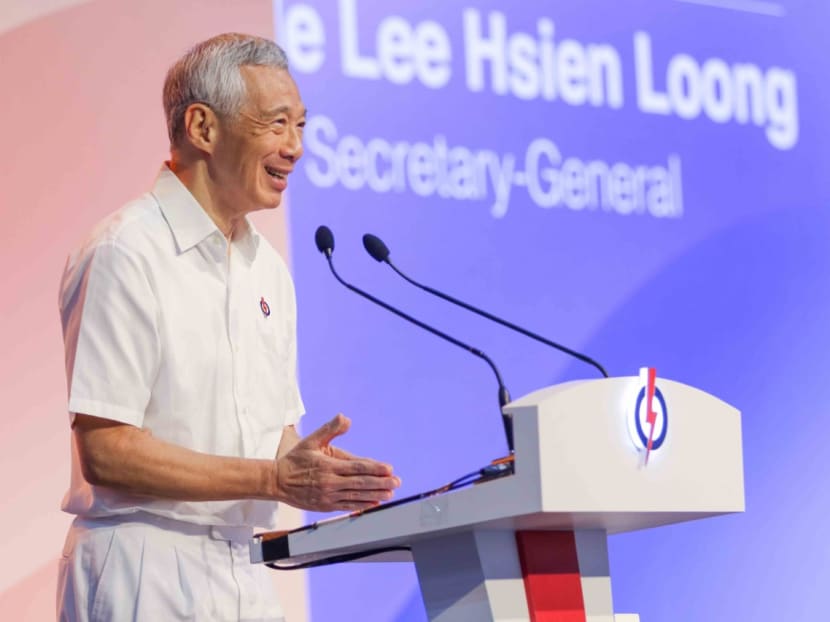 SINGAPORE — Whether voters give the People's Action Party (PAP) a strong or weak mandate makes a crucial difference, said its secretary-general, Prime Minister Lee Hsien Loong, on Sunday (Nov 6).
With a strong mandate, the Government will be able to act strongly and decisively, he added.
"In stable times, this enables the Government to implement measures that may require sacrifice but will improve people's lives in the longer term.
"And during turbulent periods, the Government will have the confidence and the backing to make the tough calls, and steer Singapore safely through ups and downs."
Mr Lee was speaking at the biennial PAP conference at the Resorts World Sentosa Convention Centre where cadre members met to elect the party's central executive committee (CEC)  — its top decision making body.
He pointed to the measures that had to be implemented during the Covid-19 pandemic, such as the circuit breaker and heightened alerts, as examples of such calls. 
"Imagine if in 2020, the PAP had been re-elected narrowly, at 51-49, we would still have formed the government (and) we would still have governed Singapore to the best of our ability, but we would have lost many good MPs and capable ministers. 
"The leadership team would have been considerably weakened."
Mr Lee said that after many years of the PAP being in power, there is a growing psychology among Singaporeans who want the PAP to continue governing Singapore but also have more opposition MPs elected to keep the Government on its toes.
So they vote for the Opposition, fully expecting that the PAP will still be returned to power and can function as effectively regardless of whether it receives strong or weak support at the polls, he added.
"Unfortunately, we cannot have it both ways," said Mr Lee. 
He added that the stakes get higher with each election. 
"Each time the PAP comes back to power, every year the PAP keeps Singapore running smoothly, that sense of danger diminishes a little bit more. 
"At the same time, the more constituencies are hotly contested, the more seats the Opposition wins, the more the General Election becomes a decision on which party will form Singapore's next government," he said.
This is why the PAP needs to continue to become the clear choice for voters, said Mr Lee.
For this to happen, he added, party members must put across its political message by crystallising what policies mean for Singaporeans when they make and implement them, among others.
Deputy Prime Minister Lawrence Wong, who also gave a speech at the conference, said that earning the trust and support of Singaporeans is the work of not just the people in Government but all Members of Parliament as well as party activists.
Noting that more Singaporeans, especially the young, are getting their news and views online, Mr Wong said the party must continue to meet Singaporeans where they are.
He also noted that the audience on online platforms is evolving and that different generations are on different platforms.
"So we must have activists belonging to every generation, and we must be active across all platforms, to win the battle for hearts and minds everywhere."
Building the party's online presence and capabilities is crucial, said Mr Wong, adding that it will determine the future of the party and Singapore. 
"I have no doubt that the political contest ahead will intensify and will only get more challenging with time. We have to brace and strengthen ourselves for tougher and more uncertain elections."
Speaking to reporters after Mr Wong's speech, Ms Nadia Ahmad Samdin of Ang Mo Kio Group Representation Constituency (GRC) said something that "struck her" was Mr Wong's point about the importance of meeting people where they are.
"That may be both online to engage a different generation of voters as well as offline on the ground where we have already been doing a lot of hard work," she said. 
Ms Nadia added: "I think we are cognisant that we may not be able to be everything to everyone, but it really is about championing different interests and hearing different views of Singaporeans," she said. 
Mr Xie Yao Quan of Jurong GRC also noted that Singaporeans are on different social media platforms while others do not use them at all.  
"So we have to engage across all channels, both offline, online and across different channels and we just have to find ways to do that better and to reach out to as many Singaporeans as possible," he said. 
ADDITIONAL REPORTING BY CHARLENE GOH